Carmella Salem has a long history pulling pints in the South Side. But when it came to opening her own watering hole, she decided to give food equal billing with libations, going so far as to hire a well-regarded executive chef from Austin. As these things go, the Texan has since been replaced with a local up-and-comer, Kevin Lintelman, whose most recent credit was sous chef at Butcher and the Rye.
Superficially, the flocked wallpaper and taxidermied trophies in the dining room of Carmella's Plates and Pints have a certain resonance with the Downtown hipster haven of chef Lintelman's previous employer. But Carmella's version of yesteryear chic is more muscular, evoking less Wes Andersonian twee and more German hunting lodge. Heavy timber beams and rafters lift the vaulted ceiling of the dining room above that of the beautifully restored bar in front, while stained-glass windows and skylights admit diffuse light and conceal views of neighboring buildings and parking. And in the middle of the floor, a free-standing gas fire pit with a table around it gave us a premonition of how cozy this place would be in winter.
The typewritten menu, however, conveys the creations of a kitchen that is firmly of the 21st century. Instead of being divided into sections by food type or plate size, the entire menu is listed under a single, evocative title: "Embark." Under this banner, even the most straightforward of dishes have been examined for opportunities to twist via modernist technique or contemporary flavors.
Thus fried oysters came with "hot sauce fluid gel"; an iceberg wedge with pickled shallots and smoked bleu-cheese dressing; and tacos with Korean BBQ-style duck confit and cumin crema. On paper, the combinations looked promising, but from experience we know that this sort of cooking can be fraught with pitfalls, like textures more surprising than satisfying, ingredients out of proportion, or flavors that don't harmonize in experimental preparations.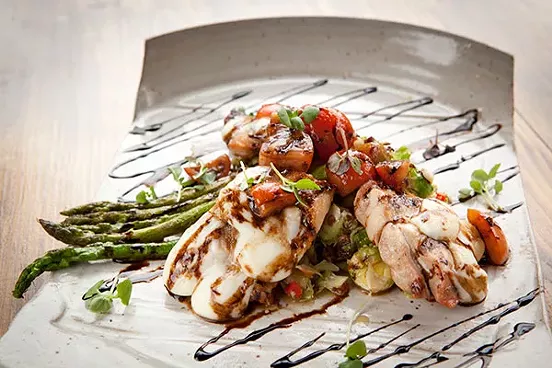 Carmella's laid our doubts to rest with every item we tried. "Devilish" eggs crossed Scotch eggs with deviled: deep-frying the panko-coated whites and then piping in the yolks, kicked up with thin slices of serrano pepper and mustard seeds, and garnished on the plate with a smear of thick Korean chili sauce and shaved radishes. Classic deviled-egg flavor — tangy, creamy, slightly sweet — was central, but the crispy panko texture added interest, the serrano and mustard were just kicky enough, and the chili sauce brought complex smoky notes.
Pig wings, a finger-friendly cut from the shank, are a treat that is gaining popularity, and we loved Carmella's take. Acknowledging some cross-cuisine relationships, the meat was cooked tandoori-style and served with Greek taztziki, tangy pickled red onion and a few sweet kernels of corn to round out the flavors. The pork itself might have been less succulent than in other iterations we've tried, but it remained tender and matched well with the bold flavorings.
Mac-and-cheese was an unusual, subtly witty pasta shape — wagon wheels — in a rich, intense cheddar sauce that was thin rather than thick and starchy. Bits of diced jalapeño and bacon did not transform the flavor of this comfort food but built sophisticated notes of smoke and the tiniest tremor of heat.
Where many taverns serve a variety of burgers, Carmella's focuses on one, its signature bison burger with aged cheddar and burgundy onions. The night we dined, there was also a special bison burger with Southwestern-style toppings of pepper jack and avocado. The avocado was grilled, a nice touch, but the real star of this show was the juicy, deeply flavorful bison patty. When one burger is this good, there is no reason to offer more.
A New York strip steak was served in three large slices laid across steak-cut fries in a sort of architectural stack. The steak was good, albeit a touch gristly, but the fries were transcendent. The interior was perfectly light and fluffy, while the exterior crust was perfectly crisp, airy, yet deeply flavored from frying in duck fat. We're not sure we've ever had better fried potatoes anywhere, in any form. Small, halved Brussels sprouts were deeply browned and tasty, and three dabs of "blue-cheese foam" offered a rich zing to the meat and potatoes without bringing heaviness, an excellent application of the technique.
Like Carmella's update of the bar and dining room themselves, the kitchen's riffs on classic tavern foods are confident and stylish while remaining ever respectful of the originals' charms. Carmella's has it all: comfortable surroundings, premium spirits and old-fashioned foods that are delicious in new and exciting ways.