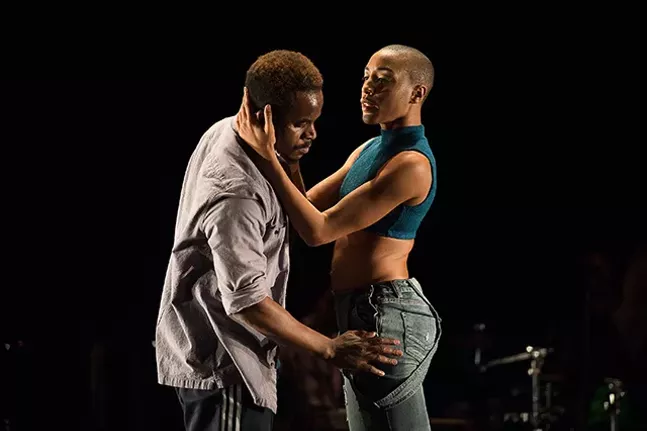 There are no tutus, leotards, or ballet buns in the Camille A. Brown & Dancers (CABD) production of ink. Instead, dancers wear untucked, button-down shirts, cargo shorts, tank tops, and yoga pants, all meant to designate their roles as everyday people on the street. By staying grounded in reality, the new dance theater show at the August Wilson Cultural Center (March 9-10) explores how small interactions and relationships contribute to Black empowerment.
"[Brown] wanted people to feel like they could see themselves on stage," says ink dancer Juel D. Lane. "She wanted us to see our brilliance for who we are as a people, as a community. So the choice to have costumes that are very pedestrian sheds light on 'this is who we are and where we've been.'"
Lane has worked with Brown — a prolific choreographer, dancer, director, and educator — since they met in the early 2000s as students at the University of North Carolina School of the Arts. That includes dancing with CABD in the previous two installments leading up to ink, the final in a trilogy he describes as dealing with Black identity.
The first show, the award-winning Mr. TOL E. RAncE, uses dance, as well as comedy, animation, and theater, to explore the history of Black performers and addresses forms of "modern-day minstrelsy." Lane says the following BLACK GIRL: Linguistic Play tackles the stereotype of "the angry Black female" to provide a more nuanced, celebratory portrait of Black womanhood.
Inspired by the quote "I see Black people as superheroes because we keep rising," taken from the 2012 book Question Bridge: Black Males, ink examines, as one press release puts it, "the culture of Black life that is often appropriated, rewritten, or silenced." Lane believes that the show allows them to reclaim, in a joyful, affirmative way, the narrative of how Black people have been portrayed in the media.
"When we step out on the stage, it always feels like home and it feels like we are carrying so many stories from our community and it's allowed us to be so free and vulnerable in that space," says Lane, adding that the general camaraderie of CABD helps further drive the story. "One of the things is we also care about each other, and so we like to perform together. When I have the opportunity to be on stage and I look to my right, there's somebody that I really care about."
The seven CABD dancers are joined on stage by four musicians providing live musical accompaniment that blends blues, hip-hop, jazz, and swing. The choice goes against the tradition of exiling musicians to the pit, where they remain largely unseen.
"In terms of bringing dance to the community … a lot of times we put musicians in the periphery," says Lane. "And I think it's very powerful because when we're telling these stories, they're part of that journey as well. It was important to [Brown] that everyone saw them."
The show reflects the current mission of the Pittsburgh Dance Council and the Pittsburgh Cultural Trust to showcase the artistic accomplishments of female choreographers, broaden the Pittsburgh dance landscape, and present diverse programming for dance audiences. As part of that, Lane hopes ink sparks a dialogue around urgent issues.
"The beautiful thing that Camille does is she creates a safe space where it's okay for people to have conversations, especially when we're dealing with identity and race," he says. "In order for us to progress, and in order for us to make change, we have to be in a space where we're able to speak our truths, but also be there to understand, 'OK, this is your journey-how does this relate to mine?'"