On Dec. 31, 2014, newly confirmed Pittsburgh Bureau of Police Chief Cameron McLay walked into the Crazy Mocha coffee shop on Liberty Avenue. It was New Year's Eve in Pittsburgh and Downtown was bustling with First Night celebrations. But the conversation among one group in the coffee shop was less festive.
In the wake of recent police-brutality incidents across the country, members of the activism organization What's Up?! Pittsburgh were talking about racial bias among police officers. McLay began talking with the activists and concluded the chat by posing with a sign that would launch him into an international conversation on police brutality and racism.
"I resolve to challenge racism @ work. #endwhitesilence," it read.
"I can't be certain. I haven't done a nationwide survey. But I just can't believe that many police chiefs spent last New Year's Eve in a coffee shop in dialogue with other patrons about unconscious bias," says Susan Yohe, an attorney who serves as chief diversity and inclusion officer for Buchanan, Ingersoll & Rooney. "When the controversy erupted, Chief McLay did not back down. He did not go into appeasement mode, but said if he had to do it all over, he would allow himself to be photographed with the sign again."
The incident was a defining moment in McLay's first year as Pittsburgh police chief and was referenced by Yohe when she introduced the chief at the University of Pittsburgh School of Social Work's Center on Race and Social Problems speaker series on Sept. 17.
The chief's appearance at Pitt, where he spoke on the subject of "policing reform, community, and ethical leadership," was one of several stops last week on an anniversary tour of sorts. On Sept. 15, he celebrated his one-year anniversary with the Pittsburgh Bureau of Police.
Since nearly the first day of his tenure, McLay has received rave reviews for his work to improve police-community relations and restore integrity to a police bureau that has been plagued by scandal and multiple allegations of excessive violence used against its citizenry.
"Not to put too much pressure on the chief," says Yohe, "but the moment I believe we find ourselves in right now is that moment when we just might have a shot at getting it right. Right here in Pittsburgh, getting the job of policing right, getting police-community relations right, getting accountability right and getting the demographics of the police department right."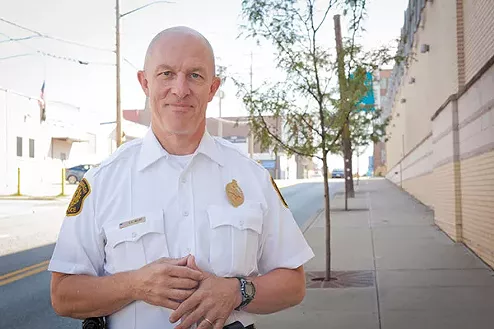 But despite the high praise, problems in Pittsburgh law enforcement persist. The city is currently being rocked by a violent crimewave, the bureau is understaffed and it continues to lack diversity in its ranks.
Some have blamed the chief for these issues, while others say they represent areas that are simply out of his control. But either way, at more than 365 days in, McLay's cheerleaders are drowning out the quiet complaints of his naysayers.
"I think what we've seen in the last year that he's been here has been extraordinary," says Beth Pittinger, executive director of the Citizens Police Review Board. "In terms of reorganization, creating a new identity in the public perspective and keeping everyone safe, cops as well as the community, all of these things in the short time of a year are truly remarkable."
It's not an exaggeration to say that when McLay talks about some of the new initiatives he's brought to Pittsburgh he gets a gleam in his eye. During a Press Club of Western Pennsylvania breakfast appearance last week, he resembled a child on Christmas morning when recalling his efforts to get the bureau admitted into a federal community-policing initiative.
"It connects so strongly to most of the things I need to accomplish here," McLay says. "There's a lot of resources that have been brought to bear as a result of us being accepted. And what's gratifying about it is it's not something that was given. It's something the community and we earned together. It was the recognition that we were making progress that garnered us the recognition."
In March, as a result of McLay's effort, Pittsburgh was selected as one of six cities to join a pilot program on improving police-community relations.
And that's not the only national initiative McLay is engaging his officers in. Under his directive, plans are also underway to implement the nationally recognized violence-reduction model, which first came to Pittsburgh in 2008, under the name The Pittsburgh Initiative to Reduce Crime.
"Before I even walked in the door, I looked at the pattern of violence here and I was absolutely convinced that that methodology was what was needed here," says McLay. "And as I got in here and on the ground, that just simply reinforced my conviction that that's the right thing to do. It's worked for city after city that's implemented it well."
Over the next two years, as part of the national initiatives, Pittsburgh police officers will be trained in the area of implicit bias. This training has been proposed as a method for reducing racial profiling and police brutality.
"Am I claiming that there is no conscious racism in American policing today? No, I am not. I know it's there. I do believe however that is not the predominant driver of our problem," McLay said at Pitt last week. "All human beings create cognizant shortcuts. If a police officer works in a predominantly African-American neighborhood and everyone they arrest are young African-American males, after a while, bias will develop when they see a young African-American male."
But despite the high-profile incidents of police brutality across the country this year, the chief's tenure in Pittsburgh has been relatively quiet, leaving some to wonder how McLay will handle such incidents if they arrive.
"It's inevitable. Even properly performed police work is ugly," says McLay. "What I will do is make sure there is a fair, thorough and timely investigation. I will make sure I am as transparent with that process as the law and the union contract allows. And what I will hope is that we will have garnered enough trust in one another here in Pittsburgh that people will be willing to press 'pause' on judgment, and will give me the benefit of the doubt to let the investigation run its course."
But some have worried whether discipline coming from McLay will stick in the face of the city's arbitration process, which allows officers to appeal disciplinary actions. For the most part, McLay said he would reserve judgment on the process until he has a case go through it.