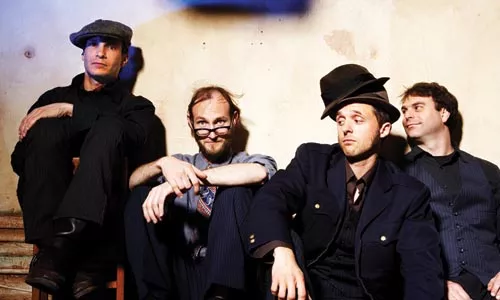 This week offers a nice example of how the folk-music society Calliope impacts Pittsburgh's music scene, both by bringing in acclaimed national acts for its long-running concert series, and by offering resources and community to local folk musicians. On Sat., Nov. 14, the Pittsburgh Songwriters Circle will release its annual compilation with a free show, and on Thu., Nov. 19, Calliope presents Brooklyn-based old-timey quartet The Wiyos at the Pittsburgh Center for the Arts.
Comprised of Michael Farkas, Joseph DeJarnette, Parrish Ellis and newcomer Teddy Weber, The Wiyos combine the various threads of American roots music with an instrumental rigor and vaudeville mentality. The results range from the finger-snapping blues of "Leaving Home" to the Dr. Demento-esque "Tennessee Tango," and run the gamut of acoustic instrumentation.
The most immediate comparison is probably to the Asylum Street Spankers -- no strangers to Pittsburgh audiences -- and indeed, the Spankers' Wammo is quoted in the Wiyos' press kit. "The Wiyos are way too good to open for my band ever again," he says. "Those guys kick more ass than should be allowed."
Pittsburghers are more likely to know The Wiyos for their recent appearance opening for Bob Dylan, Willie Nelson and John Mellencamp in Washington, Pa. (not bad company to keep). The band has also recently appeared in a BBC documentary, Folk America -- Hollerers, Stompers, and Old-time Ramblers.
But before The Wiyos hit town, you'll want to check in with some local folkies -- the other side of Calliope's work here. The Pittsburgh Songwriters Circle, a Calliope program that meets monthly at the Bloomfield Bridge Tavern, has brought together 38 songwriters over the years to "bond together for feedback, incentive, inspiration, quality control and camaraderie." The Circle is celebrating the release of its fifth annual compilation, the work of 17 area musicians including John Hayes and Sue Gartland, with a free show at Moondog's.
Pittsburgh Songwriters Circle CD release show. 7 p.m. Sat., Nov. 14. Moondog's, 378 Freeport Road, Blawnox. Free. 412-828-2040 or www.moondogs.us

The Wiyos. 7:30 p.m. Thu., Nov. 19 (happy hour 6:30-7 p.m.). Pittsburgh Center for the Arts, 6300 Fifth Ave., Shadyside. $17 ($15 members). 412-394-3353 or www.proartstickets.org