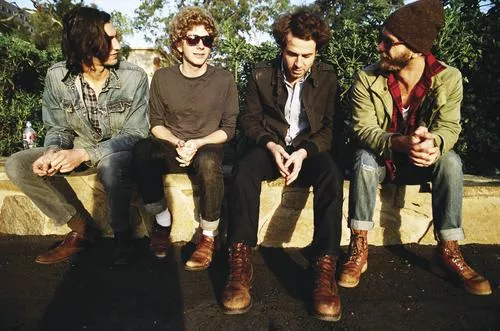 The cover of the current issue of Spin features a spread on Mumford & Sons, with stories inside on The Low Anthem, The Felice Brothers and other roots-rock bands -- all under the headline "The New Americana Revolution." The thing is, Spin missed the band that's doing it best.
With Nothing Is Wrong, out June 7, the California quintet Dawes has made this year's best album of 1976: Jackson Browne's lovelorn lyrical mastery, The Band's majestic rock moves, Allman Brothers' roughness and Neil Young's soulful, jagged solos.
But there's nothing nostalgic or ironic here -- just gorgeously harmonized, earnest rock 'n' roll. Maybe that's why the indie world's been slow to catch on.
"When bands' main concern is what's going to be different and unique about them, they think about the concept, not the material itself," says Dawes frontman Taylor Goldsmith, from a tour stop in Connecticut. "Some bands might say, 'Let's get brave and do something no one else is doing.' With us, we say, 'Let's be brave and stand behind the material, without any frills for us to lean on.'"
Even through the moments when Dawes gives in to basic rock-star urges -- like the soaring guitar solo of "My Way Back Home" -- the star here is the songwriting. "Million Dollar Bill" is just a simple melody and devastating lyrics ("When it hits me that she's gone, I think I'll run for president / get my face put on the million dollar bill. So when these rich men that she wants, show her ways they can take care of her / I'll have found a way to be there with her still").
But Goldsmith recognizes that fighting the rock 'n' roll fight today, when every genre has a "-wave" attached to it, is an uphill battle.
"I'm rooting for Mumford & Sons. I'm rooting for Fleet Foxes, just so people are cool with songs on the radio being driven by an acoustic guitar and a shaker, rather than five drum samples and dance beats," he says. "People wonder why great guitar playing isn't an institution anymore. I think it's obvious: Kids going to shows are more into big sounds coming out of Daft Punk speakers, not an old guitar amp."
But Goldsmith is no good-ol'-days, get-off-my porch crank. He's content with his band's small but growing corner of music's huge landscape. The new record's cover shows Dawes facing a cavernous, empty auditorium -- but it's called "Nothing Is Wrong."
"We're by no means a big-name act, but it's not an issue for us, hence the title even," Goldsmith says. "[The image] seems appropriate for where we are. We suit up and show up every day, and if the rooms are full or if they're not, we'll be just as happy."
They do, after all, have the approval of some of 1976's biggest names. Dawes was recently asked to be Robbie Robertson's backing band, and the band will do the same for Jackson Browne this summer. Browne even added backing vocals to Dawes' "Fire Away," and Benmont Tench of The Heartbreakers adds keys.
"To have them say that what we're up to is real, it means the world," says Goldsmith. "For them to acknowledge we exist, let alone approve of us ... it's still hard to wrap our heads around."
DAWES opens for BRIGHT EYES 7 p.m. Thu., June 9. Stage AE, 400 North Shore Drive, North Side. $32-35. 412-229-LIVE or www.promowestlive.com