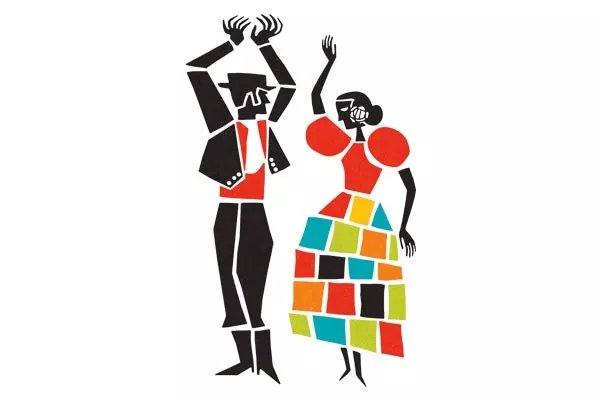 The swirling colors are simply dazzling.
Wearing a full-length blue skirt, the drums up and hot behind her, Teanna Medina dances for Yemaya, a West African deity, or Orisha, also known as queen of the ocean. Moving like the sea itself, she recalls the deep African roots of Caribbean culture.
The scene in Most Wanted Fine Art, on Penn Avenue in Garfield, is nothing short of raucous. Against the gallery interior de rigueur — red brick and soft white walls, tin ceiling, hardwood floors — 100 people crowd in for a celebration of Herencia Africana (African heritage). As the insistent music thickens, nearly three dozen dancers, toddlers to septuagenarians, move about the space, lofting babies, jouncing shoulders, swinging to and fro.
"The Latino community in Pittsburgh needs visibility," comments Tara Sherry-Torres, whose pop-up Café Con Leche created the event. "They need plug-ins, ways to express themselves and learn about each other."
In a city where Latino culture is growing but still largely invisible, Sherry-Torres, a community organizer by training, "could see that work with the Latino community would be good," she says. "It would be impactful. It would bear fruit."
That fruit has been a long time coming. While the highly diverse Latino culture hardly has the presence here that it has in other cities — consider Miami or New York — it has put down roots and is growing. By some estimates, Latinos make up as much as 3 percent of Pittsburgh's metro population, and their number have risen by up to 200 percent since 2000. Fueled by jobs that run the gamut from food service and social service to highly paid lawyers, surgeons and the like, Latinos have discovered that Pittsburgh is highly affordable. And that many employers are actively seeking a diverse workforce.
"Pittsburgh is changing," Sherry-Torres says. "And that's good. But Latinos need to benefit from the change, too."
Coming from New York City some seven years ago to get a master's degree in social work, she connected with Pittsburgh immediately — its intimacy, low prices, easy access. She also liked being on the cusp of the long-awaited Third Renaissance, a city slowly shrugging off 30 years of local post-industrial recession and an iron curtain of racial divide.
Once settled in, however, Sherry-Torres found she missed home and her locus of Latino culture — cultures, really, because they're all very different. Guatemala, El Salvador, Panama, Puerto Rico, Colombia, Cuba, Mexico — they all have different dialects, diets, identities. "All those layers and complexities," she says, "engender a larger question: How do we greet each other? Then, how do we normalize the greater Latino experience in Pittsburgh?"
That was her inspiration for Café Con Leche.
"It's what's offered in a Puerto Rican home, coffee and milk, offered in friendship and hospitality," Sherry-Torres says. "Symbolically, it's a mixture of black and white cultures. Figuratively, it came from my own experience of being a Latina in Pittsburgh, loving the city, but missing my own cultural connection — and growing tired of explaining to every person I met what it meant to be a Latina. Telling them there's not one singular Latino experience. So I began developing events around multi-Latino concepts and customs. Food, art, music, dance."
Begat in January 2014, at a Bloomfield house party, the early version of Café Con Leche served beans and rice — and asked, "Is Pittsburgh ready to go beyond its past? Is Pittsburgh open to new people?"
Popping up hither and yon since then, today's event is heavy on sound and sense. A panel discussion over here delves into the African roots of Latino culture. Teens and pre-teens over there dance many cultures: Puerto Rican bomba — call and response, women in red skirts, men all in white; Venezuelan tambores — statue of John the Baptist, red flags, circling dancers; Brazilian samba — waves of people like ocean breezes; Peruvian festejo — rhythm bouncing like the Andes in profile.
"This is high-fun, high-energy," Sherry-Torres gestures. "It's the place to be."
But it's not her place — not yet. She'd like her own venue — perhaps in Bloomfield, perhaps in Allentown, with its growing Latino community. Either way, she says, "I would like to see more normalization of these events. Make them less exotic."
A red-skirted dancer spins by. "My larger goal," she adds, "is to inspire Pittsburgh to embrace change even more. To open itself to new people, new expressions. If I can do that, If I can leave that as a legacy, I've won."