Uzbek food is a recent addition to the local scene that has not yet achieved the cultural cachet of, say, Japanese cuisine in the 1980s or Thai in the '90s. But it may be only a matter of time. Combining elements of several cuisines, including Russian, Middle Eastern and East Asian, Uzbek cooking is simultaneously exotic and familiar, a fusion born of geography rather than self-conscious recombination.
So we were pretty psyched to learn that a new Uzbek restaurant, Café Diyor, had opened Downtown on a formerly moribund segment of Smithfield Street, right by the bridge, where an astonishing profusion of foreign restaurants has sprung up seemingly overnight.
Café Diyor has not so much transformed the interior of the former bar in which it's located as attempted to cover every inch of it. Lavish velvet tapestries adorn the walls, patterned scrims are draped from the tin ceiling and even the booth seats have been covered with colorful fabric. The effect could be evocative of the Silk Road, perhaps, if the lighting were a little dimmer.
The menu doesn't reveal much about the dishes besides their ingredients, but phonemic affinities allowed us to guess at relationships between some of them and their derivations. For instance, a dish of salted and spiced cabbage, carrots and pickles, called chim-chi, seemed sure to have some resemblance to Korean kimchee; shashlik was another form of shish kebab; non, like Indian naan, was a kind of bread; and manti, steamed dumplings, adapted the Chinese dumpling tradition to the farm products of Uzbekistan, primarily mutton and lamb.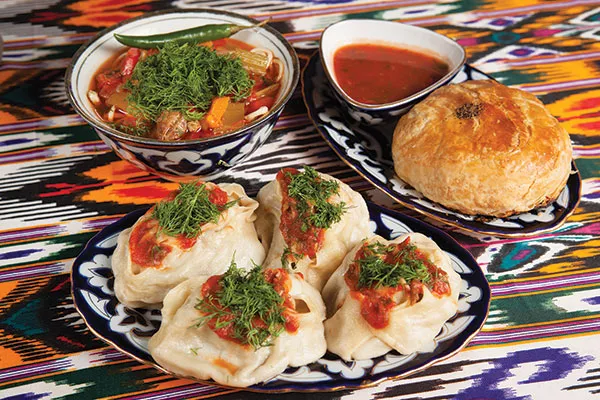 Though barely mentioned on the menu, a unifying principle in Uzbek food preparation is dill. Almost without exception, every dish at Café Diyor was heavily sprinkled with this potent herb, to the point of obscuring differences. Chuchvara dumplings were much smaller than the manti, more like Russian pelmeni. But it took careful tasting to distinguish them by anything but size and sauce. The key differences were that the manti, stuffed with distinct pieces of diced lamb, were dotted with tomato sauce, while the chuchvara, filled with plump little lumps of ground meat, were served with firm, sour cream-like yogurt. We're a dumpling-loving people, but neither version captured our ardor.
Tashkent salad was another story. Angelique, who skews more veggie-centric than Jason, in particular felt she could have eaten this, and this alone, for her entire meal and been satisfied. To be clear, it was not a vegetarian dish; little bits of diced beef tongue added substance and savor to a lively mix of peppery radishes and crispy fried onions, their pungency just tamed by cooking but not totally subdued into sweetness. The entire salad was coated in a white, creamy dressing whose subtle tang kept it perfectly in balance with the blend of other flavors.
Lagman soup reeled us in with the promise of hand-spun noodles, and these were good, with a slightly rustic variation in thickness and texture. It was devilishly difficult to manage them with a soup spoon, however, and the soup's thin broth didn't really deliver the promised "Asian spices." Some bits of cubed lamb were tender, but others were tough. 
Chalagach, described as lamb ribs but actually four little chops, was well cooked and tastily rubbed with seasonings. It was the "seasoned potato," actually super-salty French fries, that kept this plate from being an unqualified success. The same fries — promisingly dark, yet inexplicably limp — came with tabaka, a fried chicken leg described, in a rare nod to context, as being cooked according to a recipe from the small city of Yangiyul. We appreciated the name-check, but we hope that the good people of Yangiyul are not doomed to chicken that is this salty, dried-out and tough.
Beef shashlik was also on the tough side, though not inedibly so, and not overcooked. Shashliks of veal liver and lulya — ground pork and veal — sounded intriguing, but unavailable on the night we were there.
A round of non bread was the final disappointment. Instead of the oil-glossed, sesame-studded crust and steaming, tender, airy interior that has had us swooning over this bread in the past, we received a flavorless basket of something that more resembled American-style Italian bread, unevenly heated through as though it had been hastily popped in the microwave.
A couple dishes at Café Diyor — tashkent salad, chalagach — were excellent, and others had features, like the hand-spun noodles, that showed promise. It's a promise the entire menu needs to live up to if Café Diyor is to help launch Uzbekistan's beguiling cuisine into Pittsburgh's mainstream.