When C. Scott announced his new album,
Phase Shifting
, as his "debut," it sounded like he might have misspoken, or possibly forgotten the past 10 years of his life. Anybody half paying attention to Pittsburgh music in the past few years has seen his name pop up in production credits and liner notes, DJing around town, or playing bass with Clara Kent in Tribe Eternal. Then there are his mixtapes, EPs, and his variety of releases and singles on
Bandcamp
,
Soundcloud
, and Spotify, all of which seem to have no overlap in content. There must have been a proper full-length in there somewhere.
But nope,
Phase Shifting
is it. Scott sees the album as an "
attempt to make something that was a little bit more curated, better mixed, pay more attention to some of the finer details." (Not for nothing, his previous work doesn't sound particularly uncurated or poorly mixed, but whatever.)


"I wanted this one to be a little more representative of all the things that I do," says Scott, adding that the title is a nod to both the wave function and the different genres and interests he's thrown himself into during the past decade as a producer and musician, primarily hip hop, deep house, and funk.

The result is a collection of 11 tracks that pull off a neat trick of sounding cohesive and distinct, blood relatives that see things pretty differently but still get along. The album opens with the surefooted hip-hop track "Venus," featuring verses from Hobbs. It sets a tone that carries over into the similarly percussion-forward instrumental track "Partially Parched," which seems like it would happily accommodate an MC but plays pretty well leaving that space open to breathe.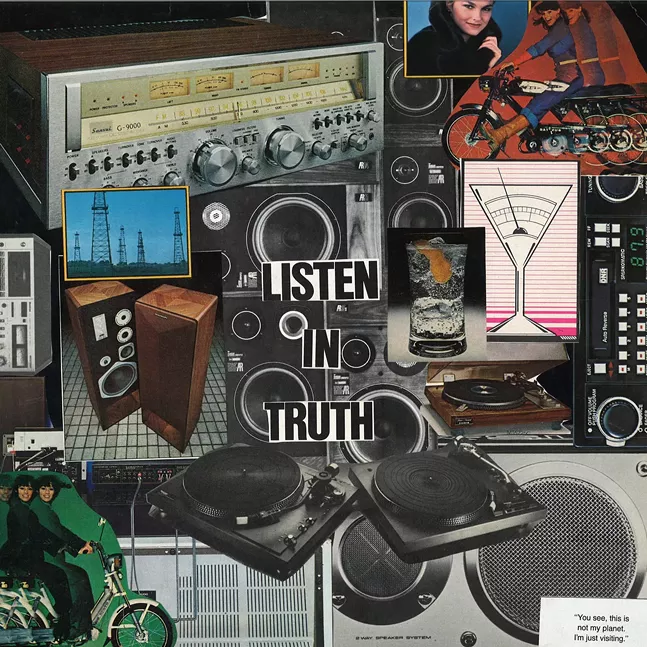 The range of styles on
Phase Shifting
comes into clearest focus on "Mixed Threads," featuring Nice Rec. It's a retro funk track that feels like little else on the album; every song is danceable, but "Mixed Threads" sounds like it should have its own fourth wall line dance. It's packed with vintage synth instruments, gratifying turns, and one of the most memorable basslines on an album stacked with memorable basslines. Scott frequently channels producers like Flying Lotus, J Dilla, and DJ Krush, and he does it well, but it's nice to hear a song as fun and un-cerebral as "Mixed Threads" in the context of those influences.
The third collab on
Phase
is with Moemaw Naedon on "It's Cold," and like with Hubbs on "Venus," Scott's knack for knowing when a beat needs an MC comes through. Both tracks mesh well with the wordy thoughtful styles of their MCs, even while the two chase pretty distinctly different moods.
As a sucker for minimalist house, I first fell hardest for "Already," a vaguely dissonant thumper that starts slow and builds layer by layer to a hypnotic climax. Scott spent around a year tampering with the track before deciding to just let the thing be.
"
I didn't want to overproduce ['Already'] too much or clean it up too much, [I wanted to] still have it a little dirty," says Scott. "Just
get it on the project and leave it alone."
It's worth talking about that ability to know when to stop tweaking, especially in the realm of producers and DJs. All songwriting calls for rewrites and fine-tuning, but it can be a particularly messy process for those behind the soundboard, where minute decisions and tiny details can make or break the quality of the finished product. But you can also tweak something to death, whether that means nagging a song past its best self or ironing out the quirks to the degree that it becomes lifeless and overly polished. On Phase Shifting, it's fair to say Scott shows special knack for knowing what to polish and what to keep dirty, when to push something farther and when to let it be.

Phase Shifting
came out on Oct. 4, but Scott has no plans for an official release party or show —
"Everywhere I am this month is the release show"
— but you can hear him perform tracks from the new record at Full Pint Wild Side Pub at the release show for Tribe Eternal and NVSV's collab, MYSTERIOUS SHIT. In the meantime, he's continuing to work with Kent, Sierra Sellers, and has a track with Preslav coming out on a Planet E mix, Waajeed's Detroit Love Vol. 3, next month.
After that, who knows.
"I'm trying to take it slow, but just have some fun with it and keep exploring," says Scott. "Then figure out what the next big project is."