As if he hadn't given the world enough already, we can thank Paul McCartney for bringing together Byron Nash and Harrison Wargo.

The two Pittsburgh musicians met after being paired in the same group at Pittsburgh Plays McCartney, the concert series founded by Josh Bakaitus (Live Nation) and Punchline drummer Cory Muro. The rest of the band went out for a break, leaving Wargo and Nash to start improvising together on keys and guitar, respectively, and the chemistry was immediate.
"Everybody was like, 'What is that?' And we didn't know. We just made it up," says Nash. "But it sounded like we knew what we were doing."
That session led to the creation of Nash's new project, with Wargo as producer, based on a loose strategy of improvisation, experimentation, and looping. While both have been in the music scene for years — Nash in a handful of bands like Plan B and solo performing, Wargo in his project Badboxes and as a producer — they hadn't met before the Pittsburgh Plays show. It's an unlikely partnership and a deeply rational one: Both musicians are actively collaborative and stress the value of not putting too much pressure or structure on the creative process. They're up for trying anything.
The result is a wildly fun and inventive collection of tracks that are hard to categorize but extremely easy to listen to. The first track to be released, "Tug of War" (Oct. 1), has Nash experimenting with auto-tune vocals over a catchy synth beat, but every song sounds different, with both members trying out new approaches that might not have fit with past projects.
Pittsburgh City Paper joined Nash and Wargo in the studio to hear some new tracks and discuss their partnership.
Can you talk about the role of mixing fidelity in this project, mixing iPhone recordings with polished studio sounds?
Nash: We're all about it. We're totally geeking out … It's basically about what feels best. I don't care how we achieve it, but as long as it sounds dope, I'm good. For the first song, we used autotune. There's a purist thing about it where people are like, "Oh, you're using autotune because you can't sing."
Why do you think people see autotune as different than other tools of modulation in music?
Nash: There was a transition in the industry where you could get successful without being talented. That's why.
Wargo: T-Pain, I like T-Pain, but for some reason — it's like a chorus effect or like a gated reverb, people get these ideas that they're supposed to be cheesy. They don't have to be anything.
"Tug of War" by Byron Nash, produced by Harrison Wargo, is out on Spotify on Tue., Oct. 1.
byronnash.com
I mean, even like the first bands to distort their guitars, people perceived it as "wrong."
Nash: That's why I'm not freaked out about it. We push it further and further. With me being older and [Wargo] being younger and more tech-savvy, that's how he grew up producing. I don't have a limit on, I have pedals all over the place, all I'm doing is experimenting and twisting knobs and I feel like it's the same thing … I just care about where we're going with it.
Wargo: Plus autotune's cool.
If Harrison sends you something at 3 a.m., and you come over the next day, when you walk in, how much talking is there?
Wargo: I hate to talk. I hate talking about music.
Nash: We usually talk when we're done. It's like our break.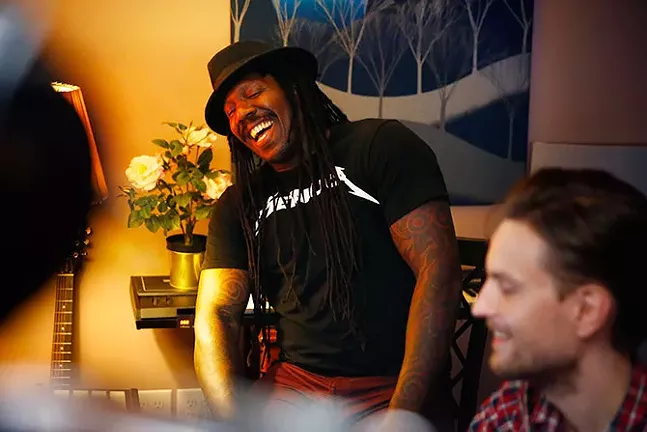 You mentioned having Cory Muro play on one song. Who else is contributing?
Nash: Cory was the last drummer we had over, but we had my friend Bill Gendron too. Bill and I were in my first band Sporadic together, that's how I started playing in bands. The whole thing with the duos, that's where that started … We don't have to talk. If I say, "Pull it back to like a J Dilla beat," he knows exactly what that means.
Wargo: I just let them do their thing.
Where are you guys in terms of the album?
Nash: We're not thinking of it as an album, more of a song by song thing. I said EP just because it made more sense for what an overall goal was, but really, I just want to make some songs because they might not even sound like each other.
Wargo: They don't.
Nash: I think the first leg of us getting together, we had to flesh some things out, and now I feel like we're just gonna be cranking them out super fast because we know how to work together.
Wargo: I hope you're right. …
Nash: I think it's gonna flow better because we're not trying to figure out what we're going to do, we're just going to make music.