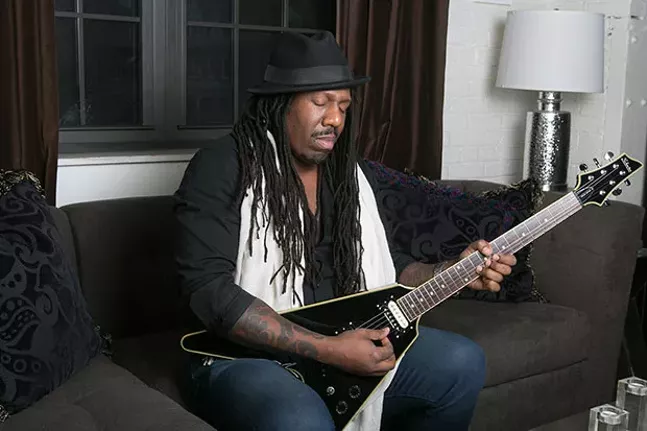 Byron Nash is an incredibly busy man who has had a big year. Among his many accomplishments is having his band, Plan B, open for Wiz Khalifa at Pittsburgh's Thrival Music Festival. In addition to being a gifted guitarist making music with Plan B, he's a solo artist who writes music for commercial placement. He also spends several hours a week attending classes through Pittsburgh Technology Council. You could say he's a good multi-tasker.
Nash is the only musician who is a part of Pittsburgh Tech Council's 2018 Co-CREATE Business Ignition Program Cohort. It's a long and ambiguous title, so City Paper met up with Nash to chat about the endeavor.
"It's a ten-month accelerated program where they thrust you into business in all the realms you couldn't get into on your own or couldn't get into as quickly on your own, by taking classes and going to events and networking," says Nash. "They select six entrepreneurs and at the end of our program we show up and perform at CREATE festival, which kicks off the Three Rivers Arts Fest."
He takes the opportunity very seriously.
"A lot of times artists are all about their art and creating, and they're not really focused on the business side of things," says Nash.
Nash has been taking classes on everything from Instagram branding to Google optimization.
"It feels like school, but not in the 'Aw, man, I have to go to school' way. I'm super amped about it," he says with a bright smile. "I'm nerdy excited about it."
"[Business knowledge] is what will propel you the most. You can be really talented, but you can only make it so far if you don't know what you're signing or what to look for. Is your business set up the right way? People often aren't thinking about that."
Nash is charismatic, with an ambitious spirit. His energy and enthusiasm are infectious as he talks about his work.
Nash is a bartender by night, but his work day starts far earlier. "Like, I'll put in 10 hours of music-related work before I go to work [bartending] and most people are like, 'Whoa, why would you ever do that?!'" Nash says with a laugh.
"But I'm always interested in how far I can push myself and how much I can handle along with still being an artist who is in the studio, writing songs and playing shows," he says.
Following Nash for the past year has been videographer Darin DiNapoli. The documentary-style footage that DiNapoli shoots is compiled into short clips that Nash uses to push shows and keep people intrigued between albums and gigs.
"I want to create all this short content. It's hard because you get all this momentum from playing out, and then you have nothing to follow it up with and it's tough," Nash says. "But little videos like this keep people interested."
Nash is learning by watching social-media "influencers," the people who build strong identities and use them to make partnerships and gain sponsorships, essentially monetizing their personal brands.
"You have to find what your personal thing is, and you build on it. It's really genuine then, because it's you," explains Nash.
This desire to learn and grow and try new tactics to take his art to the next level is a part of his mantra, and will continue to be into 2018.
"In the last year I've been really in the mindset of: 'What do I want, and what do I need to do to get there?'" says Nash. "I've always been motivated, but I'm really leaning into it now."