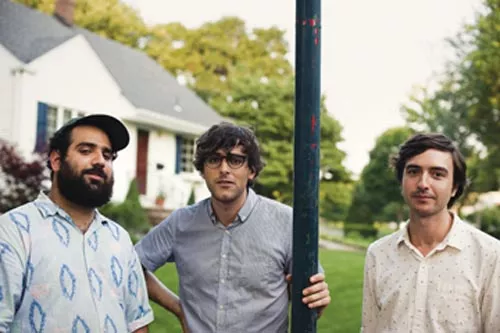 When you're a four-piece with standard rock instrumentation, it takes courage to make the fourth track of your album an instrumental. But New Jersey-via-Brooklyn rock outfit Real Estate has that kind of moxie; thus far, the band's success has come from simply carving out its territory on the indie landscape and owning it.
In 2009, the band issued its self-titled debut on Woodsist Records to positive reviews (a Pitchfork 8.5), and many critics cited the sunny nature of the disc. (The Independent more recently referred to the band as "psychedelic surf pop," which might stem from occasional beach references and a propensity for guitar reverb.) This year, Real Estate is back with a follow-up, Days, on indie giant Domino.
Real Estate qualifies as a buzz band, sure. But it's one that's popular without the gimmicks. No synths, no sound collage, no bells or xylophones. Days, in fact, comes across as a little … boring at first. But like a painting whose colors become more brilliant against the right backdrop, the album comes alive when one sees it for the simple gem it is. Yes, "Kinder Blumen" is four minutes of guitar-focused instrumental; yes, the second half of album closer "All the Same" is four minutes of the same riff. At times, the record reaches the point of being un-self-conscious meditation -- a splash of pop music enlightenment. But it always comes back to mid-career Beatles-style rockers.
Real Estate's songs aren't overwhelming. They don't get under your skin, in either the positive or negative sense. But they're also not, as some have posited, windows-down driving music; the vocals are too muted, the overall vibe too tentative. Days is pop music for quiet moments -- for a promising morning, or a walk with a friend. Sometimes the art of making good background music is as elusive and important as a talent for making music one has to focus on, and Real Estate makes background music of the highest caliber.
REAL ESTATE with BIG TROUBLES, DEAN CERCONE. 8 p.m. Sun., Nov. 20. Garfield Artworks, 4931 Penn Ave., Garfield. $8-10. All ages. 412-361-2262 or www.garfieldartworks.com