It's the morning after the third night of Hanukkah, 16 days before Christmas, 17 days before Kwanzaa, and Prantl's Bakery in Market Square is all dressed up for the holiday rush.
"This is the calm before the storm," says Tom Medvitz, Prantl's CEO.
A woman comes in to pick up her order. Her face lights up like the tree in the PPG ice rink when the Prantl's employee lifts the lid. She coos like Fourth of July fireworks are going off inside the cake box. Another satisfied customer.
Prantl's is a Pittsburgh institution. A bakery of one sort or another has sat in its Shadyside flagship location for 108 years; Prantl's has been there for more than 40. At the Market Square space, it rubs shoulders with another Pittsburgh staple: Mancini's.
"Pittsburghers are very proud of their history," says Medvitz. "It's nice to have these businesses that tie you to the past."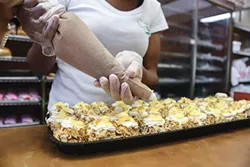 But even greater than the legend of Prantl's is the lore of its burnt almond torte. Buried under mountains of sliced, sugared almonds, the torte is comprised of cake, custard and frosting.
Legend has it that the idea for the almond torte was born in 1969, when one of the bakery's owners, Henry Prantl, attended a baking conference in Anaheim, Calif. While there he was encouraged by the Almond Board of California (yes, that's a real thing) to find inventive ways to incorporate almonds into his baking because of an almond surplus at that time. The new dessert caught on.
"Our burnt almond torte is different," says Diane Turner, the Market Square manager. "I don't know what it is; but whatever it is, it just makes it pop."
And during the holidays, while other bakeries are doubling down on thumbprints, snickerdoodles, buckeyes, pizzelles, gingerbread, oatmeal raisin, chocolate chip and other cookies, Prantl's is making tortes by the truckload.
But Prantl's has cookies too. Its display cases are filled with sugar cookie elves with red and green bow ties, blue and white dreidels and stars of David. There's even a Santa Claus with chocolate-jimmie boots, and reindeers with pretzels for antlers. If you're looking for something simple, there are also stacks of sugar cookies with red and green sprinkles.
Still, the almond torte is clearly the star here and isn't just a favorite among Pittsburghers. The Huffington Post named it the "Greatest Cake America Has Ever Made" and Jane Fonda tweeted about it during a visit to the city last year.
"It's a big item. It's our most popular item," says Medvitz. "We ship them. There are some people who have moved away from Pittsburgh and they still want it. It's become a tradition."
That's because for many, the cake is more than a dessert. It's as much a part of the holidays as watching your favorite Christmas movie or lighting a menorah. One year, a man from the South Hills called Prantl's to say that eating the almond torte was a tradition he shared with his father.
"He said that cake brought his father back to him for the holidays," says Turner.
Those kinds of stories weave together to form the fabric of what makes Prantl's a regular holiday stop for so many. And that holiday spirit is something Prantl's employees embrace. Every year, from December to January, the employees pool their tips to donate to three local charities. In the past they've given as much at $1,500 to causes like homelessness and children's charities.
Helping others is something the employees learned from their employers. One of Turner's favorite stories is the year a woman couldn't make it out to the bakery to pick up her order, and the owners drove more than 100 miles to deliver it to her.
"She was very thankful," says Turner.
In today's digital age, patrons don't have to wait for a trip home to enjoy Prantl's trademark cake, and can even have baked goods delivered to their door.
"Anybody, anywhere in the United States can order online," says Medvitz.
And online ordering has proved especially useful, even to locals.
"During the holidays, everyone is so busy," says Turner. "They don't have time to come in or call. In the morning, I'll check and we'll have online orders from 2 a.m., 11:30 p.m."
But don't wait too long. All Christmas orders for in-store pickup must be in by 6 p.m. on Mon., Dec. 22.