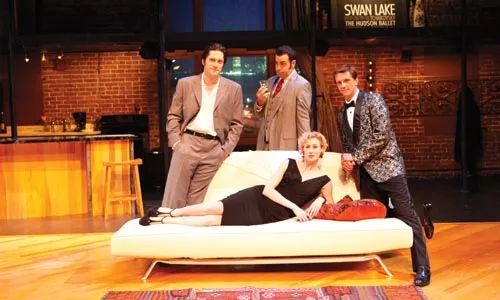 Lanford Wilson's Burn This has a timeless quality. The opposite of a "feel-good" play, the 1987 hit concerns four self-absorbed New Yorkers (now, now, that's not redundant) attempting to come to grips with mortality, love and creativity. Forget about trying to make these twits likable: The real challenge is to make them interesting.
Surprisingly, the current independent production at the New Hazlett Theater succeeds at this. David Conrad, who stars (and who produced and directed, although he's not credited for those roles in the program), goes beyond Wilson's script, employing a physicality that often belies the surface dialogue while emphasizing its fiery emotions. Of course: The key characters are dancers or wannabe dancers. How they move can be as expressive as what they say.
There's a fifth, offstage character: Robbie, a gifted dancer, gay and recently deceased. His funeral, held just before the play begins, is the catalyst for the four disparate characters trying to change their lives. We begin with: Anna (Kate Campbell), Robbie's dancing partner and roommate; Burton (Peter Kope), her long-time boyfriend and sell-out screenwriter; and Larry (Patrick Jordan), Robbie's other roommate and the play's comic relief. Crashing quite literally into their hip little lives -- in one of the modern theater's greatest entrances -- is "Pale" (Conrad), a rather ironic nickname for Robbie's dark elder brother.
Conrad plays with and against the tough New Jersey-ite stereotype, and ravenously chews the delectable scenery by Douglas McDermott (not to mention Campbell's even more delectable leg). Pale's macho derision of his brother's sexuality conflicts with his obvious, if unspoken, envy of Robbie's talent and accomplishments. His disordered life longs for the discipline of dance.
Obviously, this is mainly Conrad's show -- and a good one for the Pittsburgh-native star of TV's The Ghost Whisperer. But he's backed by a solid cast and artistic team. Campbell prettily balances her character's fragility and preciousness to hint at unplumbed depths. There's a delicious irony in that Kope, a real dancer of note (with Attack Theatre), portrays the rich-kid clunker. Jordan wins sympathy and not just cheap laughs as the gay stereotype. And artist Rob Long has created a stunning projection of the New York harbor view to fill the window of Anna and Larry's loft.
The few 1980s-specific references are easily overlooked as Conrad makes Burn This a play that works in the 21st century. In fact, it works better than before.
Burn This continues through June 28. New Hazlett Theater, 6 Allegheny Square, North Side. 888-718-4253 or www.newhazletttheater.org