On June 4, breakfast chain IHOP went public with an identity crisis and name change to IHOb. The world waited with bated breath, wondering what the old International House of Pancake's new last letter would stand for. Many people guessed "breakfast" or "bacon," both logical successors. I was hoping for "blood." One week later, IHOb finally revealed that "b" stood for "burgers," and the world said, "Shut up you dumb corporate b*tch."
This IHOb scheme was pretty obviously a marketing ploy, partly because the major change was announced so casually and partly because the new logo looked like your mom's favorite tampon brand.
The schtick went on for a full month before the company announced its pivot back to pancakes and the original name, tweeting: "We'd never turn our backs on pancakes (except that time we faked it to promote our new burgers)."
Even though the main IHOb promotion ended, the restaurant is still serving the burgers. So, I took an hour-long bus ride to eat them last Wednesday. For journalism.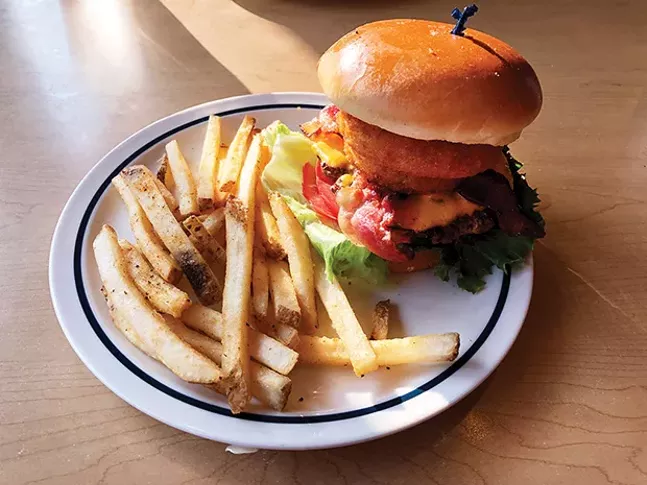 5:15 p.m.: I left City Paper's Downtown office and caught a 61C to the Waterfront. The bus was warm, only made warmer by how many people were aboard. It smelled vaguely like bacon. We didn't pass through Oakland until 5:50 p.m. I wasn't hungry when I left the office, but at that rate, I assumed I would be ravenous by the time we arrived.
6:04 p.m.: The bus pulled through Oakland. I started to wonder if that bacon smell was just the scent of sweat fermenting on a crowded summer bus. My bus/dining partner and I looked at IHOP's burger menu on our phones.
6:20 p.m.: We finally arrived at IHOP. The outside of the building looked new, and it was decorated like a modern ski lodge. Inside, there were four or five occupied tables. No one appeared to be eating burgers.
We got our menus and flipped straight to the burgers, which were advertised as "ultimate steakburgers." I have no idea what "steakburger" means, but it presumably implies slightly fancier than regular old hamburgers. There were eight options, including something called "mega monster." The only reference to the name IHOb was a burger ad on the condiment holder.
6:27 p.m.: I ordered the Big Brunch burger, which came with bacon, a fried egg, hash browns, cheese and something called "IHOP sauce." Instead of fries on the side, I ordered pancakes. For journalism.
My dining partner got the Cowboy BBQ burger, which was topped with onion rings, bacon, lettuce, tomato, and barbecue sauce. Its description said: "This may be how the West won."
7:03 p.m.: The food finally arrived. (Only three people seemed to work there.) They gave me fries and pancakes. Both burgers were too tall to fit in a human mouth, but I think that's just where we're at with burgers in 2018.
The fries were surprisingly good, with a seasoning that loosely reminded me of Old Bay.
Upon first taste, the Big Brunch burger was not bad. The potatoes were crunchy, the bacon was tasty, and the burger was there. The Cowboy burger was okay, but not great. The onion rings were simply too tall, and the barbecue sauce was far too sweet. Both burgers had buns that were golden and glistening, almost disturbingly so.
My partner noted the burgers were "busy enough that I didn't pay attention to the meat itself." Halfway through eating, my bun couldn't handle the busyness of all the ingredients. The weak and soggy bottom broke like a dam, and I had to use a knife and fork.
The pancakes — plain with butter and syrup — were underwhelming for a restaurant that has specialized in pancakes for 60 years. They were thick. The browned outer layer was not dissimilar to a sausage casing. They were fine, but I would've probably enjoyed them more if I was an 8-year-old. Or stoned.
I gave up on the burger, which was now too difficult to eat and started to feel like hardened putty in my stomach. The fries were still good.
I asked our waiter if he eats the burgers. He said "all the time." If I ate them all the time, I would also be napping all the time. He also noted that IHOP has always served hamburgers, just not ones quite as elaborate. Maybe that's where the "steakburger" comes into play.
7:35 p.m.: We finally left, and I felt ready to lie down and hold my belly like a cartoon bear who got into too much honey.
I don't generally eat hamburgers. If I did, IHOP is not where I would go. It was not as good as the cheeseburger I recently ate from Page Dairy Mart, and also probably not as good as Wendy's.