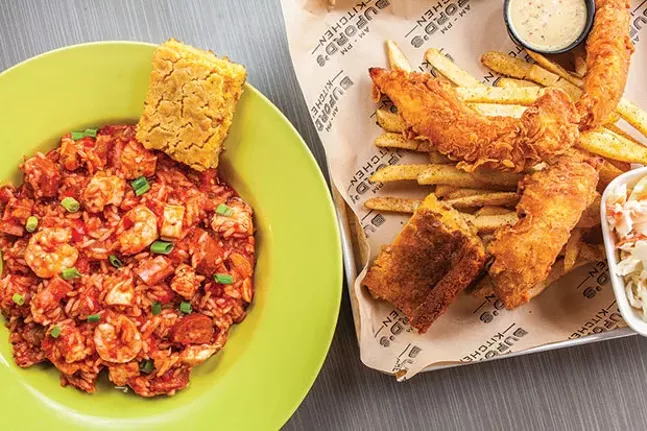 Location, location, location — that famous triumvirate of real-estate virtues — is not quite so unambiguous when it comes to restaurants. Absolutely, being in or near a campus, shopping district or other heavily trafficked area can be a boon, keeping even mediocre establishments in business far longer than we'd otherwise expect. On the other hand, we've journeyed to remote outposts to partake of great grub, and judging by the success of some out-of-the-way restaurants, we're not the only ones willing to do so.
In other words, location matters, but quality counts.
We wondered how these factors stacked up at Buford's Kitchen, a Southern-accented tavern on Fifth Avenue across from PPG Paints Arena. The location — busy when the Pens or an arena performer are in town, but beyond the outskirts of the Downtown dining zone — seemed challenging, and the featured cuisine is one in which diners tend to prize authenticity.
There was no hockey the night we went to Buford's, but a concert at the arena resulted in a crowded dining room. Management, we learned, deals with this by setting some limits on the menu. To get event-goers in and out swiftly, neither build-your-own burgers nor Buford's signature shakes are available on event nights. We were a bit let down about the shakes — we were saving room for the "Chocaholic," made with devil's food cake, for dessert — but since there were a half-dozen burger- and chicken-sandwich options on the regular menu, we still had plenty to choose from on that front.Still, our BBQ burger, topped with sauce and bacon, seemed a victim of the concert rush. Sauce was haphazardly applied, leaving part of the brioche bun — which was glossy with butter — drenched in sauce while the rest of the sandwich was barren. The texture of the burger was fine, and it was suitably cooked to order, but the seasoning was scant, such that even salty bacon wasn't enough to render it satisfyingly savory.
Pizza, another pub standard, was available in both build-your-own and pre-set versions, and it was good. The crust was chewy and yeasty at the edges, and crispy under the toppings. These consisted of a typical assortment of meats and veggies, but there was also a premium tier including andouille sausage, shrimp and pulled pork.
Speaking of andouille, the Southern-inspired items on the menu are, more specifically, New Orleans style: po' boys, gumbo, jambalaya, blackened shrimp and so on. A number of items promised big flavor, but we could have used a bottle of Crystal hot sauce on the table.
Buford's fried green tomatoes are the hearty, cornmeal-crusted style (as opposed to the lighter golden-battered), which was a good match for remoulade and scallion aioli drizzled on top. The crust was nice and crunchy, and the big, sweet-tart flavor of the tomatoes shone through, enhanced by the creamy sauces.
Our other starter was soft-pretzel sticks with pimento cheese. The richness of this tangy Southern dip was cut, just enough, by the vegetal peppers. The pretzels were soft and chewy, but also super-greasy, as if brushed with butter before heating.
A fried-oyster po' boy had a similar flaw: the buttery roll was simply too much for the filling of oysters, lettuce, tomatoes, pickles and mayo. Once we inverted the sandwich and removed the bottom half, the proportions balanced out, and the plump, briny shellfish took center stage, where they belonged.
Angelique indulged in both gumbo and jambalaya, rounded out by green-chile cornbread that was shockingly good. In a town where sweet, cakey cornbread is the norm, Buford's produced one that, while not as lean as true Southern skillet cornbread, was neither sweet nor gummy, and the chile added mild, pleasant kick.
The gumbo, smooth and smoky, was also excellent. A spoonful of rice, scattered on top of the bowl just before serving, kept it from turning to mush in the rich umber broth. Angelique felt she could have eaten a gallon of this, and nothing else, for dinner and been happy.
Buford's jambalaya was a Creole-style "red" preparation with a deep, dark, tomatoey sauce studded liberally with andouille, shrimp, ham and chicken. Onions, peppers and seasonings rounded out the flavors of this filling, paella-inspired Louisiana classic.
At its best, Buford's can compete on even footing with other local Southern-style restaurants. On a more lenient scale of places to dine before an arena event, Buford's is solidly above average, with friendly, attentive service accompanying food that was overall tasty and satisfying.