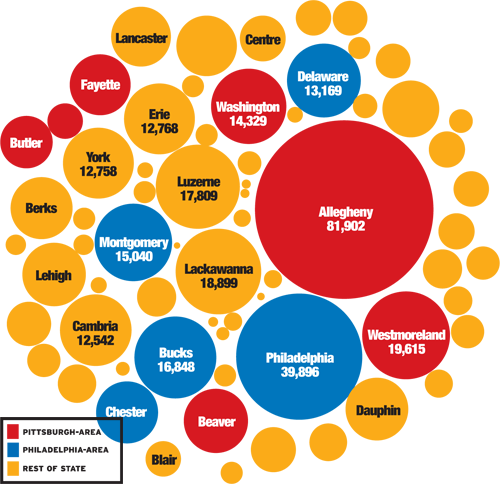 How did Dan Onorato win the Democratic primary? It wasn't by relying on homefield advantage.
Chris Briem, a regional economist at the University of Pittsburgh's Center for Social and Urban Research, broke down the Democratic primary results using "Many Eyes," an online data-visualization tool. In the charts that follow, each bubble is proportional to the number of votes the candidate earned in a given county. Counties are also color-coded according to their geographic region: within the Pittsburgh metro area, near Philly, or anywhere in between.
The difference-maker in this election, the charts suggest, is that Onorato performed strongly almost everywhere. His numbers in Allegheny County, where he serves as county executive, were not terribly impressive: He earned only slightly more than half the votes here. But outside its borders was another story. Luzerne County, for example, is on the opposite side of the state -- and yet Onorato did as well there as he did in Westmoreland County next door.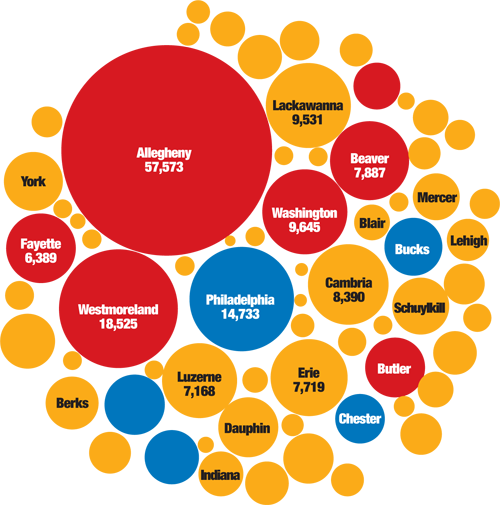 By contrast, fellow Allegheny County native Jack Wagner earned less than half as many votes in Luzerne as in Westmoreland.
State Senator Anthony Hardy Williams, meanwhile, owned his second-place finish purely to his strength in Philadelphia; Montgomery County Commissioner Joe Hoeffel's base of support, such as it was, was confined to the suburban counties nearby.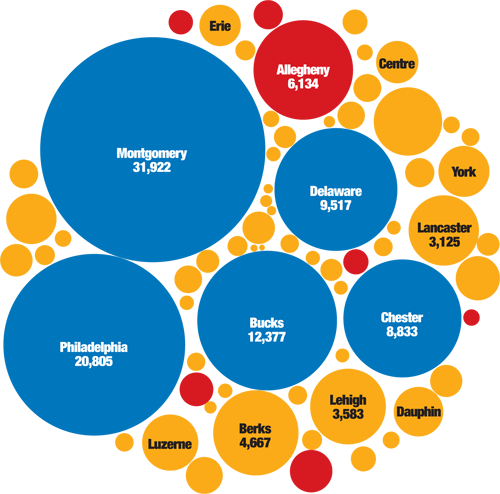 What does this mean going forward? Of all the Democrats in the race, Onorato is the one most capable of taking the fight to Republican Tom Corbett in every part of the state.