Are you a fan of the 2001 cult film Bubble Boy? Do you like musicals with a DIY charm? Arcade Comedy Theater will have exactly what you're looking for when it presents Bubble Boy: The Musical, a show based on the movie that saw Hollywood leading man Jake Gyllenhaal playing a character with more heart than immunities.
The show — opening Thu., Sept. 5 and running through Sat., Sept. 21 — marks Arcade's first big musical production. Directed by Don DiGiulio off a script by the film's writers, Cinco Paul and Ken Daurio, the musical adventure follows bubble boy Jimmy as he traverses the country in order to stop the woman he loves from marrying the wrong man at Niagara Falls. Along the way, he's both helped and hindered by various colorful characters, including a cult, a biker gang, and an ice cream salesman.
Arcade's director of programming, Michael Rubino, believes the show was the perfect choice for the theater, which specializes in improv, sketch, and stand-up comedy.
"It's weird, it's quirky, it's a little edgy," says Rubino. "It kind of just fits our vibe."
He says it also fits into the theater's mission of trying to, as he puts it, "elevate and advance the art of comedy." In order to do that, the Arcade team set out to put on larger, more theatrical productions beginning last May with its rendition of SEX a.k.a. Wieners and Boobs, an absurd play by Joe Lo Truglio, Michael Showalter, and David Wain.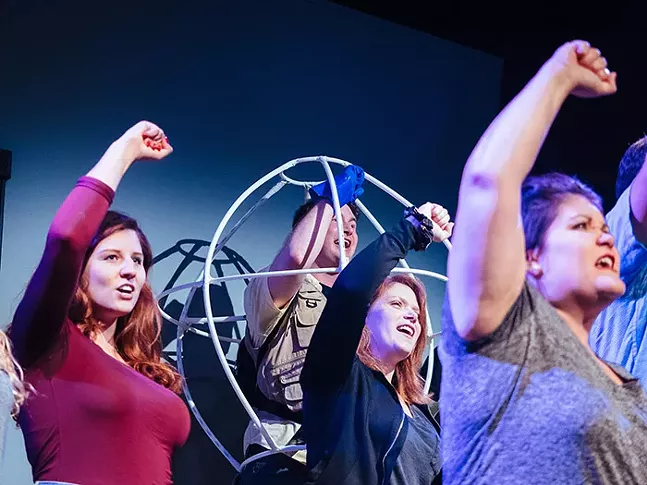 Rubino says SEX a.k.a. Wieners and Boobs sold out almost every night, proving there was a demand for that type of live performance.

"It was a big success for us and showed that we can do this as a theater, as a community," says Rubino. "We can be a theater company on top of all the other things that we do here."

It also provided new opportunities for Arcade performers, he says, many who have little to no real theatrical experience. For Bubble Boy: The Musical, most of the cast members had never even performed at Arcade, including lead actor Nathaniel Yost, who plays Jimmy, and Alex Manalo as his love interest, Chloe.
But with a new production comes new challenges that can only be tackled with ingenuity, especially in a space as intimate as the Arcade stage. To free up room, the live three-piece pit band was moved behind the audience at the top of the risers. And because the show is based on a road movie with a large cast, the crew had to get creative with ways to keep everyone moving.
"It almost becomes a French farce," says Rubino, explaining how actors are constantly entering and exiting through doors and running out into the theater's hallway, only to go downstairs and return to the stage via a back stairwell.
To pin down some of the more technical aspects of the production, Arcade relied on the art skills of its regular performers, mainly in making a bubble suit in which Yost would still be able to move, sing, and dance. For that design, Sarah Wojdylak — with help from fellow performers Anna C. Reilly and Bob Rudenborg — employed flexible PVC pipe and the clear, plastic zipper bags used to package bed sheets, and attached thick gloves to dryer vent tubes to serve as the arms.
The crew also found creative ways to get around the problem of the show's various vehicles, including a bus, ice cream truck, and motorcycle. Instead of using unwieldy cardboard cutouts, DiGiulio went with a combination of mime and projections illustrated by Reilly and Rudenborg.
"[DiGiulio] is very focused on making sure that everybody can move and that the play is quick and snappy and energetic," says Rubino. "We don't want to have big cardboard things that we have to fumble with."
With Bubble Boy: The Musical, Arcade will take a big step toward expanding its offerings and attracting new audiences.
"This is a way to get new people to come to Arcade and meet us for the first time, and see that there's this big production, and then come see some improv and see what that looks like," says Rubino. "But then also I think it goes the other way, where we want to show people who love Arcade and come here all the time that we can do something that is as interesting and engaging as the other theater companies in town."