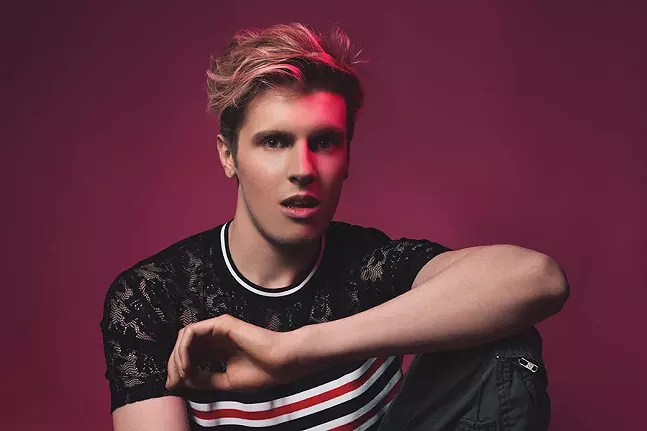 For pop musician Bryce, his performance at the 2019 Pittsburgh PrideFest is a full-circle moment. Now living in Washington D.C., the first experience the Pittsburgh native had with Pride was in his hometown as a child.

"My parents took me to see Bernadette Peters at Heinz Hall – which in itself is very gay, but at the time it was not as obvious," says Bryce. "When we were leaving that concert there was another concert happening in the street downtown, so we stopped to see what it was and it was a bunch of drag queens performing. I think they were doing 'Lady Marmalade.' And I loved it, the choreography, the costumes, the fans; and what was even more exciting than me loving it, my parents were having fun, loving it too, which was showing me that they were accepting of LGBTQ people and LGBTQ issues."
Although Bryce didn't officially come out as gay until his senior year of high school, he says he was never really "in the closet." After graduating in 2011, he moved to D.C. to attend American University.
"A nickname they were calling it at the time – AU – was Gay U because there was such a big gay population in the university," says Bryce. "I think that level of acceptance and level of openness, where I never had to think twice about whether it was OK to be myself in a space in college, was hugely important. It let me access parts of myself. To be open, to be who I was, and to be able to be dramatic without worrying about anyone saying anything was pertinent in who I am today."
Bryce further explained that the atmosphere found at AU is not exclusive to the school grounds. In D.C., LGBTQ couples are seen everywhere; there are gay bars and neighborhoods. "[It's] very, very gay," he says. "I'd say there isn't anywhere in D.C. that's not a safe space; we're pretty much accepted everywhere."
While D.C. allowed Bryce's personality to flourish, his creative side was hindered. "I was partying and using it as a way to get out of my shell. I was using alcohol as a crutch. The mantra during that time was keep the drinks coming; it doesn't matter how fucked up I'm getting."
After finishing at AU, Bryce began to realize the toll alcohol was taking on his health and well being and gave up drinking last year. His May 2019 release "Keep 'Em Coming" is an introspective look at those earlier days. Another track, "Masc," is a play on the more gender-specific stereotypes in the gay community.
"My early songs were all about partying," says Bryce. "I don't know if I would have been able to dig deep into those kind of themes if I was still worrying about what people thought of my sexuality."
But while Bryce left Pittsburgh for the LGBTQ community in D.C., he's noticed a significant change in the local scene.
"In some ways, the drag and nightlife in Pittsburgh is a little bit more edgy and exciting than what it was in D.C. at the time in the past few years," says Bryce. "Because there's so much more acceptance happening in Pittsburgh compared to previously, it's fresh and exciting."
When visiting the area last fall, Bryce performed at a local bar. It was the first time he reconnected with his music in Pittsburgh and his upcoming second show is personally monumental.
"I performed a little bit in D.C.," says Bryce, "but Pride is my first big performance. For this to be my first Pride performance, to do my first Pride performance in Pittsburgh, it's kind of a full-circle moment. I think that that's really cool and really exciting, and it's going to be a really special show. We're going to give you costumes … all of the spectacle. The music is energetic dance pop. It's going to be a party."
Bryce continues the fun-loving time at Arcade Comedy Theater on Saturday night when he takes part in Donatella: A Queer Variety Show.
"We have a full weekend for gay Pride in Pittsburgh," says Bryce.
Bryce at Pittsburgh Pride. Sat., June 8. 12-7 p.m. Andy Warhol Bridge & Fort Duquesne Blvd., Downtown. Free. pittsburghpride.org

tweet this