It's a sunny late morning when we roll up to
Farmer x Baker
, a recently opened restaurant positioned along the water in Aspinwall's attractive Riverfront Park. Nearby, kayakers launch into the water. Along the dock, families and couples sit eating at little bistro tables under umbrellas, many with dogs lying at their feet. Looking out, boats tied in the park's private marina bob gently in the Allegheny River. It wouldn't be hyperbolic to call the scene positively idyllic.
From its farm-to-table approach to running out of an upcycled 160-square-foot shipping container — the first of its kind in the city — one could easily dismiss Farmer x Baker, a new concept from Jennifer Urich, as gimmicky. But when it comes to local, Urich walks the walk. She fills her menu with seasonal ingredients sourced from
Root and Heart Farm
, her own five-acre farm in Gibsonia, as well as other area growers. An avid baker, she and her team also make their own bagels, bread, and other carb-filled goodies.
Items are ordered off two menus written on the backs of the container's open doors, one for breakfast and one for lunch, though many selections on the latter are available in the early hours. Both sides feature bagel sandwiches and crepes, sweet and savory, as well as a few items with pork or ham.
I ordered the heirloom tomato bagel sandwich with jalapeno cream cheese ($10). My husband ordered the broccoli shakshuka, described as two eggs cooked in a "veggie stew" and served with pita ($12). We also ordered a crepe with goat cheese, almonds, honey, and blueberries to share ($13).
The bagel was packed with slices of fresh heirloom tomatoes, greens, sprouts, and cream cheese, all contained in a chewy plain bagel. The cream cheese added just enough extra flavor without overwhelming the rest of the ingredients, though some heat lingered on my tongue after I had finished.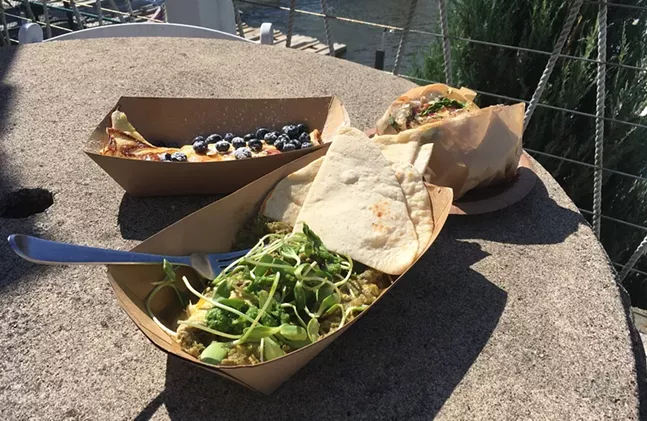 My husband said his shakshuka, with its bright green base of pureed broccoli, had a pleasant, earthy taste, all without carrying that distinct cruciferous vegetable smell known to stink up kitchens. He gladly sopped up the egg yolks and "stew" with his triangles of pita.
The crepe was packed with a generous portion of tangy goat cheese, which paired well with the sweet honey and firm, ripe blueberries. If the fruit had been any fresher, I'd have sworn I watched the staff pick them that very morning.
With two orders of coffee, the total came to $46, an amount that some people might, justifiably, scoff at. But with that price comes with a beautiful view and the knowledge of the meal's origins. In the end, Farmer x Baker proved more than just a gimmick, and hopefully becomes a mainstay in a city severely lacking in riverfront dining.