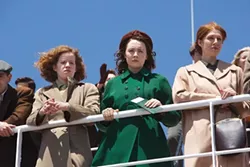 John Crowley's gentle and frequently poignant melodrama, which Nick Hornby adapted from Colm Toibin's novel, follows a young Irish woman, Eilis (Saoirse Ronan), as she leaves her small County Wexford town for the opportunities of Brooklyn. It's 1952, and America is surging into the mid-century, as chaotic, lively and surprising as Ireland is still rooted in tradition. At first Eilis is lost and lonely, despite landing in a boardinghouse helmed by a sharp-tongued landlady (Julie Walters) and a steady job at nice department store.
But at the parish dance, Eilis meets a sweet Italian-American fella named Tony (Emory Cohen), and her new life begins to sparkle. Everything is on track for her to fully embrace life in America, when a family matter calls her back to Ireland. And now, newly confident from her time abroad, remaining in the old country doesn't seem so bad, especially after getting drinks with the besotted Jim (Domhnall Gleeson) …
The plot is the stuff of old-fashioned women's pictures, and is saved from becoming too treacly by Crowley's light touch and Ronan's fine performance. (The film is also lovely to look at, saturated with rich colors reminiscent of the era's Technicolor features.) What the film captures best is the bittersweet nature of the immigrant's life. Eilis now has two homes: One will remain beneath her feet, while the other will be a mix of memories and regrets about choices not taken. Time will perhaps shift allegiance from one home to another, but like all immigrants, Eilis will live suspended between the two.