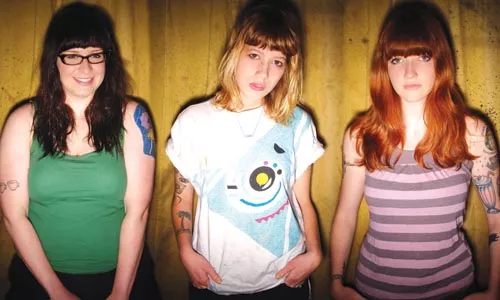 When Brooklyn trio Vivian Girls plays the Andy Warhol Museum next week, they'll be visiting a site with subtle resonance. In 2006, before the band existed, the museum hosted the original Vivian Girls -- the feminine subjects of the late outsider artist Henry Darger's demented pictorials. Unlike Darger's darlings, though, the garagey critical darlings wear their antecedents and inspirations rather plainly -- and, to be honest, rather well.
It's not that Vivian Girls present something particularly new; it's just that they don't rehash either. It's been a whirlwind year since their first LP, originally on Mauled by Tigers, was reissued by California garage/weirdo label In the Red. Since then, the band has been compared to '60s girl groups, twee pop groups, garage bands and shoegaze outfits. They're all valid comparisons, as it's all in there.
Perhaps more so than the band's influences and sonic qualities, though, it's Vivian Girls' attitude and affect that make them so alluring. Take, for example, the members' stage names, suggestive of a certain disregard: Cassie Ramone, Kickball Katy and Ali Koehler. There are nods to silly contrivance a la The Ramones or The Donnas. But Vivian Girls merely flirt with the conceit of silly names, rather than endorsing it fully.
Likewise, a conscientious sense of nuance in the band's music, sonically and thematically, creates the band's signature sound. It's a sound that is regularly -- and mistakenly -- characterized as naïve, innocent, possessing an angelic vocal quality. Perhaps critics have come to see flippant nihilism as naïve. Or perhaps they see a band of three women in their early 20s and automatically reach into the bag of saccharine descriptors.
Far from naïve and angelic, Vivian Girls present a view of the world that's playfully jaded, pleasantly cynical. Their self-titled full-length contained tracks with names like "Such a Joke," "Going Insane" and "No." Their second, Everything Goes Wrong, due out next month, continues a trajectory into the psychological, with slightly more spaced-out tracks peppered amongst firecrackers like "Survival." The one happy-seeming title on the forthcoming album, "You're My Guy," proves to be the complete opposite: "You're my guy / Fuck me all the time / I'm lonely every night / Don't know what you want from me," it begins. This sounds more like a bunch of women weaned on riot grrrl than a heavenly host.
The Girls' vocals are striking in their plainness. Underproduced and understated, Cassie Ramone and Kickball Katy talk-sing through songs like "I Believe In Nothing" in what can be described paradoxically as monotone harmony. They sound completely uninterested, but have gone to the trouble of working out harmony parts to give depth to their ennui. It's this sort of clever subtextual sophistication -- far from naïveté -- that colors the two Vivian Girls records.
Likewise the band's guitar work. The rhythm guitar is jangly and rough, designed more to fill out aural space than to impress with its precision. Guitar solos, few and far between, are ingeniously simplistic -- perhaps out of necessity, but perhaps also because the band realizes that sometimes great solos are abstract, more about the energy behind them than their rigor and range. In the context of a band whose output is emphatically blasé, a guitar solo that simply walks in place is pleasantly fitting.
The catapult that's turned Vivian Girls from virtual unknowns to international hits -- and from playing a house show here early this year to headlining the Warhol on Thu., Aug. 27 -- consists in part of a fickle indie-rock press that likes to break bands as quickly as it likes to make them. (Witness the spectacular and viral near-implosion of the band's colleagues Wavves, after their quick rise to prominence.)
Resisting the rise-and-fall methodology of their contemporaries is still possible for Vivian Girls, though. Owing to their versatility of sound, seemingly unconcerned attitude and borderline nihilism, they may be carving out a niche that will keep them in the spotlight far past 2009. And if not, who's to say they'll care?
Vivian Girls. 8-9 p.m. Thu., Aug. 27. Andy Warhol Museum, 117 Sandusky St., North Side (outdoor stage, weather permitting). $12. 412-237-8300 or www.warhol.org