At first glance, Tana Ethiopian Cuisine in East Liberty was fairly unassuming. It was quiet. Guests silently munched along to a soundtrack of calm, Ethiopian melodies. The decor reminded me of a sports bar mixed with my grandmother's kitchen, a clash made more confusing by the flannel-lined vinyl tablecloths. Kitschy lights directed me to a dining room drenched in beige and sprinkled with small paintings, gigantic woven baskets, and other handcrafted art that acknowledged the Ethiopian connection. Despite the modest decor, the food packs a serious punch of flavor and personality that lingers long after you leave.
I dove straight into the intimidating two-page menu, which left me with tons of questions. The server was patient as I frantically navigated the unfamiliar flavors. In the end, I split the tana sampler with a friend. I filled the platter with doro wot, a traditional Ethiopian chicken dish, minchet abish (ground beef), Tana's lamb tibs (a stew-like dish), shiro wot (ground chickpeas), ye ater kik alicha (split peas), and fossolia (a dish of green beans and roasted carrots).
I started with an order of sambusa, a thinly-wrapped Ethiopian iteration of samosa. The dish was swimming in oil, which overpowered the flavors inside. Instead of savory lentils, I could only taste oil and garlic.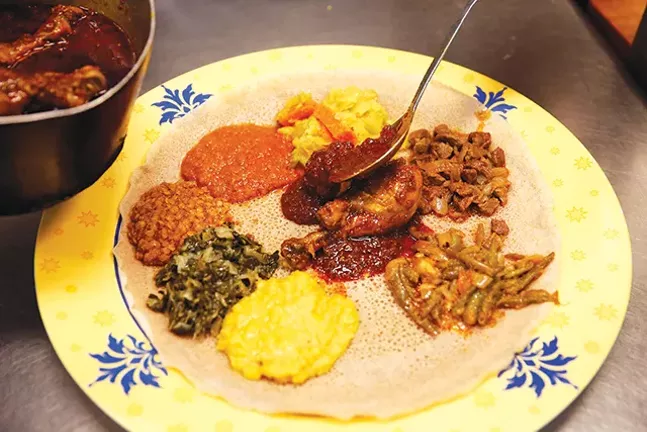 Thankfully, I was soon greeted by a family-size platter of food. The ornamental plate was covered with a piece of inerja, Ethiopia's signature thin, sourdough flatbread, with the entrees artfully situated in a circle on top. Holding to tradition, I ate with my right hand, using pieces of inerja to pick up each bite.
If you like to keep clear boundaries between your food, Tana is not for you. The injera base absorbed some of the other components' saucy runoff, but eventually, everything mixes together. In my eyes, it's a brilliant combination. The flavors are delicious whether mixed or on their own.
The split peas, doro wot, and green beans were table favorites. From the split peas, I expected an unappealing green color and flavor reminiscent of split-pea soup, but my assumption was way off. The peas were tangy and with a strong presence of garlic, not thin or soupy, with hints of citrus that landed at a bite's end.
Fossolia, the green beans and carrots stewed in tomato sauce, matched perfectly with the injera. Because injera is fermented, there's a slight sourness added to each bite. I could go back to Tana again and again, just for the inerja.
Doro wot is made with berbere, a classic spice combination of paprika, cumin, garlic, basil, and cardamom. The two chicken legs were tender, the two eggs mouth-burning hot and freshly hard-boiled. But it was the stew-like sauce that I fell hardest for, with the berbere contributing a mellow heat.
When I finally sat back, too full to take another bite, half of my meal was still in front of me, my hands desperately needed to be washed, and my breath reeked of onions.
Bring some gum, a wet wipe, and an empty stomach to Tana.
Favorite Features

1. Inerja
I can't stop thinking about this bread. It wasn't just a utensil, but added flavor to the meal. The flavor, the texture, everything about it — the inerja is constantly running through my mind.

2. One big plate of food

Tana doesn't mess around with extra plates. It's a one dish dinner, all of the food piled up and set center stage on the table. It's a fun, unique way to taste global flavor with friends.

3. Leftovers

There's nothing better than leaving work knowing that good food is waiting in the fridge. Tana's "one spoonful of food" is big enough for five people. I left with a to-go box filled to the brim.