It's not unusual for the Timebomb Shop to pulsate from the bass and drums in the music playing throughout the clothing store. So when the other noise started in March — the drilling, the bulldozing, the scraping, the digging — owner Brian Brick naturally set those scenes to music, too.
On Timebomb Shop's Vine — a mobile video-creation software platform — Brick took video of the demolition of the South Highland Avenue Bridge, and set it to beats created by his friends. Drums during drilling; a bulldozer set to funky horns. 
"I just plugged the [beats] in," says Brick. "I was bored because we're on a dead end here." 
South Highland Avenue, where Brick's shop sits, isn't normally a dead end. Ordinarily it crosses the Martin Luther King East Busway, and a set of railroad tracks, to connect with East Liberty's Penn Circle South. But until Sept. 10, the street is blocked off as construction crews rebuild the bridge over the busway. From South Highland, a fence and orange signs overlook a pile of rubble and construction equipment. 
 "We're on the front lines here," Brick says, motioning to the storefront a few feet from the fence. "I see it every day."
But Brick is making the best of it, by hanging a Timebomb-emblazoned banner on the fence. The construction "gave me an excuse to use it," he says.
While Brick says business has been steady "because we're a destination store," the construction "slows everything up. There used to be people walking by."
And owners of other East End businesses say they too feel the pinch of construction, losing foot traffic on a street full of popular eateries and shops. 
Most agree it's a necessary and temporary inconvenience for the summer. "It's a necessary evil. The bridge was condemned 20 years ago," says Richard Rattner, president of the Shadyside Chamber of Commerce. "We live in an old city with old infrastructure."
"The bridge's condition was beyond repairs and needed to be fully reconstructed," according to city Public Works director Rob Kaczorowski.
The construction started in March; since then, traffic between Shadyside and East Liberty has been detoured to Penn Avenue via Penn Circle and Shady Avenue. Ellsworth Avenue, meanwhile, is closed from Swope Street to Spahr Street while crews lower Ellsworth 18 inches to provide clearance beneath the bridge. Detours are posted, and community leaders say there was a year's worth of advanced notice and planning to minimize impact to the businesses. Construction is taking place during the summer, Rattner says, because it's slower for retail. 
Rattner says he hasn't heard of any businesses closing as a result, and many interviewed by City Paper said that while they struggle, they should be able to make it through the construction.
Dan Gilman, chief of staff for Pittsburgh City Councilor Bill Peduto, says the office hasn't heard much negative about the project. "We've gotten less than five calls," he says. "We did a very good job going through the public process ahead of time." The necessity of the bridge replacement, he says, "has been talked about for over a decade. It's a project everyone's been anticipating."
But business owners are paying a price. 
At Penn Circle gourmet-burger tavern BRGR, general manager Heather Perkins has noticed a drop-off in early weekday diners. On South Highland, meanwhile, there's a collective pain.
At The Gallery 4, director Joseph Veltri says opening receptions for artist exhibitions usually receive 100-150 visitors. "We're seeing one-third of that," says Veltri. The Gallery also relies on a flat-rate parking lot on the other side of the bridge, which is now inaccessible by foot. Veltri says the gallery is considering using more Internet marketing and sales, and possibly eBay.
"It's something as a fine-art gallery we shouldn't be doing, but we've got back inventory and have to cover our costs," says Veltri. 
At Smiley's Pet Pad, meanwhile, owner Ginny Smiley estimates that there's been a 40 percent drop in daily customer visits. At one point, Smiley says, it was so bad that she didn't have the revenue to stock her shelves.
"Should I shorten hours because I'm not getting the business or extend hours [to attract more business] but I can't afford the payroll?" she asks. "I'm really stuck."
Smiley says her customers have been frustrated with detours, and that the dead-end on South Highland deters potential customers from venturing down to The Shadyside Plaza.
"The sign says, 'road closed' and people don't think they can continue down here when there is parking available," Smiley says. 
Smiley reached out to her customers via an email blast, and they responded. One customer, Friendship resident Adrienne Jouver, designed a T-shirt with the help of Commonwealth Press to advertise the store, and generate some revenue.
Jouver says she relies on the store for supplies for her three cats and 75-pound dog. And because it's a small, independently owned shop, Jouver says, she's received extra help — like allowing Jouver to come in for supplies on Easter, despite the store's being closed.
The staff even "helped me carry my bags to the car," she says. Independent stores like Smiley's offer "the kind of service you're probably not going to get from a big box store."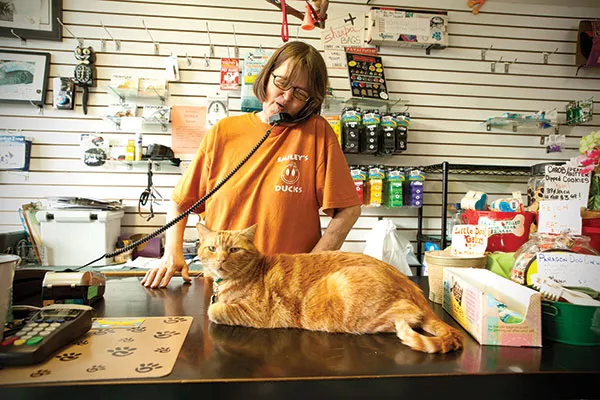 The response from her customers, Smiley says, "has been huge." And it should be enough to help her through the rest of construction. "My customers are really stepping up to the plate." 
Further down Highland at Penhollows, a home-furnishing store, owner Roger Guzik says that a stop in parking-meter enforcement ate up parking spaces for his customers, making it more difficult for them to access his store. "I don't know why we've been abandoned when they closed the bridge," he says.
Gilman says that the issue was addressed, and meters are now being enforced. 
But Guzik says he's still feeling the pinch: Sales are down 25 percent.
"There's nothing you can do about it," he says. "All you can do is hope September comes quick."