"Family friendly" usually does not appear in the same sentence with "Bricolage Productions." The real question is why Saints Tour, produced in association with Real/Time Interventions, is not marketed as such. The site-specific play, conceived and written by playwright Molly Rice, has all the earmarks of classic children's theater: immersion into a land of wonderment, frequent calls for participation, exuberance and joy. And, oh yes, a treat at the end.
Grown-ups who can leave their apprehensions at the door of the magical mystery tour bus will have a lot of fun, especially if they bring kids. The dark, adult themes will fly over the little ones' heads and not bother them, while giving the "serious" people something to think about.
The Tour, by bus and on foot, explores real history given mythical interpretations with miracles, saints, ethereal music and apparitions throughout the Greater Braddock area. True, it's not exactly everyone's idea of "a land of wonderment," but the history of this hollowed-out mastodon of a town has captured many an imagination in real life. It's not difficult to perceive ghosts, if not saints, still inhabiting the area.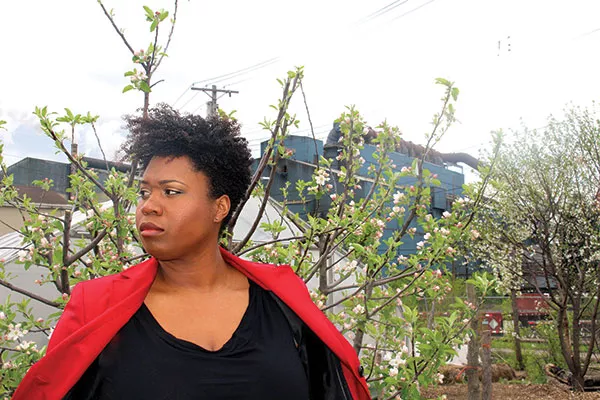 The very idea of organizing this tri-borough trek with so many private and public parties involved is mind-boggling, even more challenging than Bricolage's immersive STRATA in 2012. A tip of the hat to Real/Time cofounders Rice and Rusty Thelin, and Bricolage "team members" Jeffrey Carpenter, Tami Dixon, Jackie Baker, Maureen White Ciampaglia, Alicia DiGiori and Emily Willson. So much of the magic is created by local visual artists, including David Pohl and Lenka Clayton ("saint signs"), James Simon (violin-maker), and Vanessa German (the bridge). Bria Walker, as the Tour Guide, shoulders her monumental task with ease.
The Tour sweeps through Monongahela Cemetery, with spectacular views of the Mon Valley, and the silent history of its residents, as Scots-Irish names are succeeded by Eastern European ones on the gravestones. The Tour-ists also walk up and down hills, steps, paved and unpaved places. Wear sturdy walking shoes that you don't mind getting wet or muddy, and be careful. Don't lose your footing, just capture the magic.