The format of Bagel Day is straightforward. On Saturdays, I wake up around 5 a.m. and make between four and six dozen bagels. Closer to 10 a.m., I brew a few pots of coffee. People can stop by between 10 and noon. No one can make special requests, and no one is allowed to talk about work. That's it. Everyone is welcome.
The first Bagel Day was last November, but the origin of the event goes back to 2014 — with the end of my last relationship. Three months into dating, I hit a rough patch of depression.
It had always been difficult to gauge how long these stretches could last. Sometimes they went on for months at a time. I felt that I wasn't being fair to her, so we broke up.
One of the lasting images I have of our relationship is her sweeping into the kitchen of my apartment, groceries in hand, gracefully whipping together dinner. She emanated this magical energy when she cooked that I couldn't understand, but found so impressive.
These stretches of depression and anxiety began when I was twelve and would pop up unpredictably. Very rarely would I talk about it; I felt embarrassed. I have great parents, a stable and supportive upbringing, and an expansive community of friends. For over two decades, I believed I was weak-willed and lazy. I wasn't "actually" depressed. I just needed to try harder. It became my mantra.
A few doctors gave me blood tests and told me that I wasn't clinically depressed. A few trips to a psychologist were frustrating, and I was scared of taking medication, still under the belief that this was just a personal weakness.
I also had a growing list of personal issues: I was overweight and in poor physical health because of an old back injury; I was a heavy smoker and drank too much beer; I rarely, if ever, exercised; and, I ate like garbage — eating out in bars or getting fast food for most of my meals.
After the breakup, I wanted a fresh start, so I did what I always do when I wanted to start over — I moved. A few months later, I started a new job that was a major step up for my career. I was keen to launch out of this funk through sheer willpower.
Three years later, my landlord sent me a text about renewing my lease. It was the first time in a long time that I thought about moving again. I looked around my apartment from my well-worn spot on the couch: The floor was covered in dirty clothes, empty food containers, and scattered cardboard boxes, even though the deliveries were from years ago. My kitchen sink was full of dishes I hadn't touched in six months. The refrigerator was almost always empty.

Deeply embarrassed, I would rarely invite anyone over. The blinds were always drawn. A pattern had developed where I would come home from work, lay down on the couch, and watch TV until I fell asleep.
On the weekends, I would avoid my apartment, eating out then heading home when bars got too crowded — right back to my spot on the couch. Three years had passed. I had moved, but I hadn't changed.
Determined that a move would change things, I found a new place in Polish Hill. It was full of light, with trees visible from every window and an expansive garden in the backyard. I signed the lease. It was going to be different this time.
It was that next month that I discovered I had made a minor, but problematic mistake at work. There were very few people around when I had my panic attack. After throwing up, I left work early and went to my go-to bar, trying to calm down but drinking on an empty stomach.

I ran into a friend and she got me to start talking. I cried at the bar. I don't remember a lot of what I said, but I do remember saying "I don't want to do this anymore."
That same week, Anthony Bourdain killed himself. He wasn't perfect, but he represented this kind of ideal lifestyle for me. Someone who traveled the world and deeply appreciated human connection. And he killed himself.
Something clicked. The moves weren't for fresh starts. I was running away. It wasn't normal stress and anxiety. I had lost the ability to put things in perspective. I wasn't bad at dating. I was abandoning my emotions. It isn't a lack of effort or a weak will. I was sick.
That next week, for the first time in almost six years, I went to see a doctor. After I opened up to him, he told me that I had probably received some poor advice — depression can be complicated. He gave me a prescription for antidepressants and referrals for people who could help me make a positive, actual change.
It took about a month for me to start feeling that change, but it was incredible when I did. It wasn't that I felt happy. It was this empowering feeling of normality.

I had the energy to get rid of my clutter, to shed a pile of belongings that were weighing me down. I was meeting with specialists and making dramatic lifestyle changes for my health.
It was with this new sensation that I moved into my new apartment in August, and four days later, with newfound energy and interest in life, I baked my first ever loaf of bread.
I made my first batch of bagels a few weeks later on a whim and I found them both surprisingly easy and fun to make. To most people, the method is somewhat mysterious and magical. Their faces would light up when I handed them a homemade bagel. I continued to make small batches for parties and at their request, I treated my students to a big batch of bagels for their course final.
A few weeks later, the Tree of Life Synagogue shooting took place. Like most people, the shooting shook me. I worked only a few miles away. I had students that lived in that part of Squirrel Hill. I remember going to a restaurant the next day and looking across the room as different people would occasionally take a small moment to themselves to cry.
I wanted to reach out to my friends, my students, and others, but I was worried that a generic message of support could ring hollow. I wanted to share some expression of care, so that Monday I posted a message on Instagram and Twitter: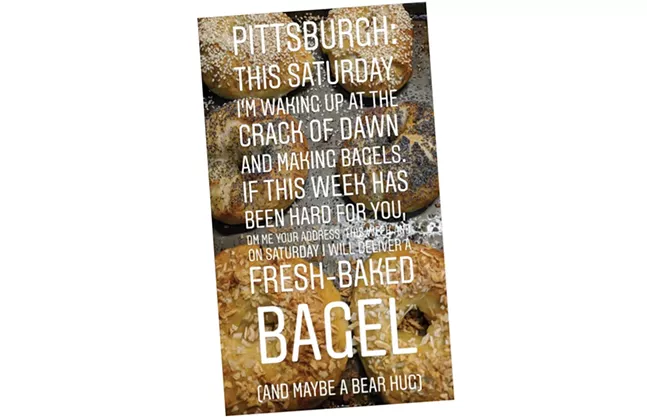 Eleven households responded —I decided to include a few others as a surprise. That Saturday, a week after the shooting, I woke up at 5 a.m. and made four dozen bagels. Packed in paper sacks, I distributed them throughout Pittsburgh. Most people weren't awake, so I shoved bags of bagels in mail slots and in doorways. A few people were awake and got hugs. It felt good.

That following Saturday was the first Bagel Day. Over the course of two hours, about twenty-six people came. And I kept hosting the event.
In the Bagel Days that have followed, the most that have ever come is forty and the fewest ten. My parents, siblings, and cousins have all come. My grandmother came once. A group of my students come every week. Co-workers come. Close friends come. People whom I didn't realize were close friends come and reveal themselves to be, in fact, close friends. People have brought their friends. People have brought their parents. My friends brought their newborn baby once.
Every week, about half are regulars and half are first-timers. We play Mario Kart and solve jigsaw puzzles. We talk in the kitchen about ridiculous things. Around noon, everyone leaves. I put dishes in the dishwasher and take a nap.
By the end of January, I will have held ten Bagel Days and baked approximately seven hundred and fifty bagels since that first batch in August.
On Saturdays, I get up and bake four to six dozen bagels. My apartment is clean and I open my doors to others. I mix everyone together for no reason other than mixing them together. No money changes hands. There's no alcohol (except once someone made mimosas). It's loud and everyone is in my space. I rarely get to sit down and by noon I'm exhausted.
My house fills with that magical energy, and I'm thinking about taking dating seriously again.