It's not all waffles and pancakes at Lola's Eatery, a new brunch spot opening Wednesday in the Engine House 25 tasting room. Owners Max Becerra and Zoe Rieder are drawing on Becerra's Mexican and Filipino heritage to deliver new and unexpected flavors to Lawrenceville's brunch scene.

There's adobo pot pie — adobo chicken with pork belly, bacon, and the classic fixins — and Filipino fries with spam, fried egg, green onion, and "banana ketchup"; breakfast egg rolls, stuffed with cheddar, eggs, chorizo, jalepeño, and onion; and breakfast noodles with mushrooms, kale, caramelized onions, bacon, a nitamago egg, and a house-made soy brine.
"The flavors with the spice mesh and blend well, especially with Zoe's baked goods, which are super sweet and super good," says Becerra.
Rieder
is the in-house baker, throwing together scones, cookies, and to-die-for doughnuts.
"I love baking; I've always wanted to own my own bakery. I just never thought it would happen this soon in my life," said Rieder.
Becerra and Rieder, whose parents own Engine House 25, were offered the vacant tasting room space last summer and spent the year renovating and perfecting the menu.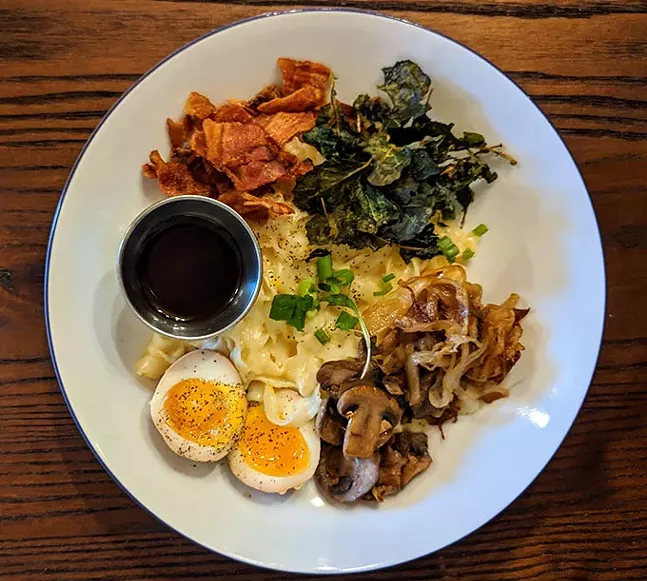 The name Lola comes from the neighborhood, lower Lawrenceville, an area that Rieder says has played a "big role" in her life. (It also means "grandmother" in Filipino.)
Rieder
has also spent the year perfecting her bagel recipe. Becerra notes that one of her best is a bagel based off of the popular pumpkin spice latte and topped with coffee cream cheese. These bagels will also serve as the base of create-your-own breakfast sandwiches, or "your own 'hangover cure'" as they're titled it in the shop.
Lola's Eatery will also feature other traditional breakfast items, such as chicken and waffles, eggs benedict, chia pudding, and homefries. Coffee from La Colombe is available along with tea and a small selection of "adult beverages" for purchase in the back Engine House 25 wine bar. Rieder and Becerra are working with local vendors, like Kingfly Spirits, to create breakfast beverages. (Recently, the duo has been experimenting with micheladas.)