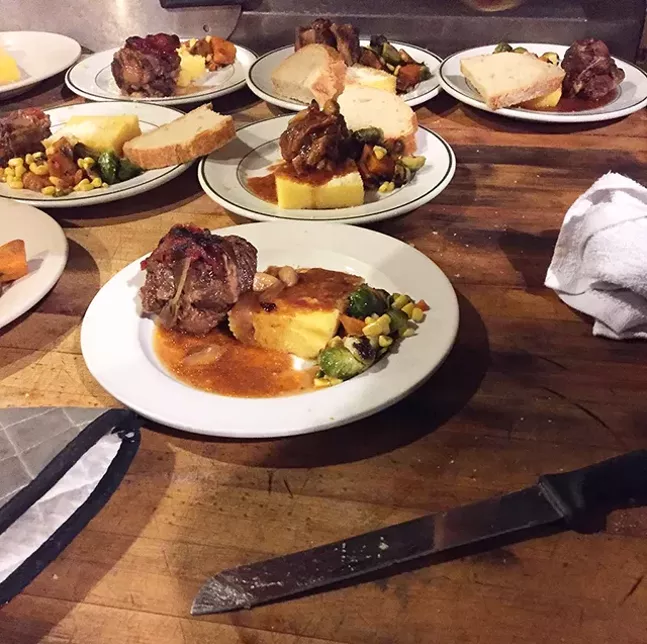 When the Enrico Biscotti Company started its First Friday Dinners 20 years ago, the owners learned to listen for laughter. The series — family-style gatherings in which 30 or so strangers dine elbow-to-elbow on communal seating — can start off a little awkward, with guests unsure how to interact with their neighbors. But as soon as the staff hears that first bout of laughter from the dining room, they know it'll be a good night.
First Friday Dinners started six years after the bakery's opening in 1993. Owner Larry Lagattuta and his head chef at the time, Kate Romane, dreamt up the idea to fill a growing rift between eating and community.
"People would come and reminisce about these Pittsburgh dinners that were just chaos, with people talking and laughing," recalled Lagattuta. "So we thought, what the hell? We can do this."
When café doors open to a family of strangers on a first Friday, Enrico's rustic garage is outfitted with one, long table that stretches the length of the restaurant. Diners are seated snugly next to one other, bumping knees and brushing elbows.
The meal starts with antipasto, featuring brick-oven baked bread followed by salad, pasta, an entree, and finishing with dessert. Spreads of cheeses, meats, and roasted veggies, bowls of pasta, and bread move around the table. It's a dinner to make grandmothers green with envy.
Courses are always a surprise. Lagattuta keeps things loosely traditional, wary of repetition. Constant change keeps it exciting and, as Lagattuta points out, duplicating menus would cheat both himself and diners.
The experience is two steps out of anyone's comfort zone, something Lagattuta surmises is the biggest draw. No menus are placed on the tables or anywhere in the restaurant.
"You don't know who you're going to sit next to, but you're gonna sit next to somebody," he says. "You don't know what you're going to eat, but it's going to be fine. You know where you're going, but this is a different journey."
By the end of the night, strangers walk out friends. It's an unusual way to meet an unexpected neighbor, exclusive to Enrico's.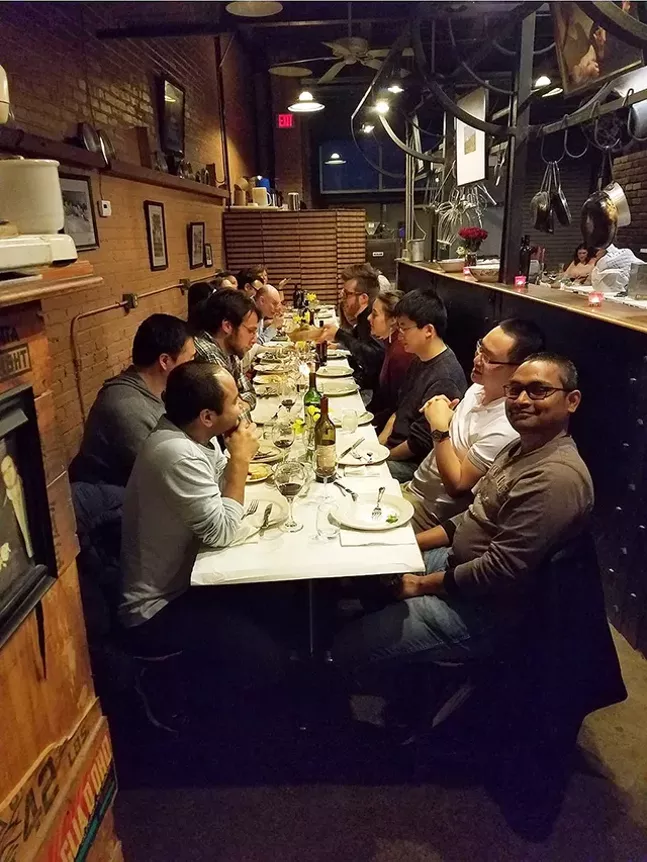 "In Pittsburgh, that's all that we do — eat together," says Lagattuta. "Everyone says we're a friendly city, and we are. Everyone says we care about each other and we do. Eating together is just one of those things."
February's First Friday is all booked up, but you can register for future dinners at enricobiscotti.com or by calling 412-281-2602.