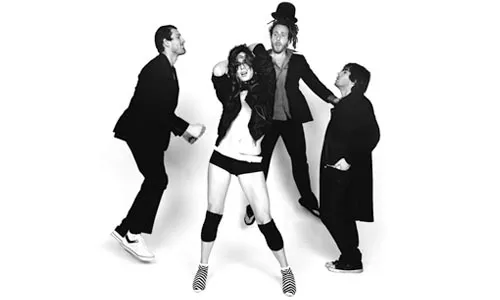 Talk to La Bomb may prove the stupidest album title of 2006, but Brazilian Girls' sophomore release is also some of the most fun your stereo will have this lap around the sun. Before anyone gets too worked up, no, none of the four band members is Brazilian, and only one is female.
More playful than seductive, more multilingual than multiculti, Brazilian Girls are built around tight international pop and lounge grooves and the five-language word stew of siren Sabina Sciubba. She might be thinking of transgressing musical boundaries when she sings, "You know I am a general, and I am giving out the orders / I always have an orgasm when the tanks are rolling, crushing through the borders."
While conceptually reminiscent of Talking Heads' Remain in Light and Naked, on Talk to La Bomb the New York group more often resembles early Bjork, on songs like "Sexy Asshole" and the bubbling cherry-cola disco of "Last Call." Apart from the Ric Ocasek-produced "Last Call," producer Mark Plati's prints are all over this sucker, recalling his work with latter-day David Bowie and Dee-Lite.
If you missed Brazilian Girls' September performance at WYEP's Rock the Block party, you deserve a second chance: Catch the Girls Fri., Dec. 1 at the Rex Theatre.
Brazilian Girls. 8 p.m. Fri., Dec. 1. Rex Theatre, 1602 E. Carson St., South Side. $17. 412-381-6811 or www.rextheatre.com