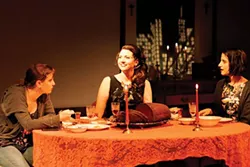 It's not difficult to recognize the dystopian world of José Rivera's Brainpeople: a land of extreme income difference, where the few rich have private armies for protection and the rest are subject to the caprices of martial law. The Throughline Theatre Co. production of this magic-realism play from 2008 portrays the logical outcome of such a system: people soulless and crazy on so many levels.
The setting is a dinner party for three women: the wealthy (though barefoot; symbolism alert?) hostess and two strangers. The festivities, and the play, quickly fragment, like an exploded stained-glass window. The characters pick up various jagged pieces — often a painful process — and progress toward some more coherent picture, or at least a conclusion.
Yes, there is a plot, but it's more fun to come to the surprises unspoiled. Directed by Sean Sears, assisted by Casey Cunningham and Vance Weatherly, Brainpeople is a seductively dark comedy and a showcase for talented actors. Amy Portenlanger quickly dominates the action as, in the words of another character, a "one-woman circus." Her multiple personalities, taxing Portenlanger's ranges of accents and portrayals, begin scary and then pile on more fear and energy. Kaitlin Kerr takes victimhood to a new level as Ani, whose own lunacy takes longer to reveal. And Maura Underwood sexily underplays the glamorous hostess, Mayannah.
The exotica of Rivera's tale is realized in an ever-changing series of background projections, ranging from ultra-modern urban landscapes to medieval depictions of the Crucifixion. (Courtesy of graphic technician Justin Kates and Weatherly on design, and Dan Freeman, assistant stage manager/projection technician, on engineering.) That mix of secular sophistication and religiosity continues in the sets and props (designed, respectively, by Joseph A. Walker and Jen Hitchcock). Applause also to Wendy E. Baxter and Tina Marie Cerny for lighting and costumes.
The title refers to the voices inside your head: telling you what to do, defining your reality, creating someone that could become you. Like the dinner it portrays, Brainpeople might be an acquired taste, but worthwhile.