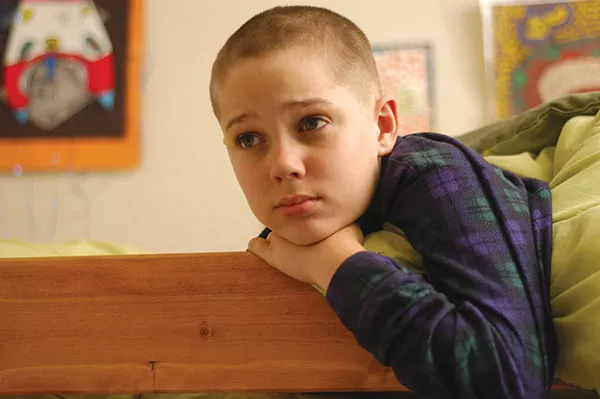 "It's always right now," says a young man staring at the future.
Though our lives have pasts and hopefully futures, it is always right now. Film, of course, is one technique used to "freeze" time, but what if the medium were used not to illustrate a snapshot of singular significance, but the endless stream of now?
That's filmmaker Richard Linklater's goal in Boyhood, for which he filmed the same actors periodically over 12 years, in order to depict the childhood of one Texas boy. The experiment recalls the long-running British Up documentary series, as well as Linklater's Before trilogy, which charted a fictional relationship in more-or-less real-time chunks. Even if Boyhood were a terrible film, you'd have to commend Linklater for simply mastering the logistics of it, but it's especially notable when the product is as engaging and affirming as this.
Boyhood follows Mason (Ellar Coltrane), from age 6 to 18, along with his mom Olivia (Patricia Arquette), dad Mason Sr. (Ethan Hawke) and sister Sam (Lorelei Linklater, the director's daughter). Mason's life plays out with relatively normal upheaval — moving, marriage, blended families, divorce, new schools and friends. The material is low-key and natural, with little sentimentality and the air of a lightly scripted documentary.
Watching the onscreen growth of Mason from child to adult is both seamless and shocking (where did that kid go?). Physical changes are inevitable, but Mason retains aspects of his personality throughout: The sensitive, slightly dreamy boy staring at the sky in the opening scene is bookended by the sensitive, slightly dreamy young man staring at the sky in the final scene.
The title directs us toward Mason, but quietly, in the background, his parents also grow up. Olivia's transformation is broader and more difficult; she's a single mom, also juggling school, a job and new relationships, while every-other-weekend Mason Sr. is a man-child to whom self-awareness come more slowly. Also thrumming behind the plot is a portrait of recent middle-class life, transformed by new technologies, political shifts and economic crises.
It's always right now, but still we try to save the past, even as most of it — mundane, repetitive — disappears. Linklater's "save" is a cleverly constructed artifice that seeks to assuage our anxiety about our ephemeral nature, particular the dramatic change as a small child is transformed into an adult through a million lost moments. Boyhood is both a celebration of, and an elegy to, this transition — an ode to being a kid or a parent, and all the sweet, fraught space in between.