For the 14th time, BoxHeart Expressions has collected works from artists across the globe for its annual group show the Art Inter/National Exhibition. Through the years, this show by the small but mighty gallery has established a precedent: It's an assemblage of works by artists from very far or incredibly near, representing all styles and media, and sure to include pieces often intriguing, sometimes spectacular and occasionally mesmerizing.
This year's offering continues that tradition. With 24 works by 20 artists from 10 countries, there's not a clunker in the bunch. But a few pieces resonate as particularly captivating — aesthetically irresistible, intellectually spellbinding or both, standing out in a collection of stand-outs.
Pennsylvania artist Jim Studeny's showstopper "Waterfowl at the Battle of Fujikawa" combines the traditional beauty of Japanese woodblock prints with the vivid coloring of the superflat movement and a hint of comic influence in a large painting that commands immediate attention. "Sampson County Cotton Field," by Micah Mullen (New York), hums with vibrance and movement, a rich depiction of earth and sky with lushly verdant woods within. Wood is the medium for Ric Taylor (Texas) in "Earth and Fire," specifically buckeye burl, carved into a delicate, softball-sized planet.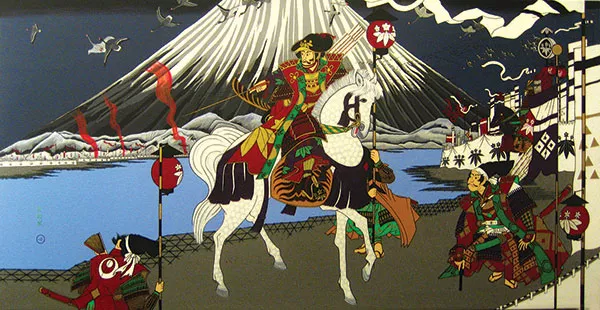 Israeli artist Revital Falke's mixed-media work "Jewish Goblin" is a joyous, lively beach scene of yoga-posing or sunbathing humans surrounded by dogs chasing cats, playing, pooping. "Horses Run Forever" across the canvas of Reza Rafiei Rad (Iran), twin steeds saluted expressionistically. Victoria Goro-Rapoport's (Russia) "Winter Flowers" painstakingly connects human, nature and the desire of one to manipulate the other.
One of this year's artists, Irina Koukhanova, was BoxHeart's 2014 Artist of the Year. Her solo exhibition Panoptic Landscape, with sculptures, paintings and drawings finding cheekiness and hope within a bleak environment, was a highlight of last year. But Art Inter/National is a group show, and it functions, regardless of its geographical range, the same way all group shows function. It is an introduction to those you don't know already, who based upon that swift and casual interaction you might find you want to know better. There's a lot to like and love here, and for as many merits as the show holds in its own right, it possesses even more as a gateway for further exploration.