On a normal Wednesday, you'd be hard-pressed to find our normally black City Paper boxes decorated with much more than our logo, a stray piece of gum and the occasional scribbled profanity. But in our selfless efforts to make our city even more beautiful than it already is, we are happy to present our third annual ArtBox project, sponsored by the Hill House Association's Kaufmann Center.
We asked local artists to submit ideas to turn our everyday newspaper boxes into real-life works of art. We selected the work of 10 finalists, and now their decorated boxes are on streets around town.
Now we're asking readers to vote for their favorite. The winning artist — announced in our Dec. 3 issue — will receive $500.
Online, you can find an interactive map with the location of each box, and vote for your favorite until Nov. 21. Visit www.pghcitypaper.com/artbox.
Photos by Dan Thompson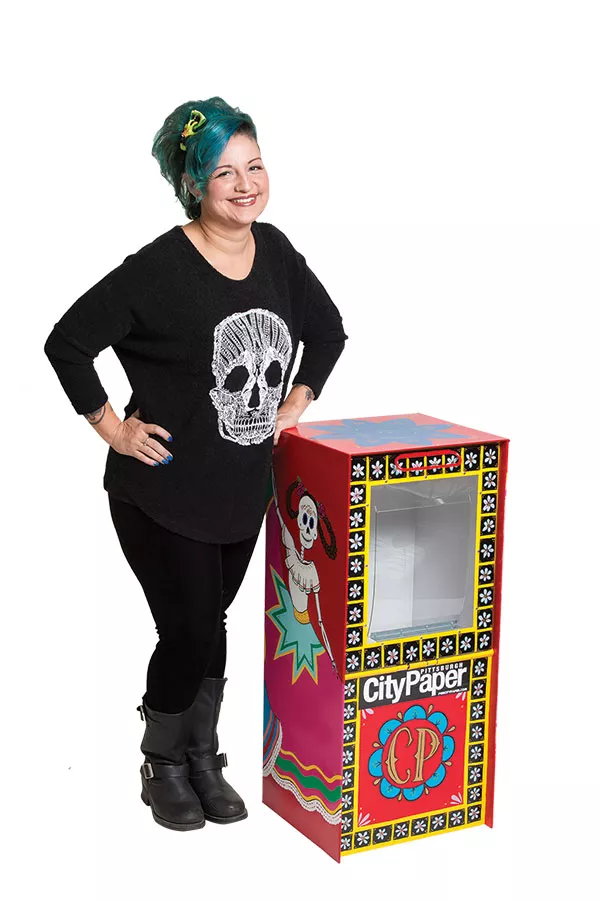 Chuck Amok
Age: 40
Carrick
Lately I have been very inspired by my heritage. We have family in Mexico and I've gotten to visit a few times. I am so inspired by the colorful painting, vivid personality and friendliness of the culture. I love all the hand-painted tiles everywhere, the religious icons and the skeletons. I am truly drawn to the holiday Dia de los Muertos [Day of the Dead]. The vibrant artwork, bold lines, flowers and embracing our own eventuality speaks to me. I hope people will feel a sense of merriment and whimsy when they see my Mexican Dia de los Muertos folklórico dancers.
Tony Cavalline
Age: 32
Lawrenceville
Growing up in a more rural area, there was something a bit magical for me about driving into the city on visits to Pittsburgh. This cityscape was inspired by my memories of that experience, and a more simplistic and fantastical way of looking at the world. I used a lot of textured materials to invoke the tactile and somewhat surreal qualities of memory. I hope that people seeing it will join me in remembering, for a moment, that more magical world.

Kent Miller
Age: 30
Harmony
I wanted a unique, eye-catching design with the theme of opposites: fantasy and reality, solid and liquid, up and down. In my work, I'm always interested in bold compositions, and I had fun juxtaposing such different elements against each other. My work also tends to be playful, so I enjoyed placing the fantasy figures around the box, especially the dragon and the giant ape. I hoped for a design that would make people smile when they see it, but also think.
Juliet Phillips
Age: 23
Lawrenceville
The design for this box is centered around a silly and strange world in which newspapers take the form of everything, from a bird in the sky to those mountains off in the distance. The characters who inhabit this funny place are entirely obsessed with City Paper, even sleeping under its pages while camping! I hope that people will find themselves enchanted and amused by this kooky world!
Abby Diamond
Age: 24
Friendship
Inspiration for the design: I think of Pittsburgh as a place of thriving creativity and rich, natural beauty. The cityscape is filled with accessible public art, especially stained glass, murals and mosaics. The surrounding [area], in addition, is home to amazing wildlife, and some of the most unique birds in the Three Rivers region. I have enormous love for these two fields and decided to combine them when coming up with imagery for the ArtBox design. When people see my ArtBox, I hope it reminds them to look for birds, pay attention to stained glass and remember of the wealth of beauty around us.
Kat McLaughlin
Age: 28
Regent Square
I love Pittsburgh's skyline, and when coming up with the design somehow the Emerald City popped into mind. The rest just kind of happened. Once I drew the flying monkey, I knew I had something. When I make a piece of art, I don't have a hidden message to uncover. I make art for people to enjoy it. That's why I enjoy making street art; it's not for art aficionados eating hors d'oeuvres. I make art for everyday people who normally don't stop to appreciate art. If I made someone stop and smile, then I did something right.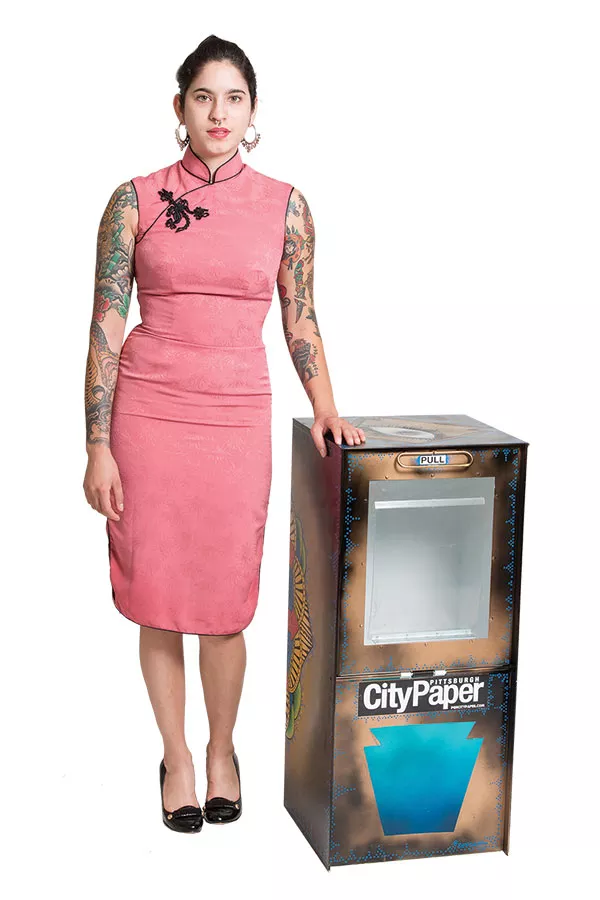 Sara Eve Rivera
Age: 27
Oakland
Traditionally, mandalas are spiritual representations of microcosms. This mandala is a tribute to life in the rolling hills, rivers and valleys of our home. I incorporated iconic imagery not only of Pittsburgh, but of Pennsylvania. The state flower, the mountain laurel, is central to the design. Surrounding the mountain laurel, I arranged Pennsylvania keystones that represent life and passages of time through the blink of the eye. On the outer edge of this mandala are the emblematic yellow bridges, hills and rivers of Pittsburgh. I hope people see an expression for the love [of] Pittsburgh and Pennsylvania as a whole.
Christopher Schmidt
Age: 47
Regent Square
I wanted to use art to transform the box and have it be an interactive experience. Once the idea hit me of turning the gate of the box into the maw of some horrid creature, I suppose there was no turning back. You have to reach down the gullet of this sort of ugly, yet adorable gargoyle that very badly wants your approval, despite just having eaten a whole stack of this week's City Paper, yet again. Like the City Paper itself, it's a little transgressive, but mostly harmless. More than anything, I really hope kids like it.
Andy Scott
Age: 26
Lawrenceville
The imagery I chose for my ArtBox design comes from the influence I get from the city of Pittsburgh. So much about our city has influenced my work over the years, and this design really combines many of my favorite things about the city. Themes that you'll find on the box consist of parking-chair pride, good food, architecture and the eerily strong connection that binds together Pittsburgh sports/industry to its people. This box is truly intended to be enjoyed by the residents who have a romantic affinity for our city and region.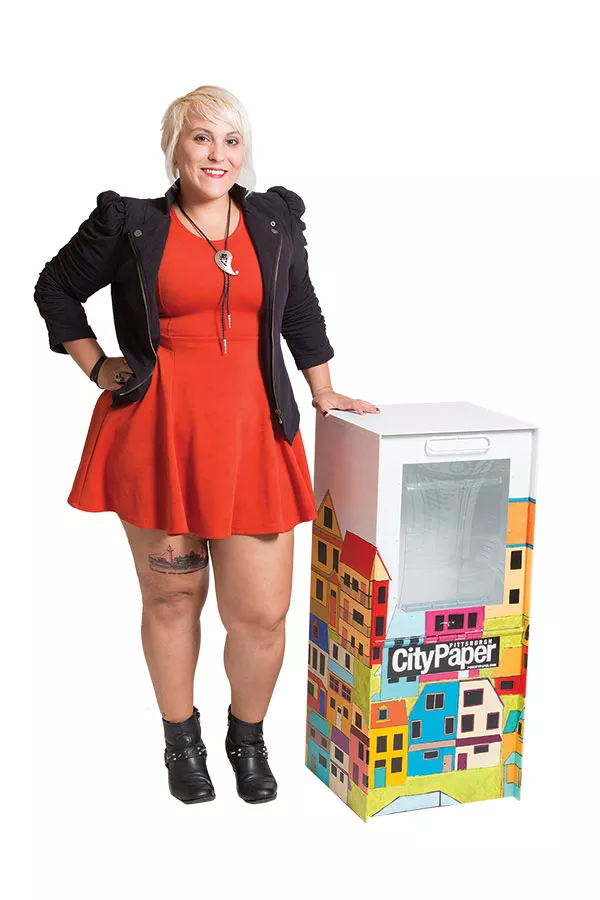 Megan Shalonis
Age: 27
Lawrenceville
I love Pittsburgh architecture, and the way the city grew however it wanted or felt it needed to at the time. Everything I painted on the box comes from a different view or neighborhood. When looking at the box, you might even see your house or a building from your community. I hope that evokes a sense of pride for Pittsburgh and maybe gives you a warm tingling feeling about the place you live.