The newspaper you hold in your hands will only last a week, plus a few extra days of service lining birdcages, swatting flies or providing story ideas for the Pittsburgh Post-Gazette. But the newspaper box this issue came from? That will endure forever, an eternal tribute to humanity's genius — just like the Great Wall of China, the Great Pyramid of Giza and wintergreen-flavored Necco wafers.
So why not let local artists turn our boxes into artworks for future generations to admire?
In that spirit, we invited artists to submit their own creative newspaper-box designs this summer. We commissioned 10 finalists — the boxes you see below — to be distributed around town. Now it is your turn to judge the most timeless design.
You can find the locations of these ArtBoxes — and vote on your favorite here. The artist with the most popular design will win $500 and, of course, a place in history.
But don't delay: While a thing of beauty is a joy forever, voting ends Nov. 22.
Marygrace Antkowski, Lawrenceville
Age: 56
I thought it would be fun to paint city chickens! My son was raising chickens in Greenfield and when he researched local ordinances, he found there is a law called "a fowl, a foul" which basically means you cannot let your chickens run around unattended. So I thought it would be whimsical to have chickens doing just that — but look on the box top to see what can happen if one runs afoul!
Matthew Buchholz of Alternate Histories, Friendship
Age: 37
I love to incorporate vintage typography, signs and artwork into my work; for this box I used vintage theatrical posters that would have been plastered over buildings and brick walls back in the early 1900s, but changed everything to reflect the City Paper. I think it's useful for people to be aware of the past and what came before us, even if it's done in a faux-vintage style like mine. And it's just fun! Why have a simple line of text when you can have filigrees, shadows, engravings and banners?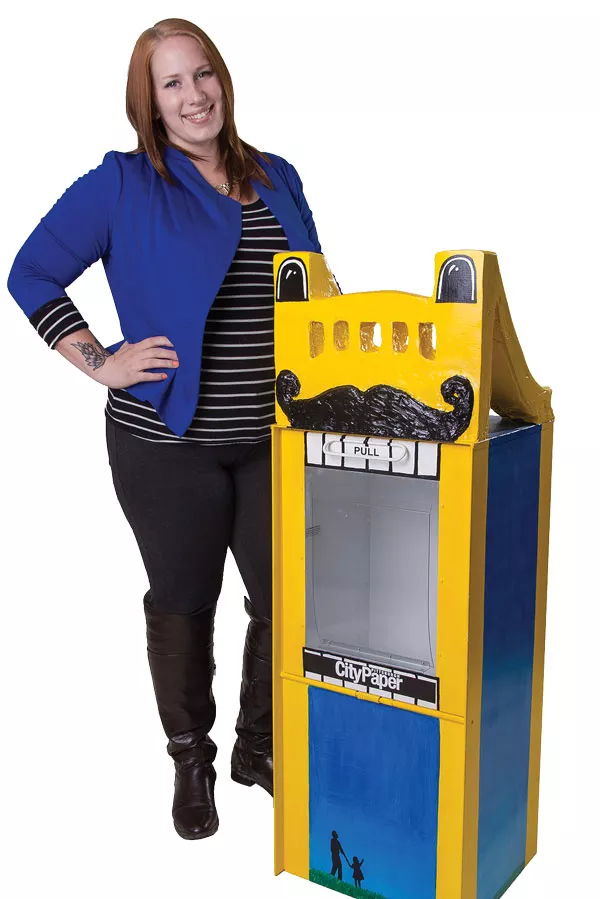 Julia Cahill, Springdale
Age: 23
The bridges in Pittsburgh are such iconic and grand structures. They are like the nervous system of our city, offering so many different and beautiful sights. Since the bridges bring so much life to Pittsburgh, I not only wanted to recreate the bridge, but also personify it in a playful way. As a child, the bridges seemed to be miles tall, so I painted the father and daughter pointing to the bridge to bring back that nostalgia of the world feeling so large. And it only seemed fitting that at least one of the Pittsburgh bridges would have an impressive 'stache! 
Nat Chamberlin, Gibsonia
Age: 38
The design on my ArtBox is consistent with my style of work, which is a distinct mix of cute and creepy, charming and gloomy, darkly themed, macabre images of whimsical creatures rendered in a colorful palette with tight lines. When people see it, I hope they are inspired and walk away with a smile.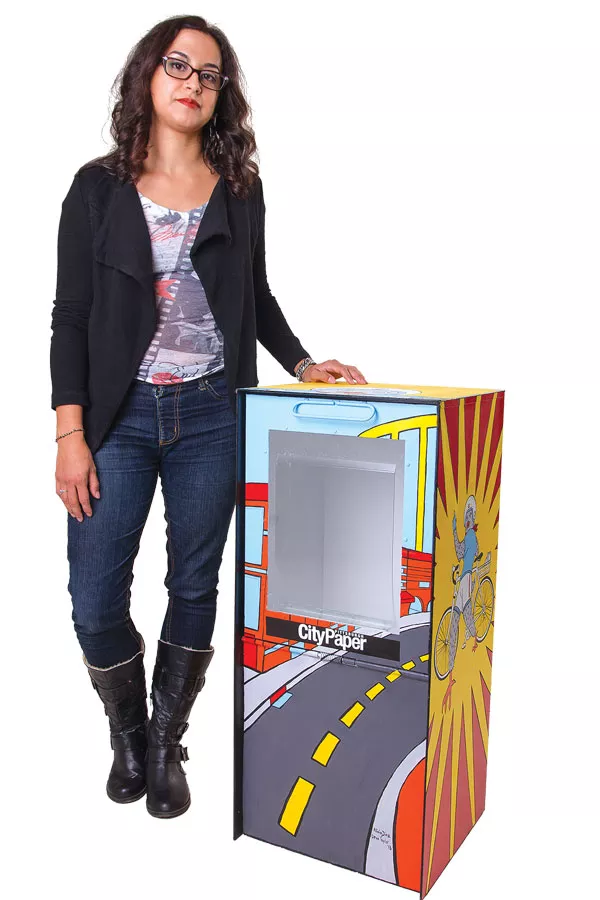 Alicia Diaz, Lawrenceville
Age: 28
I am primarily a figure painter, but decided to go in a different direction and make this a fun piece that kids and adults alike could enjoy. I love that Pittsburgh is progressively getting more bike-friendly, so I created a character that loves cycling. Her name is Molly the Courier Pigeon. Molly loves to race around town delivering City Paper, all while obeying traffic laws, of course. I hope when people see my ArtBox, they imagine themselves in a cartoon where people talk fast, pedal faster, and the Speed Racer theme song is playing in the background.
Rose Duggan, Lawrenceville
Age: 24
The design is based on another one of my paintings. I thought it would work well in the larger context of the newspaper box, so for the proposal, I Photoshopped an enlarged image of the painting to wrap around the structure. I think, on a base level, public art makes people feel that the city in which they live is special and loved, and by extension, they feel better cared-for. In the same way, I hope my ArtBox helps viewers see that people in Pittsburgh are deeply engaged in improving the visual environment.
Bonnie Gloris, Shadyside
Age: 29
I related City Paper to "telling the future," keeping Pittsburghers informed on upcoming events. A Ouija board on the left panel spells out "The Burgh, A Most Livable City." The right side depicts a palm-reading-style hand — a 'Yinistry' map of the city's neighborhoods. The clairvoyant on the back panel urges us to "Keep Calm, Read City Paper," and the "fortune pierogi" on the top of the box predicts that "News about local music, arts, dining, politics and events is in your future." My hope is that the box will lighten the day of Pittsburghers and remind them of all the possibilities the future holds.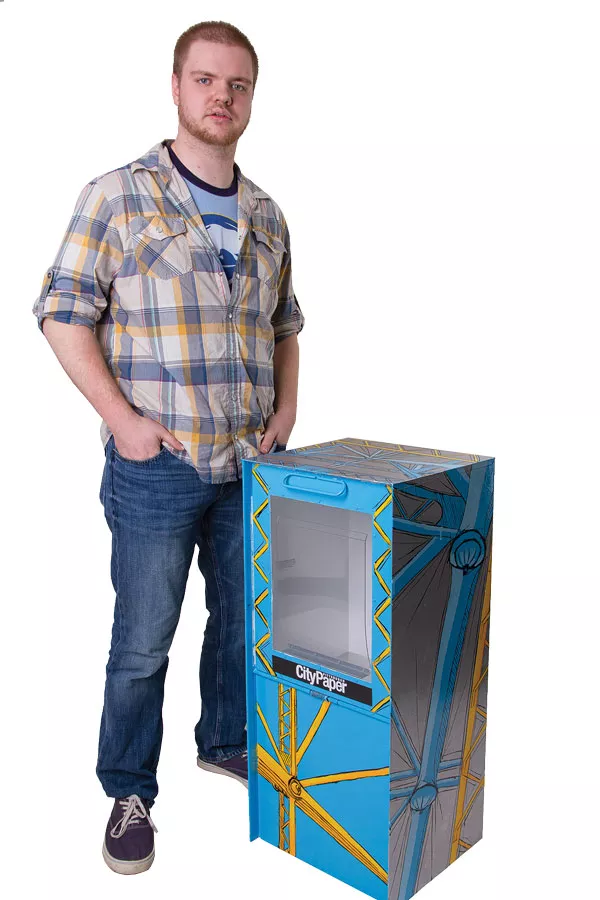 Tim Goodier, Wilkinsburg
Age: 25 
Urban imagery has always held my fascination. Most of the time it's graffiti, rust or any large, bulky structure, really, so it would make sense that Pittsburgh's numerous bridges would capture my attention. While this design isn't a comprehensive look at the bridges in the city, they definitely serve as the inspiration. I hope my work with the ArtBox allows people to take a closer look at the bridges around town and consider them as more than tools for transportation, but as aesthetic objects as well.
Nora Thompson, Latrobe
Age: 48
Pittsburgh is so easily identifiable with its sports teams that sometimes its artistic history takes a back seat. I decided to combine one of Pittsburgh's most iconic artists with his work in the context of the city where he came from. I want people to know they can embrace art as something fun and accessible to anyone. That, and I want them to have a good laugh.
Rebecca Watkins, Forest Hills
Age: 51
I hope viewers will see the box as a cheerful surprise in their day. Colorful flowers with strong outlines are common in the polymer clay beads I make, but I wanted to experiment with a larger scale. I used spray paint spontaneously with minimal planning and then outlined the flowers with a brush. Because this was for the Pittsburgh City Paper, a few iconic building silhouettes were a must. The flowers and "Grow Your Mind" stenciled on the top of the box reference the paper's goal to expand our minds with different viewpoints that might not be heard elsewhere.