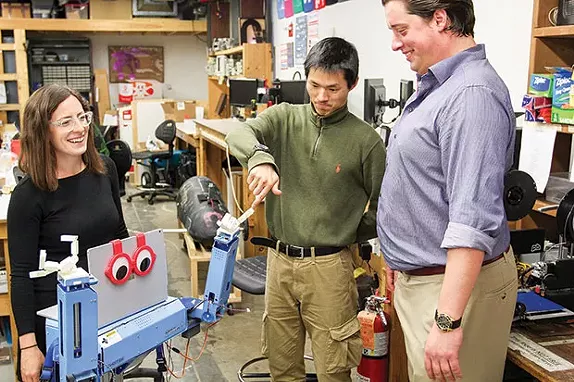 Robots are quickly losing their space-age reputation and entering the modern world across disciplines all along the spectrum. They drive our cars and distribute medication in hospital wards; now they even malt the grains used to make whiskey. On May 5, at its Barrelhouse in Spring Garden, Wigle will reveal its new educational floor-malting robot installation, the company's latest collaboration with Carnegie Mellon University, The Robotics Hub and Chatham University's Food Studies Program.
For the past couple of years, Wigle has been hard at work exploring different kinds of malts in its whiskeys. Wigle co-owner Meredith Grelli compared the spectrum of malts to that of coffee roasts. Now the company wants to bring that knowledge (and a new whiskey, aptly named maltmalt) to its customers. "We want to create the most educated customers in the world," says Grelli. Floor malting is a process by which grains are wetted to begin a germination process and then heated with a fuel source (traditionally peat) to halt sprouting. This helps to loosen up the sugars for fermentation. It's traditionally done by hand, with a rake, but Wigle wanted to mix the old and the modern in a nod to the transformation Pittsburgh is undergoing. "A traditional floor malt with a human didn't seem like a very fun way to show the process," says Grelli of the decision to make a robot malter. "It was also a staffing issue." A team was assembled, including Tessa Noble, of Chatham University's Food Studies Program; Chris Moehle, managing director of startup outfit The Robotics Hub; Carnegie Mellon University; and 22-year-old CMU undergraduate student John Choi.
Choi, a bright, friendly student with a passion for robotics, has been working on an educational robot dubbed the Choitek Megamark for about a year-and-a-half. When he started working on engineering the floor-malting robot this past December, he applied this technology as a base platform for building the yet-unnamed humanoid floor-malting robot. The robot, whose "face" is a manipulatable laptop screen, articulates back and forth on rails in order to rake the grains. Choi says the movement recalls how one would rake a zen garden. The machine's arms are parallel to the ground and its "heart," an Arduino Mega 2560, sends electrical impulses to activators in order to produce movement. Choi uses open-source software. In the robot's demonstrations, polystyrene balls will stand in for grains of malt. "This robot is especially good at teaching and inspiring students," Choi says, listing the robot's many applications in the STEAM fields. In this melding of science and food, Choi feels, robotics has a place. "After all," he says, "that's why they call it ART-ificial intelligence."