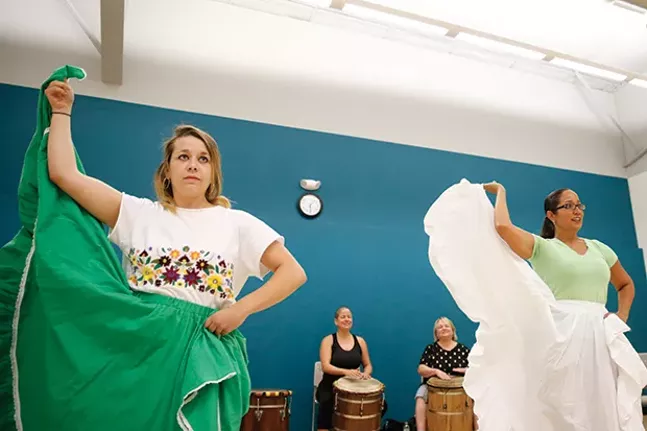 María Eugenia Nieves Escoriaza and Gloria Rodríguez-Ransom grew up with bomba dance in their blood. Now, they're bringing it to Pittsburgh.
"It wasn't until I left Puerto Rico that I fell in love with bomba," says Escoriaza, whose nickname is Geña. "I was 21, and I thought, 'I really feel Puerto Rico.'" Adds Rodríguez-Ransom: "We are trying to share the Puerto Rican culture with this city."
It's been said that Puerto Rico is Bomba.
In bomba, every move and beat holds significance. This ritualistic dance stands on the three pillars: drums, movement, and lyrics. The dance originated in Afro-Puerto Rican slave communities where dancers used rhythm as a social and political outlet. There are 21 drum patterns, each representing a unique emotion.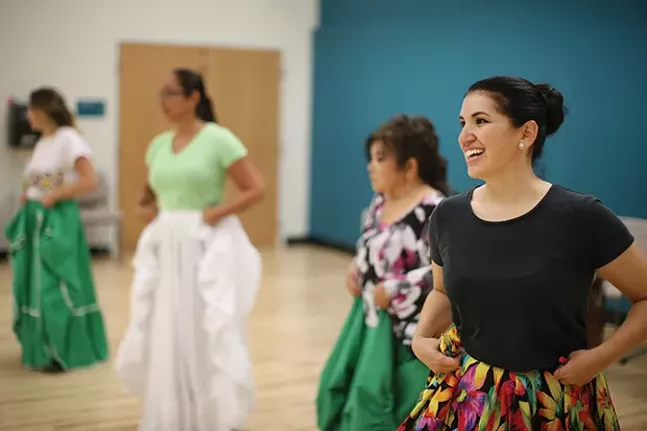 These women are a part of Calle Bomba, a local music ensemble who, with help from Carnegie Mellon University, won a grant for workshops in partnership with the YMCA of Greater Pittsburgh and the Latin American Cultural Union. The grant was for three separate workshops.
Rodríguez-Ransom and Escoriaza are on their final one. Their class was divided into three days, and participants are learning about bomba culture, Afro-Puerto Rican dance, drumming, and lyrics.
"Bomba is unique because there are so many different beats," says Escoriaza. "There are certain rhythms that you know — that's salsa, that's meringue — but bomba has more.
"They change the feel and the flow, and it's so bomba. That's why it's interesting to me. You never conquer it. You just continue learning and learning."
Bomba's complexity is a statement of Puerto Rico's cultural diversity. Flamenco-inspired skirts are worn by female dancers, a connection to Puerto Rico's Spanish roots. Dance is from the Tiano people, Puerto Rican natives. Drumming is based on African tradition.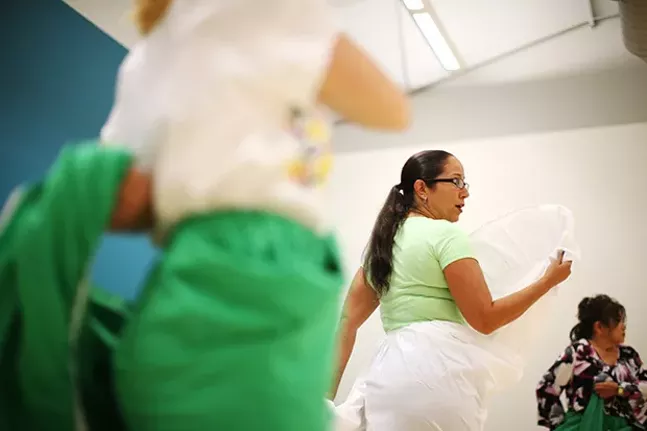 Built on playfulness, bomba provides a creative challenge between the primo (drummer) and the dancer. The liana (singer) begins, then the dancer emerges. From there, it's a call and response, the dancer leading the primo. "Bomba has its own language," Escoriaza says.
Bomba's steps never change. The feel of the music dictates how the dancer tells a story. If the song is flirtatious, movements are softer, flowing, and teasing. Unlike other Latin dances, dancers never touch. Conversation remains intimate between one dancer and the primo.
A bomba conversation is mesmerizing. Circled by their audience, the primo and dancer keep eyes locked. The dancer's body tells a story, signaling with a flick of the skirt or tip of the hat. "It's ritualistic," says Escoriaza. "It's this connection between the body and the sounds. If you're dancing with the right drummer, it's heaven."
Pittsburgh's Latin dance scene is steadily growing. Los Sabrosos Dance Co. offers a variety of lessons and dance socials. Clubs such as Perlé and Cavo promote Latin nightlife. But the focus is on salsa, bachata, merengue — rarely bomba.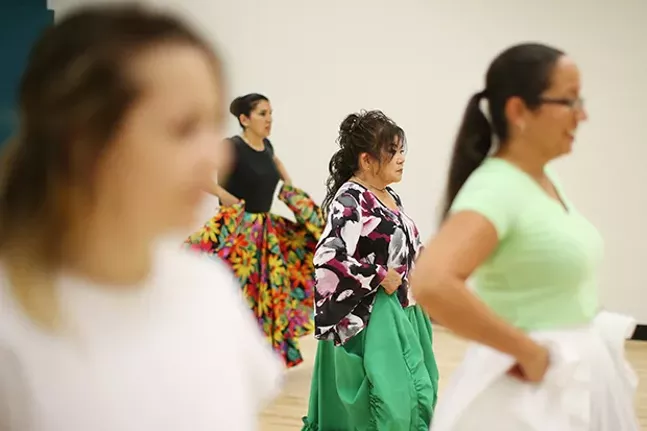 Venues have opened stages to Latin music, but Escoriaza emphasizes that it's all DJ-based because live music is more expensive. Bomba's essence is in live music.
"If you go to a club and all the sudden they're playing Bengali music, and it sounds great, what's the problem?" says Escoriaza. "It's diversity. I think people underestimate their ability to love something different than [what] they're used to.
"I hate dancing bachata and merengue. I love complexity, and I love polyrhythms, and I love for my head to be messed around with sounds."
Bachata and merengue are based on simple steps, much like bomba. Escoriaza and Rodríguez-Ransom encourage testing out many Latin dance styles as a way to experience the culture.
"It's healthy, it builds community. It's freeing, it's therapeutic — it's everything," says Escoriaza. "If people were to go to a Latin dance and someone takes them on the floor, everyone would love that. It's great to trust that someone will just spin you around."