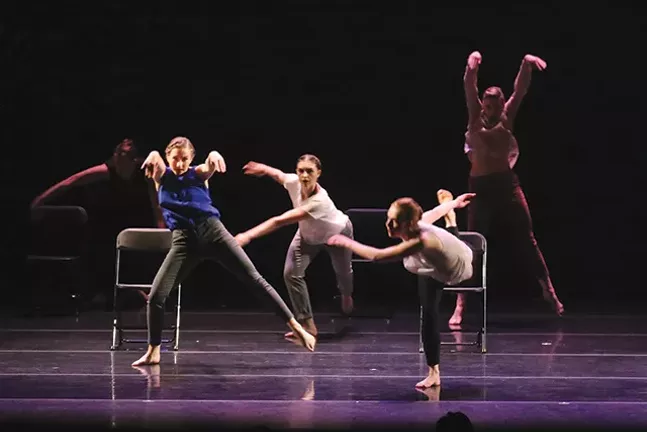 After a three-year hiatus, Bodiography Contemporary Ballet's longest running dance series Multiplicity is back with a twist. The program of repertory works choreographed by current and former Bodiography members runs November 16 and 17 at the Byham Theater. It will be performed for the first time by all three of the organization's sister troupes: Bodiography, BCB Charlotte, and BCB3.
The stylistically diverse, 90-minute program will open with Amanda Fisher's re-envisioned "Pizzicato" (2018) for eight of Bodiography's dancers, featuring music by multimedia classical four-piece The Piano Guys.
Next, BCB3, a troupe of retired Bodiography dancers, will perform artistic director Maria Caruso's latest work "Valley of Her." The 13-minute, four-section piece opens with dancer/singer Michaelina McGee performing a solo before local indie folk band Ryan Hoffman and the Pioneers take over with a selection of songs to accompany BCB3's dancers. Caruso describes the work as a way to highlight women's elegance. It's also an ode to choreographic icon Paul Taylor, who passed away in August.
Then, former Bodiography dancer Christen Sewell Weimer returns with a new work "Mother's Little Helper." The six-minute piece for seven dancers is "an embodiment of the various physical expectations placed on women," says Weimer. Set to an original score by Atlanta composer Paul Stevens, "the work is a satire, and depicts the dancers' reactions to the expectations imposed upon them."
After a reprise of choreographer Andrea Levick's duet "Retorque" (2018) from Bodiography's September program, a trio of Bodiography's dancers will take the stage in Caruso's 2008 work "Journey," set to music by Philip Glass.
The program's second half will lead with a reprise of Caruso's "Really?!" performed by BCB Charlotte. With music by Kansas City's Quixotic, the seven-minute piece was inspired by the frustrations felt by several of BCB Charlotte's young working mothers in navigating adulthood. Next, dancer/choreographer Nicole Jamison's new work "Curdle" is an eight-minute piece for 11 of Bodiography's dancers. Set to music by Ezio Bosso, Nils Frahm, and Yann Tiersen, the work, says Jamison, "portrays the dissolution of an ideal."
BCB Charlotte's dancers then return in another Caruso work, "Runaway Runway." The eight-minute piece for four dancers set to a remix of Australian electronic music duo Empire of the Sun's "Walking on a Dream," channels the fashion show runway experience.
Set to music by Max Richter, Bodiography student company director Kristie Corso's latest work for the main company, "Cliff's Edge" is a six-minute quartet that looks at how life's stresses and setbacks can adversely affect our relationships with those we care about most.
Rounding out Multiplicity will be "Submerged," Caruso's 16-minute ballet for a dozen dancers. Inspired by a scene from the 2018 Academy Award Best Picture-winner The Shape of Water, Caruso says "Submerged," set to music by Olafur Arnalds and Quixotic, seeks to impart a feeling of being underwater.