Today he records music in a conventional personal studio -- a sound booth with a microphone, a mixer, turntables, a computer. But local rapper Boaz's introduction to the mic was much less orthodox.
"The first time I recorded something was in my homeboy's grandfather's funeral home," he recalls. "They had one of the karaoke sets, I guess it was for when somebody died and you had family members who wanted to sing. They lived in the funeral home, though, so after services we would sneak down in his granddad's office, take some beats off some instrumental tapes and record. And that's how it started."
Now on the heels of a national tour and preparing for the release of a new full-length, Boaz could be on the verge of the breakout he's been working toward for years. Born Boaz Bey and raised in Larimer, the 26-year-old was an all-city band member at Westinghouse High, playing both clarinet and alto saxophone. He has been performing for audiences as a musician since third grade.
"From how we woke up, went to sleep, throughout the day … everything was referenced through music," he says. "So I figured, why not start making my own, create my own influence? I saw my life evolving into hip hop."
His longtime DJ, DJ Shef, recalls the first song he did with Boaz more than seven years ago.
"We hooked up and did Intent 2 Deliver, the first CD," he says. "[Producer] Sayez was in the Marines at the time, and [Sayez] was back for summer vacation going through my mom's old records and we found the sample for 'Screams of Pain,' which was the first song on the CD. Sayez flipped the beat that night and a week or two later we went to Soy Sos' studio.
"We couldn't figure out how to get the beat off the disc," he recalls with a laugh, "So Blak Czer came down and loaded the beat up for us."
A Pittsburgh native, Blak Czer has more than 25 years experience in the hip-hop music business. After garnering a reputation as a gifted battle MC from Braddock in the late '80s, Czer signed with Relativity Records and had an album distributed nationally in 1994. In the past decade, he has worked primarily as a music producer, crafting instrumentals for Wiz Khalifa and others.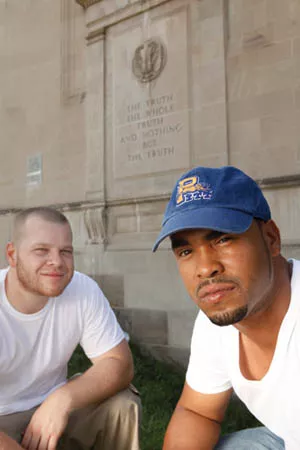 "What I've learned from [Czer] is that you should certainly stay in the studio, and always be original," Boaz says. "The way to keep longevity is to stay fresh, no matter how old you are."
Since his start in 2003, Boaz has been working to carve out his niche.
"You expect certain things from certain musicians," he says. "You listen to Marvin Gaye and you think about love. You might listen to The Gap Band and you wanna party. You listen to Tupac, you wanna kill somebody. I want people to listen to my music and realize the struggle, the hustle and the perseverance."
Earlier this year, that hustle earned Boaz an opportunity to appear on his first national tour, the 2011 Smoker's Club Tour with Big K.R.I.T., Curren$y and Smoke DZA.
"It was a hell of a learning experience, about knowing that you're not gonna be a rock star while you're on the road," Boaz says. "It's hard work: no sleep, have to be in shape. You could be on stage for 30 minutes every day. You gotta keep some fresh shit on the brain to keep the crowd entertained."
The tour also featured fellow Pittsburgh hip-hop artist Mac Miller. Boaz "has always been everyone's number one," says the 19-year-old Miller. "If you wanna know what it's like in Pittsburgh, just listen to Bo. He's such a great representation of our city."
The two MCs first collaborated on record in 2009, on the song "5 O'Clock." Miller also features on the soon-to-be-released single "Around the World" from Boaz's recent The Transition mixtape. At first glance, it's an odd match: Miller, a Point Breeze native, has a demographic drawn from high schools and colleges, while Boaz's core audience is more accustomed to the street lifestyle portrayed in his music.
"I think that's the beauty of hip hop: It's become such a welcoming genre to all people," Miller says. "These are two different people, two different stories, and two different lives. It's all about two different worlds colliding just for the sake of making good music."
"It's a way of both of us diversifying, and crossing lanes to make us more marketable to the opposing audience," Boaz says. "Music is a universal language. … It was a beautiful way for both of us to cross the avenue."
Blak Czer is confident that Boaz has the lyrical talent to take it to the next level, and approach the kind of success that Miller and Wiz Khalifa are finding.
"Boaz is like Nas, but more street. He got that knowledge of someone like Nas," Blak Czer says. "He's gonna go far. … He just needs that strong radio single."
With six solo mixtapes, an album and several projects as a member of local rap crew The Govament under his belt, Boaz remains modest.
"I never had any type of brand-new shit," he says of his childhood. "All of it was hand-me-downs, until I was able to buy my own shit. We came up in humble surroundings and learned to make the best of what we had. I trust that's made me more sufficient to handle bigger business if it comes. And trust me: If it does come, I'll still be able to handle myself the right way."
Boaz sits at Time Bomb Spot, the hip-hop gear store in Shadyside; behind him is displayed a collage featuring early mixtape covers and news articles related to him. Boaz is appreciative of the support from Time Bomb's founder and owner, Brian Brick (known as "Brick Diggler").
"Brick has played a major role in my career. Everywhere I go I hear, 'This fuckin' guy Brick Diggler screams you everywhere,'" Boaz says. "He's always repped me since I met him."
"Boaz is the truth! And he's gonna save hip hop," Brick adds emphatically.
The next album, Audio-Biography 2, is set to be released by year's end, and Boaz has big plans.
"I'm trusting [I'll] get more recognition," he says. "I'm trusting that it will inspire people to want to have me in their town performing live for them. I'm trusting that it will allow me to afford a means for my family. I'm hoping to have a lengthy career -- I'm not just looking to come up with a smash hit and cash out on y'all. I wanna ride this out and have the best career I can."
---
From the Blak Czer-produced "Change Gone Come"
Larimer Ave. like the Congo… easy
The weak don't survive and the strong take it easy
You don't wanna pay the cost to be bosses
Cause most of us don't ever die of natural causes
That's why ya' homie had to make that transition
Shiftin' my transition, these are the ambitions… of a hustla