The term "farm-to-table" to describe freshness of a restaurant has lost meaning as it's become more popular. And technically, every restaurant gets its food from a farm and brings it to a table.
At Bitter Ends Luncheonette, a pint-sized breakfast and lunch spot in Bloomfield, the practice is taken to heart. Much of the produce is sourced from the restaurant's own farm plot in Verona and other local growers.
Bitter Ends mostly serves sandwiches, though the menu changes seasonally. There are also sides, coffee, and pastries, including uniquely flavored donuts (I didn't try beet-icing ones displayed, but they were an appealing Simpsons-donut pink).
The interior is small, but inviting. They've left the charm of an old building that is actually old, not carefully curated to look old. Below the register counter, shelves are filled with random assorted mugs, the kind you might find at grandma's house. There's a water cooler adorned with googly eyes and a chicken beak. A shelf hangs from the ceiling filled with browned bread loaves.
Indoor seating is limited, with three tables and a counter. There are picnic tables outside and food can be taken to-go.
On the day I went, the menu featured eggplant, zucchini, lamb sausage, and tomatoes. There were even pints of baby tomatoes for sale.
I ordered the zucchini, egg, and goat cheese sandwich, plus tomato toast and smashed griddled potatoes on the side.
The sandwich comes with all three items in its name, and heaps of greens, served on crunchy bread. The combination of the sunny-side egg, moist zucchini, and marinated lettuce make for a wetter sandwich, but the sturdy bread holds up and absorbs juices. It makes for a tasty and hearty breakfast or lunch (or, god forbid, brunch) meal that diverges from typical fare.
The potatoes have everything that makes a perfect breakfast potato, with large, skin-on chunks, mixed with fried, crunchy bits, parsley, and a hearty amount of onion. As the heartwarming menu sign inside declares, "everything has onions."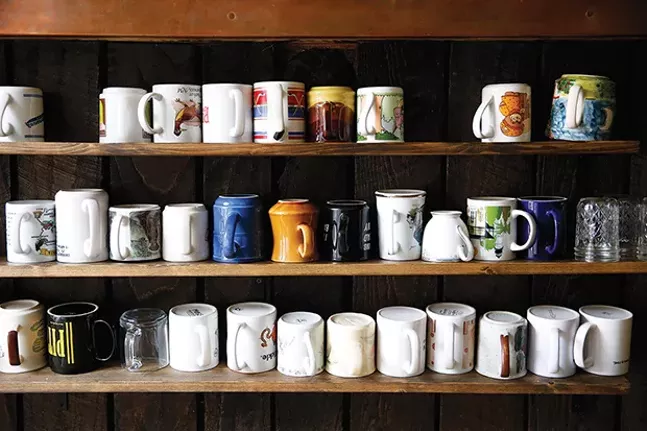 Tomato toast was the real star. It's the same crunchy bread from the sandwich, topped with marinated and slightly-blistered halved baby tomatoes, onions, and parsley. Bitter Ends obviously understands what I wish everyone would — that there is truly nothing like a summer tomato! Refreshing and satisfying, the toast is the perfect locally sourced antidote to avocado toast, the unsustainable trend which was never as great as its popularity implied.
With sandwiches ranging from $9-12, the food is on the pricier side for a casual lunch. But it's easy to see where the cost comes from. The vegetables are fresh, as are the bread and cheese, and probably everything else. Even easier to see is food made with care by people who just want to share their harvest.
Bitter Ends Luncheonette
4613 Liberty Ave., Bloomfield
tillthebitterends.com