One Day in Town
The East End neighborhoods of Bloomfield, Garfield and Friendship form the bridge between long-upscale Shadyside and Lawrenceville, currently revitalizing apace. The residential areas are made up of solid housing stock, ranging from tiny four-up-four-down rowhouses in lower Bloomfield to the rehabbed ornate brick mini-mansions in leafy Friendship. Its proximity to the universities and even Downtown make it popular with students and young professionals alike.
The area is served by two main thoroughfares. Liberty Avenue cuts through the center of Bloomfield and it's here you'll find some holdovers from its Italian-immigrant past. Stock up on fresh-made pasta, sausages and breads at two shops: Groceria Italiana (237 Cedarville St., 412-681-1227) and Donatelli's Italian Food Center (4711 Liberty Ave., 412-682-1406).
The younger set is staking out its own turf: Try Station (4744 Liberty Ave., 412-251-0540) for up-to-the-minute cocktails and revamped comfort food. Need a faster meal? They've got updates on lunch-box favorites at Peanut Butter and Jelly Time (4709 Liberty Ave., 412-622-0225). Pop on in The Big Idea Cooperative Bookstore (4812 Liberty Ave., 412-687-4323) for the latest reads related to politics and activism.
The recently revamped Penn Avenue corridor is home to monthly gallery crawl Unblurred (every first Friday), which makes sense given how many old storefronts have been reclaimed by artists, architects and designers. Pre-game at Spork (5430 Penn Ave., 412-441-1700), a new venue with an amusingly trendy name; indulge in small plates and charcuterie. Mull over what art you saw at Bantha Tea Bar (5002 Penn Ave., 412-404-8359), a tea shop with a lovingly created interior that draws inspiration from North Africa and Tatooine.
Food
Adolfo's. Satisfy two tastes at this restaurant that offers both Italian and Venezuelan specialties. In warm weather, there is patio seating. 4770 Liberty Ave., 412-681-0505
Avenue B. Upscale new American cuisine served in a cozy bistro setting. Observe the chalkboard specials, and grab a window table. 5501 Centre Ave., 412-683-3663
Commonplace Voluto. The place to be seen in Garfield while getting a coffee — take a meeting, work on a laptop or just watch the world go by from a sidewalk seat. 5467 Penn Ave., 412-661-3000
People's Indian Restaurant. Recently spruced up, this longtime neighborhood venue offers popular curries, rich dishes and more, in a casual setting. 5147 Penn Ave., 412-661-3160
Pho Minh. A modest storefront spot that offers Vietnamese cuisine — from spring rolls and pho to grilled meats and rice dishes. 4917 Penn Ave., 412-661-7443
Prairie. Hearty American comfort food re-imagined (meatloaf, chicken and biscuits) in an upscale-casual setting, plus an extensive menu of bourbons, for sippin' and cocktails. 5491 Penn Ave., 412-404-8487
Spak Brothers. The go-to for freshly prepared hoagies and pizzas, with an emphasis on local purveyors and snack-food options for vegetarians and vegans, like seitan wings. 5107 Penn Ave., 412-362-7725
Tessaro's. Pittsburgh's most famous hearty burger, made fresh, cooked to order and served without trendy frills, in a charming corner-bar space. 4601 Liberty Ave., 412-682-6809
Thai Cuisine. Friendly staff and an extensive menu of Thai curry, noodle and rice dishes make this a good stop for lunch or dinner. Finish off with sticky rice and custard. 4627 Liberty Ave., 412-688-9661
Thai Gourmet. Get ready for spicy food and ample portions. The staff here serves up Thai favorites, quickly and with a smile. Try the moo palo, a pork and egg stew. 4505 Liberty Ave., 412-681-4373
Tram's Kitchen. Get your fresh spring-roll order in, then choose between other Vietnamese favorites such as pho, stirfrys, and noodle and rice dishes. 4050 Penn Ave., 412-682-2688
Bars & Clubs

Armand's. Half long-timers, half hipster transplants, this is still a great dark, smoky bar to spend hours explaining something to someone on a bar stool. 4755 Liberty Ave., 412-681-3967
Bloomfield Bridge Tavern. Lots of live music, an outdoor porch for warm weather and the comfortable lived-in vibe of a longtime neighborhood haunt. 4412 Liberty Ave., 412-682-8611
Nico's Recovery Room. No-frills spot to grab a cold one and some Greek-inspired diner fare. But the place gets packed and rowdy-fun for Saturday-night karaoke. 178 Pearl St., 412-681-9562
Pollock's Café. An old-school watering hole with a glass-block front. Inside you'll find rock-bottom prices on domestics, a jukebox of rock, and no theme. 4602 Liberty Ave., 412-682-1460
Silky's Pub. A neighborly corner bar on a quieter stretch of the main drag. Cozy and quiet enough to talk, even if the game is on. 5135 Liberty Ave., 412-683-6141

Arts & Culture
Artisan. If you need an edgy tattoo, a fresh cup of coffee and a piece of locally crafted artwork, this storefront, among the pioneers of the Penn Avenue Arts Corridor, is your one-stop. 5001 Penn Ave., 412-661-0503

Assemble. This nonprofit community space gets kids tapped into maker culture, through craft, art and tech classes and projects. Relocating to new space in September. 4824 Penn Ave., www.assemblepgh.org
BoxHeart Gallery. Longtime storefront gallery for contemporary works. Its annual Inter/National features work from around the globe. 4523 Liberty Ave., 412-687-8858
Center for Post-Natural History. This storefront venue explores our relationship with genetically modified plants and animals. Intriguing enough to work around its limited hours. 4913 Penn Ave., www.postnatural.org
Pittsburgh Glass Center. Both a resource for artists working in glass (including beginners' classes) and an exhibit space, where you'll find inventive works on display. 5472 Penn Ave., 412-365-2145
Music
Brillobox. Your stop for national indie acts, hip local shows, and specialized DJ nights, from world music to queer dance parties. 4104 Penn Ave., 412-621-4900.
Howlers. A comfortably old-school storefront venue that hosts everything from alt-country and rockabilly to young indie bands and old punk rockers. 4509 Liberty Ave., 412-682-0320
The Mr. Roboto Project. This all-ages, DIY space mostly hosts indie, punk and hardcore bands in a reclaimed old bar. No booze though: It's straight-edge for life. 5106 Penn Ave., 412-345-1059
Mixtape. A new spot that strives to mix dance nights and local music shows with art shows and a café, offering craft cocktails, smoothies, small bites and coffee. 4907 Penn Ave., 412-661-1727
The Shop. It's not a fancy joint but it's the place to catch just-about-to-blow-up national bands, experimental local noise acts and more. 4314 Main St., www.theshoppittsburgh.com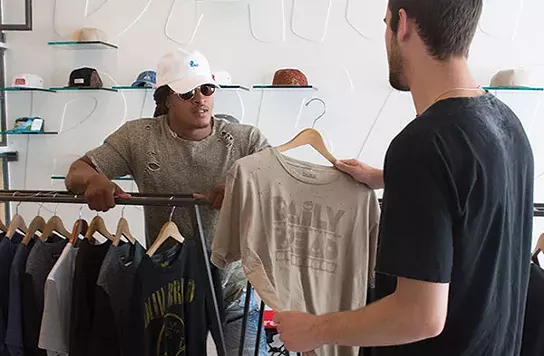 Shopping
Clothes Minded. Buy, sell or trade quality and vintage clothing. Plenty of fashion-forward and quirky-cool picks here. 4740 Liberty Ave., 412-960-0246
Daily Bread / Timebomb / Refresh. For your fresh looks: conjoined storefronts feature the street-inspired, locally created fashion of Daily Bread (caps, T-shirts), plus threads and accessories from Timebomb and gallery/store for vintage athletic wear. 5450 Penn Ave., www.dailybreadpa.com
East End Book Exchange. Need something good to read? Stop in for quality used, rare and local books, plus literary events including author visits and poetry readings. 4754 Liberty Ave., 412-224-2847
Kraynick's Bike Shop. This longtime HQ for all things two-wheeled is a center of local bike culture. You can even borrow tools and work on your ride for free. 5003 Penn Ave., 412-361-0888
Merante Gifts. In this "shop with an Italian accent," you can find imported housewares, cooking gear and décor from Italy. It also offers cooking classes. 4723 Liberty Ave., 412-682-3370
Overcast Skate Shop. This locally owned spot run by fellow skateboarders specializes in carrying independent brands. Want a board with art from a local? Stop in. 4116 Main St., 412-701-4116
Robin's Nest Gift Shop. Specializing in locally made arts and crafts; drop for jewelry, pottery, accessories, decor and more. 5504 Penn Ave., 412-362-2600
Sacred Heart of Jesus Store. You may not need rosary beads or prayer books, but you shouldn't miss the display of saint statuary in this storefront's windows. 4515 Liberty Ave., 412-683-4001
Sound Cat. All music isn't in the cloud. Here, you can put your hands on new vinyl and an expertly curated selection of rock, jazz and indie CDs. 4526 Liberty Ave., 412-621-3256