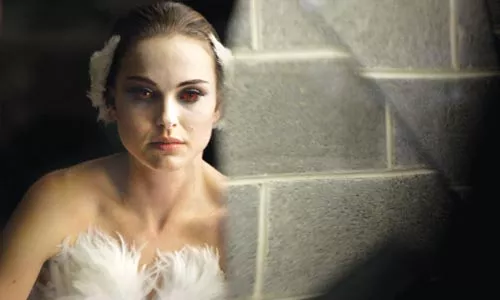 In Black Swan, his thundering and tumultuous paean to artistic devotion, Darren Aronofsky tells the story of Nina, a dedicated but demure young ballerina (is there any other kind?) with a New York company run by Thomas (Vincent Cassel), a wildly creative and passionate choreographer (is there any other kind?). Nina gets the part of the Swan Queen when Thomas decides that it's time for Beth (Winona Ryder), his famous but now older diva (op. cit.), to retire. This disappoints Lily (Mila Kunis), a more aggressive dancer in the company who covets the role. (But then, who doesn't?)
There probably is no new way to tell a story about ballerinas and hungry artists. There are only variations on the clichés. But the fact that Aronofsky embraces all of them makes much of Black Swan somewhat irritating. It's all there: Nina (Natalie Portman) doubts her talent, Thomas recites the ballet's plot, there's sexual tension between them, she's all technique and no passion, she gets the part anyway because he "believes" she has it in her -- as if a guy with so much ego would take a risk on a withering flower of a dancer.
"Done to death, I know," Thomas says, to his performers, of Swan Lake, "but not like this -- we strip it down, make it visceral and real." I'm not sure that's possible, but certainly not in the hands of a pseudo-intellectual fabulist like Aronofsky (The Wrestler is his only film that I enjoyed). So rather than go for "real," he goes for the opposite: Nina, under pressure, begins to conjure dark hallucinations. Did she have sex one drunken night with Lily? Did she slam the door on her mother's fingers? Take a guess.
There's a germ of an idea here, but Aronofsky takes a while unpacking it, and he plays it up like opera once he does. His movie is gorgeous to watch, and Tchaikovsky's famous music resounds. As Nina, Portman is fiercely delicate but never delicately fierce. She's most powerful when she dissolves into tears: She's our most lachrymose actress since Julianne Moore, whose range is greater. Nina is a thinly drawn character and hard to believe: How did she get this far in a ruthless profession if she didn't have some edge? But Aronofsky needs her to be simple to make her collapse into madness more shocking.
Fortunately, Black Swan has the absorbing Barbara Hershey as Nina's mother, Erica, who was a ballerina until she quit to have her daughter. She weeps for Nina's success, but Hershey's constricted eyes let us know that she wants her daughter to fail. (Whether Erica understands this about herself remains unclear -- the only thing in Black Swan that is.) It's probably a coincidence that Hershey also appeared 30 years ago in The Stunt Man, a much better and more original movie about a driven artist (a filmmaker). Whatever she knows about this genre, she should have told it to Aronofsky.