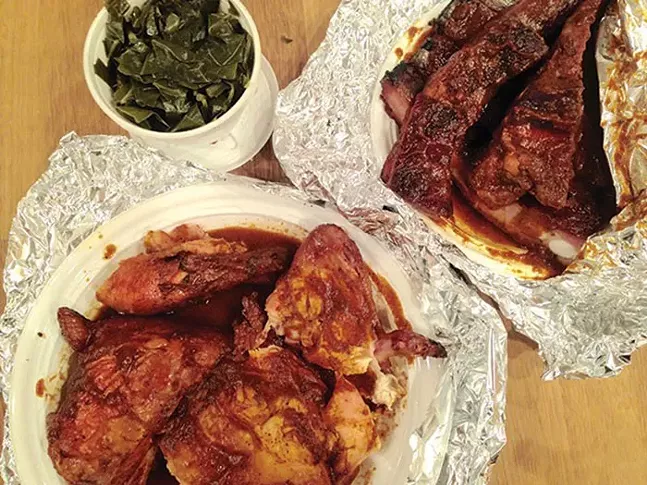 Part of Pittsburgh City Paper's month-long celebration of Black History Month
Barbecue took Pittsburgh by storm in 2018, with at least five new restaurants opening within miles of each other. But on the North Side, one Black-owned restaurant has set the standard for smoked meats since 1960, satisfying the city's craving for traditional barbeque. In the middle of a growing cityscape, one thing never changed: Pittsburghers can still get ribs and chicken from Wilson's Bar-B-Q.
For 59 years, Wilson's Bar-B-Q has offered the same menu of two house-smoked meats and a few sides. To this day, the small joint is a cherished part of Pittsburgh, serving up no-frills, old-school food. Wilson's ribs are a long-standing 'Burgh tradition.


The restaurant was run, until late 2018, by George Wilson. He grew up in Arkansas, before moving to Pittsburgh and working as a butcher and meat fabricator. Wilson knew his way around a rack of ribs, evident in his restaurant's six decades of success. After his passing in October, George A. Wilson Jr. took over the barbecue operations. But Wilson Jr. wasn't new to his father's business.


In his childhood, around age 11, Wilson Jr. started learning tricks of the trade. Over the years, he moved in and out of the restaurant. About four years ago, as his father's health began to deteriorate, Wilson Jr. returned to the North Side. At the time, it was his father, cousin, and another employee manning the shop. Wilson Jr. began to ease back into barbecue.


"Here, with the smoke and the fire, and the smell of ribs, that's pretty much where it's at," he said. "This is real food. This is the real deal. Everything is still done the old-fashioned way. No shortcuts."


Now, Wilson Jr. manages the shop alone, spending 12-14 hours in the restaurant each day. He starts early in the morning, throwing ribs and chicken (poultry takes about two and a half hours to cook) on the smoker. A mix of wood powers the smoke and flame pit, only the third cooker in Wilson's 59 years.

Wilson Jr. credits the pit for his unique flavor. It's well-used and well-seasoned, just like Wilson's Bar-B-Q.

"This is real food. This is the real deal. Everything is still done the old-fashioned way. No shortcuts."

tweet this
The barbecue is a combination of influences from Louisiana and South Carolina. It's all in the sauce, an unchanged recipe passed down from his father's father. Wilson Jr. doesn't like to talk about the sauce too much, since he's the only person who knows how it's made. One thing is undeniable: no matter how it's made, his sauce is adored across the city.


Wilson's truly is, as Wilson Jr. laughs, a "one-of-a-kind" experience. The one thing Wilson Jr. asks is "not to let looks disappoint you, because looks can be deceiving." From the outside, Wilson's doesn't even look open, but thank goodness for Pittsburgh, the meat still keeps smoking on the inside.


"The business is the business, it do what it do, and the area is the area. Now, the area is changing for the good, it's getting better, which is great. You never know what you're gonna get or how you're gonna get it. You pretty much just go with the flow," he said.


Wilson Jr. is solidifying his role at Wilson's Bar-B-Q, but doesn't know where the next years will take him.


"I'm trying to get a lot of things straightened out over here," he said. "Still got a lotta work to do. We'll see how things go between now and the next couple years."


But for now, "Everybody's eating good, and that's what counts."