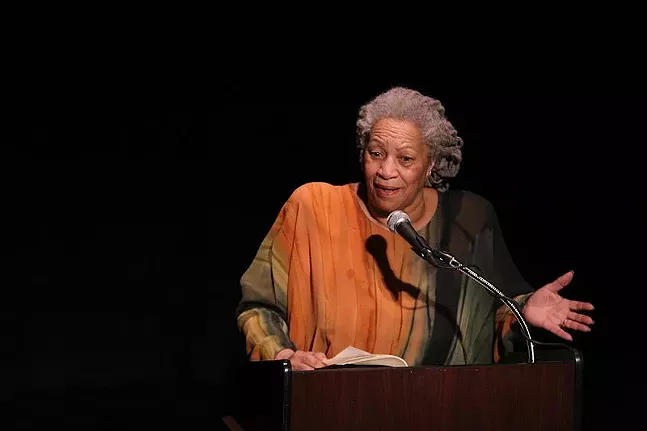 At 88 years old, writer Toni Morrison is still going strong. Earlier this month, the Nobel Prize winner
published
The Source of Self-Regard
, a collection of essays and speeches written over the course of 40 years. Her writing has always been unmatched, with a staggering ability to condense an extensive history of race and gender in America into a vivid story about one family or person or friendship.
Today, Feb. 18 is her birthday, and there is no better way to celebrate her legacy than by diving into her bibliography. If you don't know where to start, check out these novels.
Sula
(1973)
"It was a fine cry - loud and long - but it had no bottom and it had no top, just circles and circles of sorrow."
Like many of Morrison's stories,
Sula
is set in Ohio. It follows Sula, the youngest member of the Peace family, living in a black neighborhood called The Bottom. Sula is the rebellious daughter of a promiscuous woman. She is a mysterious woman, carefree in unsettling ways. She defies gender conventions, and instead of marrying and having kids, she leaves town for 10 years. When she returns, Sula carries with her
a darkness
that marks the family and the town. As much as Sula is a book about race, class, gender, and motherhood, it is also a story about the deep roots of friendship.
Beloved
(1987)
"She is a friend of my mind. She gather me, man. The pieces I am, she gather them and give them back to me in all the right order."
Many of Morrison's novels take place in the long shadow cast by slavery, but
Beloved
is the one haunted the most by the American tragedy. After escaping from slavery, mother of four Sethe is found by her master and attempts to kill her children so they won't be captured. She succeeds only in killing the youngest, who has now returned as a ghost in her mother's home. Using magic realism, Morrison paints a vivid and haunting picture of the psychological impact of slavery, and the infinite ways it can haunt a family.
Jazz
(1992)
"When they fall in love with a city, it is for forever and it is like forever."
Set in Harlem in the 1920s, the title refers to the music so prevalent at the time, but also to the style in which the book is written. Morrison weaves in and out of characters' lives, crafting meandering prose that is easy to get lost in. Joe, a beauty product salesman, is having an affair with a much younger teenager. When she leaves him, he kills her, and the act creates a complicate narrative between Joe, his wife Violet, and the ghost that haunts them.