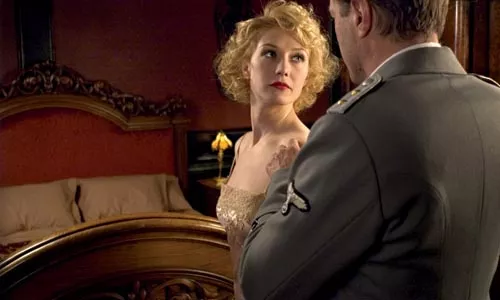 The Dutch director Paul Verhoeven has a lot of story to tell in Black Book, his first film made in his native country in almost a quarter century, and to tell it, he races through plot twists that create an increasingly breathless pace. It finally feels like a truncated TV miniseries -- an adaptation of an Irwin Shaw novel comes to mind.
Black Book takes place in the Netherlands during the last year of World War II, and it thoroughly rounds up the usual conflicts: Jews in hiding, Netherlanders who help them, the anti-Nazi resistance fighters, a few collaborators, and the German occupiers, some of them still committed to their cause, and some just trying to outlive Hitler and survive the war.
The point of view is that of Rachel (Carice van Houten), a wealthy young Jewish woman in hiding with a Christian farm family. That shelter ends with a German bombing raid. She begins an odyssey that takes her through a few more disguises before she dyes her hair blond and becomes Ellis, whose flight leads her to a fortuitous encounter with a German officer (Sebastian Koch) who becomes her mentor and lover, even after he figures out her ruse (and not how you might think -- she dyes that blond, too).
Plenty more happens in Black Book, although you've pretty much seen it all. Verhoeven has always spilled a lot of blood, often without warning, and his proclivities suit this material. A brassy, insinuating musical score adds a nice touch to his handsome production, which begins its long climax with a post-war victory parade (where an extra mugs the camera), then moves on to a sadistic bacchanal of revenge, followed by a twist involving a precious candy bar, and then still more.
In Hollywood, Verhoeven made the outstanding Robocop, the reviled Showgirls and the interesting Starship Troopers, all of whose styles, storytelling and cruelty echo here. His black humor even flares up now and then, although Black Book is more a work of circumstance than irony. It also teaches us -- in an act of patriotism for its director -- of how so many people in Anne Frank's native land risked their lives to harbor Jews during the war.
There's very little suspense in Black Book regarding our heroine's fate: The story opens in Israel, after the war, where Rachel, her hair color and heritage restored, is a schoolteacher in a kibbutz. Certainly that's a significant symbol of renewal and hope. Would it have been better to compel the audience by having Rachel die after her incredible journey to stay alive? Perhaps. But when Rachel finally breaks down -- having lost her family, and after seeing so many others die -- she sobs, "When will it end?" In the final seconds of his film, with the war over, and Israel now an independent nation, Verhoeven's answer seems to be, "Not any time soon." In Dutch and German, with subtitles. Manor