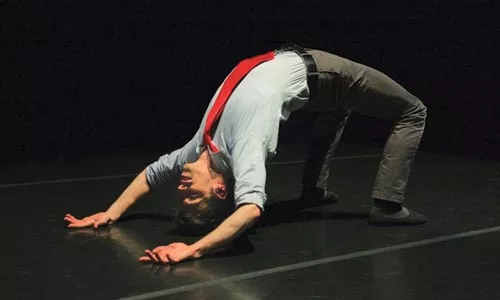 Little remains of the jazz-dance roots Les Ballets Jazz de Montreal began with in 1972. Just as attitudes about music and fashion have changed, so have tastes in dance.
Like so many other prominent troupes, the company shifted to contemporary dance. It all happened when former company dancer Louis Robitaille took over artistic leadership, in 1998. For Les Ballets Jazz de Montreal, the change in movement aesthetic and repertory came with a new moniker, BJM DANSE.
Robitaille, reached by phone in Montreal, says although the company's style has changed with the times, he has tried to maintain its original personality and energy.
It has been several years since BJM's last appearance in Pittsburgh. For its April 17 show, at the Byham Theater, the company of 12 -- including Point Park grad Robert Knowles -- will present three contemporary ballets by two choreographers on the rise.
The program includes "Jack in a Box" (2008), an acclaimed work by former BJM company member and resident choreographer Aszure Barton. She has been riding a wave of popularity since 2006, when dance icon Mikhail Baryshnikov chose her to create two works for his fledgling ensemble Hell's Kitchen Dance.
With "Jack in a Box," the Canadian choreographer returns us to the shared experiences of young adulthood and education. A companion piece to Barton's "Rooms of Jacques," which dealt with individual introspection, the 41-minute "Jack" is set to a variety of music, from Japanese Kodo to New Age. It was created in close collaboration with the dancers. Barton writes: "'Jack' examines the growth, etiquette and power of the group as collective whole."
"We see aspects of their personalities from the beautiful to the ugly," says Robitaille. "It brings people back to a time when they were college-aged. A time of learning and of first experiences, a time when one discovers one's own personality."
Also on the program are two ballets by Colombian-Belgian choreographer Annabelle Lopez Ochoa.
The slick 10-minute pas de deux "Locked Up Laura" (2009), set to music by Bart Rijnink, tells the story of a woman being controlled. Meanwhile, the humorous 30-minute multimedia extravaganza "Zip Zap Zoom" (2009) was inspired by the addictive world of Internet gaming. "Zip Zap Zoom" explores the many facets of this escapist reality, from its fierce competition and the quest to be faster than the game, to the use of "avatars" and alternate personas.
BJM DANSE 8 p.m. Sat., April 17. Byham Theater, 101 Sixth St., Downtown. $19.50-42.50. 412-456-6666 or www.pgharts.org