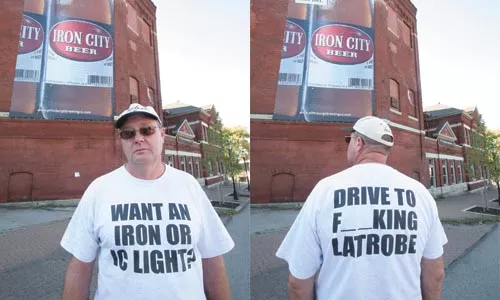 After nearly 150 years, it has come to this: Iron City brewery is going up for sale, one piece at a time.
On this warm October day, about 35 bidders have plenty of room to spread out in the Ober Brau Haus, the brewery's brick-walled social hall. As they watch, a stainless-steel conveyor for cans is auctioned off in sections, fetching a combined price of $5,200.
The following day, a separate auction of Iron City memorabilia will bring out fans and collectors hoping to grab a bit of the brewery's past. But there's no sense of history here today, as the bidders pick the bones of one of the city's oldest businesses.
They're not the first, some say.
"I worked for [Iron City] in the 1980s when that brewery was still being run by people who knew what they were doing," says Cris Hoel, a beverage-industry attorney who counts Iron City as his first industry client. "But over the years I have watched a parade of ineptitude destroy the brand, and too many crooks spoiled the broth."
The company's current owners, led by Iron City Brewing (formerly Pittsburgh Brewing) President Tim Hickman, were supposed to save the brewery. When Hickman took control of Iron City in September 2007, there was hope he'd invest in new equipment.
Instead, just two years later, an out-of-state auctioneer was selling off what equipment remained.
Hickman says this wasn't what he had in mind. "Our plan was always to operate here in Pittsburgh. What shocked us was the rapid deterioration of this plant ... things you didn't realize until they started to fail."
In June, Hickman's team announced it was shutting down the brewery, laying off the production employees and transferring the production of Iron City Beer to Latrobe Brewing, which has brewed Rolling Rock Beer for years. It's not like shipping production overseas, perhaps, but the move didn't make anyone happy, either.
"They didn't keep their word when they said they were going to reinvest in the brewery and keep operating in the city of Pittsburgh," says Pittsburgh City Councilor Patrick Dowd, who represents Lawrenceville. "A company that opened when Abraham Lincoln was president is no longer operating here, and that's a depressing thought."
Also depressing is that, while the new owners have become scapegoats, the shut-down of Iron City may have been decades in the making.
Iron City was built the Pittsburgh way: with personal relationships, community ties, and a work force that lived with you and would die for you.
And it seems to have fallen apart the Pittsburgh way, too: led by business people who were perhaps less interested in the brand, and in the region, than were the people who had grown up with them both.
From the front, it would be easy to mistake Rich Malter Jr.'s T-shirt for an advertisement.
"Want an Iron or IC Light?" it asks.
And then Malter turns around to show you the back.
"Drive to F_ _king Latrobe," it suggests.
You'll find Malter's job there, too. He's been looking for work since brewing operations moved there in June.
"I drank nothing but Iron City for more than 35 years," says Malter, sitting at a table in Frank N Stein's bar in Ross Township -- and staring at the bottle of Miller High Life in his hand. "But I can't do it anymore. I can't stop thinking, 'These guys have my job.'"
Malter drank his first Iron City when he was 15 years old.
"That's all we had in the house," he says with a laugh. "Iron City and water."
Malter's father and grandfather both worked in the brewery. Malter got a job there straight out of high school, and became a bottler -- like his dad -- in 1973. He worked in maintenance up until the plant closed.
Such traditions date back to 1861, when the original recipe for Iron City beer arrived with a German immigrant, Edward Frauenheim.
In 1866, the brewery opened up in a four-story brick building on its present-day site, brewing about 10,000 barrels a year. And in 1899, when Iron City and 11 other local breweries merged, Lawrenceville became the headquarters for the newly formed Pittsburgh Brewing.
In the decades that followed, Pittsburgh Brewing survived Prohibition and market shifts that killed other regional beers, like Duquesne Brewing on the South Side. And the company was at the forefront of innovations in packaging and marketing: In the early 1960s, it developed the pull-tab in conjunction with Alcoa, and later the recloseable bottle cap. In the 1970s, its Super Bowl commemorative cans made it the first brewer to incorporate sports icons in its labeling.
Most importantly, Iron City forged a loyal customer base. Pittsburghers made it, and Pittsburghers drank it -- even after the rest of the city's industrial base went into decline.
Mike Graham started at Iron City as a sales rep while he was a grad student in 1973. "I spent 23 years at Iron City through all kinds of times," says Graham, who worked his way through the ranks, finally becoming president of the brewery in 1992. "I was there in the early years when we were a dominant, but struggling local player, and I was there when we launched IC Light in 1977."
IC Light marked the beginning of an eight-year "high-water mark for the company," Graham recalls. The company marketed the new beer aggressively, with a disco-driven slogan ("Hey! Give me an IC Light!") still lodged in many Pittsburghers' heads today. It was during this golden era that the brewery reached its peak production: 1 million barrels a year.
Then it all went sour.
Iron City had been a publicly traded company in 1985, when Graham and its late president, Harvey Sanford, put together a deal to take it private. And then an Australian billionaire, Alan Bond, appeared on the scene.
Bond "came over, outbid us and purchased the company," says Graham. Bond's purchase "was probably the beginning of the end" for Iron City.
Bond was a charismatic business tycoon. He owned Australian television and radio companies, and an Australian brewery, Swan. He was an accomplished yachtsman who sunk $16 million of his money trying to wrest the America's Cup from the United States.
But Bond was about to sail into the wind with Iron City.
"Alan Bond didn't want to run a regional brewery," says Ken Ream, who started working at the brewery in 1980. "He wanted to take on Budweiser. In the 1980s, no one took on Budweiser."
Ream became a shop steward, and later a union rep with the International Union of Electronic, Electrical, Salaried, Machine and Furniture Workers -- Communications Workers of America (IUE-CWA). Early on, he says, life under the Bond group wasn't so bad. But in 1987, Bond purchased the G. Heileman Brewing Company of La Crosse, Wis. -- makers of Blatz, Old Style and Colt 45 malt liquor.
"Bond tried to sort of cram the two companies together," Graham says. "The company lost focus, and it lost customers. The focus was no longer Pittsburgh; it was global."
This was to be a pattern in years to come. Iron City's owners would seek to take their new property global -- not realizing that it had prospered by sticking to its roots.
Benj Steinman, who edits an industry newsletter called Beer Marketer's Insights, notes that a lot of regional breweries have failed over the years. Many of those that survive -- like Schmidt's and Blue Moon -- are now just brands brewed by giants like Coors and Miller. To stay alive and independent, he says, regional brewers have to make sure they're taking care of business at home.
"Breweries like that are just too sub-scale to compete with the large brewers," Steinman says. "They're trying to play the same game but they're the fraction of the size, so their chances of success aren't too great."
"We were able to survive in Pittsburgh for decade upon decade because of the relationships we had," says Graham. But under Bond, Graham found himself running three breweries, and the entire malt-liquor division.
"The malt-liquor division was a $500 million piece of business," he says. "Pittsburgh Brewing was only $60 million, so you know where they wanted the attention focused."
By the late 1980s, as Graham puts it, "Bond got into trouble." Bond had launched a national brand to compete with Anheuser-Busch, American Beer, but it quickly failed. Meanwhile, his corporate shopping sprees had piled up $620 million in debt, and he filed for bankruptcy in 1990. In 1992, he admitted to "stretching the law" to keep his companies afloat, according to the London-based newspaper, The Independent. He was sentenced to four years in prison for fraud.
When Bond put the company up for sale, Graham says he tried again to purchase the plant -- this time with the employees. But once again, an out-of-town would-be messiah rolled in. This time it was Michael Carlow.
"Carlow offered to pay a price for the company that was higher than the price we thought could make the business work," Graham says. "Even after seven years of that goofy ownership, we could have turned it around, but it didn't happen.
"Welcome to troubled ownership, phase two."
Cris Hoel admits a bit of bias against Michael Carlow. "He did fire me when he came into power," Hoel says. But to most people at the time, Carlow could do no wrong.
"The White Knight," Hoel says, smiling, over steak sandwiches at the Church Brew Works, just up the street from Iron City Brewing. "Pittsburgh magazine put him on the cover with that headline at the time he bought the brewery."
It wasn't just Iron City Carlow was "saving." In the early 1990s, he bought up troubled companies all over town, including the D.L. Clark Company and City Pride Bakery. A June 1991 Pittsburgh Post-Gazette account called him "a 40-year-old multi-millionaire with a turbo-charged personality and the swagger of a Western gunslinger."
Carlow, who made his money in cement and concrete plants in Pennsylvania and Ohio, was charismatic. But he didn't know much about making beer.
"That's the weird thing about rich guys and breweries," says Hoel. "They collect them like a ball club or a racehorse. They're enamored with the glamorous side of owning a brewery and pay little attention to the business."
As it turned out, there was little to Carlow except for the glamour. In 1996, Carlow was sentenced to eight years in prison for running a $31 million check-kiting scheme on PNC Bank. (Check-kiting involves writing a check on an account with insufficient funds and covering it with another check written on an account with insufficient funds.)
As Carlow's schemes unraveled, Iron City went flat, dropping from 1 million barrels in yearly output to less than 500,000. But despite the drop-off in production and the prison sentence, Carlow may not have been the worst owner Iron City had.
"Things didn't seem too bad under Carlow," says Ream. "The [labor] contracts weren't great, but they weren't too bad."
In no small part, that was because Pittsburgh Brewing was the home of Sam Adams beer. Based on a recipe developed in 1860, Sam Adams is now one of the largest beer-makers in the country; 2 million barrels of it are brewed each year. But when Boston-based owner Jim Koch launched the product in 1986, only about 36,000 barrels of it were being brewed -- all in Lawrenceville.
Graham also credits continued spending on advertising. "Other than robbing the money out of the company, we had pretty good funding and we went back to being a regional power," he says. "We were at least able to come out of that ordeal as a pretty viable company."
It helped that Iron City had a team of salesmen who went directly to bar owners.
"Having our own sales force was one of the things that separated us from all those other brands," Graham says. Unlike a lot of breweries, Iron City didn't rely on distributors to sell its beer.
Bill Sukich, who held several sales positions at the company between 1983 and 1996, says the key ingredient in Iron City's success was not hops or barley, but personal relationships.
"Through it all, we managed to hold onto those relationships," says Sukich one morning at his Wexford beer-and-hot-dog joint Three Sons Dogs and Suds. "When Joe Piccirilli came in, he destroyed a lot of those things that made this company strong."
After Carlow self-destructed, the company again found itself in bankruptcy. Former president Harvey Sanford decided to take one last shot at buying it.
But again, there was an outside bidder: Joe Piccirilli, owner of a Coraopolis trash company. Sanford and Piccirilli squared off in a September 1995 bankruptcy-court auction.
"Sanford opened at $28.7 million and the price quickly increased in $100,000 increments," the Post-Gazette recounted. "One of Piccirilli's attorneys asked for a short recess when Sanford bid $29.2 million, saying 'the stakes are big.'"
Piccirilli came back in the courtroom a few minutes later and bid $29.4 million. Sanford folded up his tent.
"There was no way that Joe Piccirilli was going to give up that brewery," says Hoel, who was with Sanford that day. "I told Harvey, 'If you bid a billion, he's going to bid a billion-two.'"
Piccirilli had big dreams for Iron City -- and that was the problem. "We're going to move this beer all over the country," he told reporters after the purchase.
Once again, Iron City was in the hands of somebody who didn't have a background in brewing, and who wasn't content to simply be a regional player.
"He thought Iron City would be bigger than Anheuser-Busch," Hoel says. It was already bigger than Anheuser-Busch -- in Pittsburgh. "But that was never good enough."
"Joe couldn't or wouldn't understand that this beer was built as a regional power on a foundation of interpersonal relationships," says Sukich. "He didn't have respect for those relationships. ... The greatest step toward where we are today started with Joe Piccirilli."
Ask Graham for Piccirilli's most obvious misstep, and he responds with a laugh. "That would be the time that Joe said, 'We're going to take Iron City to Cleveland.' I told them everything that makes Iron City what it is in Pittsburgh is the reason it will never sell in Cleveland. His response was, 'We'll put a Browns logo on it.' We went to Cleveland to do focus groups, and they said, 'We don't want it.'"
Piccirilli's response, according to Graham? "We just have to change the way they think."
Reached by City Paper, Piccirilli has few regrets. "To be honest, except for maybe changing two or three things, I'd do it the same way," he says.
Piccirilli says he never intended to take on the Budweisers of the world. But he did try to expand his market into Ohio, West Virginia, and other neighboring regions.
While he never had a brewing background, Piccirilli says "experience wasn't my problem. My downfall was emotion." And he was wrestling against history. Piccirilli says the brewery was obsolete when he bought it, but adds that he was "being told that I can't move because of the history."
Piccirilli's critics, though, accuse him for poisoning relations with one person who was helping to modernize the plant: Jim Koch of Sam Adams. Graham says the 500,000 barrels of Sam Adams was more than half of the brewery's production. And Koch "paid for what he used," Sukich says, investing in the plant as profits allowed.
"Koch didn't want to get stuck with an antiquated plant," says Graham.
But there was friction with Piccirilli almost from the start.
Graham remembers picking Koch up at the airport for a meeting. Piccirilli was changing the brewer's relationship with Sam Adams, he explained. Koch's contract was structured so that prices came down as brewing volume increased, but going forward, Graham said, the price for producing more than 100,000 barrels would go up considerably. The meeting didn't last long. Koch cut his order from 500,000 barrels to 100,000 barrels.
Piccirilli acknowledges Sam Adams helped pay to maintain the equipment it used. But he worried the brewery was focusing too much on the Boston lager, at a cost to its own products. "The amount they paid didn't make it worth it to us to continue brewing it, so I said, 'Let's refocus on our brands and do for ourselves what we were doing for Sam Adams.
"My intention was to wind the Sam Adams contract down to an amount that was still profitable for us to produce," he says.
Instead, Koch bought his own brewery a year later. Iron City lost Sam Adams entirely.
By this point, Graham recalls, Piccirilli had cut the advertising budgets. He'd also cut the brewery's sales force, passing the job of selling Iron City to distributors instead.
"So now you have the distributor walking into the bars," Graham says. "And he's selling Rolling Rock and Iron City and five other brands."
"We had 100-plus salesmen in the Pittsburgh market doing the job of the distributor," Piccirilli counters. "We just couldn't support that."
Graham left the company in July 1996 after 23 years because of his rift with Piccirilli, according to a P-G article from the time.
The Piccirilli era lasted roughly a decade, and during that time, it did score some successes. It added to its legacy of innovation by introducing the faster-chilling aluminum bottles -- Piccirilli's proudest accomplishment at the brewery, he says -- which many larger breweries use today.
But the brewery also racked up debt, nearly $31 million of it, and found itself treading water -- city water, to be exact. Between 1995 and 2005, Iron City racked up unpaid water and sewage bills of more than $4 million.
In December 2002, the city threatened to stop service to the facility, which led to a negotiation that lasted for several years. The company reached an agreement to pay the debt, but by December 2005, it had once again stopped making payments, though it still owed about $2.5 million.
Piccirilli says the stopped payments began as a billing dispute: Piccirilli says the brewery paid for its water, but was being overcharged for sewer costs. "Say I used 20 million gallons of water," he says. "They wanted to say I let [20 million gallons] go down the drain. ... If I use water to make beer, how can I be putting the same amount down the drain?"
"Can you imagine owing that much money on your water bill and still getting service?" asks Patrick Dowd, who became a councilman, and a member of the Pittsburgh Water & Sewer Authority board, in 2008. "How long do you think you'd be allowed to not pay your bill and still get service?"
City officials "tried to preserve jobs by helping [Iron City] get out from under liens in exchange for a handful of hollow promises," Hoel says. But in the end, "the jobs were lost anyway."
Eventually, even government officials could no longer ignore Iron City's overdue bills. The PWSA finally threatened to terminate the brewery's water service, and on Dec. 7, 2005, Iron City went bankrupt -- again.
When Tim Hickman and John Milne took control of Iron City in September 2007, they had big plans. "IC Light is one of the best light beers on the market," says Hickman today, "and I think that there is a lot of opportunity for it to grow outside of Western Pennsylvania."
Hickman says 70 percent of the sales from Iron City brands are made within 120 miles of the city -- an area he calls the "Pittsburgh Nation." The plan, he says, is to increase sales in that area, while looking for other avenues of growth.
Pittsburghers could be forgiven for thinking they'd seen this film before. Once again, Iron City had been bought in bankruptcy, by outsiders with little brewing experience.
In December 2006, Milne and his Connecticut-based investment company had provided a $500,000 loan to the brewery. Milne's group had experience in waste management and heavy equipment rentals, but not brewing. Hickman also lacked brewery experience: He was an Ohio-based investor who most recently ran a physical-therapy firm.
Their plan, too, was ambitious. They projected earning a profit in their first year -- provided they could get $5 million in union concessions, a break on their water bill, and invest $4 million into new equipment and $500,000 into a marketing budget.
Two years later, the brewery has shut down, this time for good. Milne, who is no longer tied to the brewery, currently faces up to 30 months in federal prison after pleading guilty to a fraud charge relating to a separate business.
"Joe Piccirilli decimated this place, but these guys are worse," says Malter, the veteran employee. "Joe Piccirilli dug the grave, and these current owners threw in the bodies."
At first, things seemed to be going according to plan. The Pittsburgh Water & Sewer Authority agreed to reduce Iron City's bill from $2.6 million to $1.5 million, provided the brewery remained open, and made substantial improvements to the equipment.
Officials gave them more than just a break on the bill. Megan Stearman, spokesperson for the Urban Redevelopment Authority, says the agency gave Iron City a $37,500 grant -- paid out in three $12,500 annual increments annually for three years -- to help with plant upgrades. The URA made two payments before Iron City brewing operations left town.
Workers were making a gamble, too. The new owners "came to the table, gave us a piece of paper and said, 'This is what we need and if we can't get it, then we'll have to close the brewery,'" recalls Malter, who was on the negotiating team.
The new plan called for: a $3-per-hour cut on wages ranging from $14 to $16; a loss of two weeks' vacation and three holidays; an increase in employee contributions for health care from 12.5 percent to 20 percent, and less generous overtime rules. In all, the contract cost workers $5 million in concessions.
In January 2007, workers narrowly approved the plan.
"We were told if we took the deal, at least we'd have jobs," Malter says. "But that obviously wasn't true."
Employees began seeing signs of trouble. Earlier this year, the company began outsourcing canning operations to Rochester, N.Y.: The brewery's can line, the new owners explained, would cost too much to repair.
"They kept telling us, 'We're committed to Pittsburgh,'" Malter says. "[But] I don't think they ever intended to stay here."
He's not the only one feeling betrayed.
The URA's Stearman says the relocation "violated the terms of their grant agreement." The agency asked for its $25,000 back in June she says, but has yet to be repaid.
"The decision to grant Iron City Brewing money to upgrade operations was still a good business decision," Stearman maintains. "They had up until that point provided jobs and tax revenue for the city."
Suspicions of Hickman redoubled in October, when the brewery announced plans to demolish five of the buildings on the Lawrenceville site.
Malter, for one, believes Hickman planned all along to take hold of the centrally located property -- which includes a rail spur -- so it could be redeveloped once the brewery moved.
"In hindsight, this feels like a real-estate deal from the start," he says, "not a plan to keep the brewery running."
Hickman denies that. "We put a lot of work into reorganizing the company," he says. "If this was a real-estate deal, we could have just had the judge liquidate this place and then sell the land."
Still, Hickman adds, "If someone were to offer to buy part of this property, we'd entertain it."
In any case, he says, it should be no surprise that the brewery wants to tear down buildings. The structures weren't being used -- either because of structural problems or diminished production. Hickman points to an appraisal carried out when he took the plant over. "It's clearly spelled out in that document because whether we were operating here or not, those buildings had to come down."
Hickman says that under his ownership, Iron City has paid more than $450,000 of its water bills to date, and has never missed a payment. Had brewing operations remained in Pittsburgh, an agreement stipulated the possibility of lowering the debt to zero. But Hickman acknowledges that because he's moved brewing outside the city, "I will be writing a check to the Pittsburgh Water & Sewer Authority. It's in the agreement that I put my name on."
But the amount of that check, slated to be cut next September, has yet to be determined. The PWSA agreed to forgive $400,000 in overdue bills, provided Hickman make $4 million in capital improvements. Hickman has spent only about $1.5 million on that work. He says that's because the company found more cost-effective approaches: Instead of replacing a boiler, for example, the company retrofitted the old one. And instead of purchasing an automatic keg machine capable of working with newer keg models, he bought two manual machines.
That's not good enough, says Dowd.
"I don't believe they did one thing that they pledged to do," Dowd contends. The new keg line, he says, is "a machine with a hose and looks like something you'd use to fill a growler" -- a glass container used for retail sales -- "not for mass production." Dowd says Iron City should pay back the $400,000 since it never delivered $4 million in improvements.
Hickman says whether he spent $4 million isn't the point.
"I could have put $20 million into those things and we'd still be in Latrobe today because that's not what failed in this plant."
Hickman says the brewery was facing a "perfect storm" of problems. He said engineers pinpointed several items that needed to be fixed -- among them the boiler and the keg machine. He said the major issues were "things behind the walls, in the infrastructure" ranging from poor maintenance due to years of no capital improvements, condensation issues in the buildings and severe electrical problems.
Piccirilli disputes that the plant was neglected. "For someone to say that I didn't put money into the plant ... that's just not true." counters Piccirilli. Money was spent on capital improvements like new brewing kettles, he says.
In any case, Hickman says the plant needed roughly $15 million worth of renovations and in the current economic climate, "we had no chance to go get it.
"If we didn't find a new place to produce, these brands were going to die."
People's "hearts are telling them this is a sad moment and I agree," Hickman says. But he maintains the company did everything it could to protect Pittsburgh workers.
When the company negotiated its contract with Latrobe Brewing, he says, it sought "to make sure that if there are opportunities for our employees, they need to be brought to Latrobe." In fact, he says, "several of our people have been asked to go to Latrobe, but they didn't want to make the drive."
("As far as I know, no members of our union were offered a job in Latrobe," Malter says. "If he was so worried about protecting workers, we'd still be making Iron City in Pittsburgh.")
In any case, Hickman says, Iron City hasn't abandoned Pittsburgh. He says the company still employs about 200 in the city, many in warehouse and shipping jobs.
"This is where our headquarters are located. We still have our shipping operations here, we just brew the beer in Latrobe. We did that to save the brand because I believe it can thrive again."
But on Oct. 24, the company seemed to be selling off the brand in tiny pieces. More than 325 pieces of memorabilia were auctioned off that day: old signs and tap handles, collectors'-item cans, large framed Pirates schedules dating back to a time when the team had a shot at winning something.
Hickman says the auction gave consumers a chance to reclaim a bit of the brewery's history: "It belongs to them," he says. The auction items "were sitting in boxes. I thought this was a better use of them."
The company plans to build a brewpub somewhere on the site. The pub will feature Iron City products, including seasonal offerings. The fate of the rest of the site is up in the air, Hickman says: His only goal is to preserve a brand damaged by years of neglect.
"We had to move the brewing operations and that is certainly a short-term blip in public opinion," Hickman admits. "But I think when the dust settles down, the consumer that likes our product is going to come back."
Some are trying to see the bright side. "Latrobe is just 40 miles down the road," says Ream, the union representative. "I hope people will see that we have to support local products. It's much better that it's being brewed in Latrobe than in St. Louis, Canada and Mexico."
And Iron City has survived so much already. "Pittsburgh Brewing has been limping along for a long time," says Benj Steinman, of Beer Marketer's Insights. "But they've done better than some other regional brewers because they've managed to remain an independent company. A lot of others can't say that."
But some of the people who loved Iron City most have the hardest time believing another round of promises.
Attorney Cris Hoel, for one, couldn't stay away from the Oct. 24 auction. But he didn't buy anything, either.
"I used to be so proud to say I represented Iron City," he said. "This is just sad. It never had to end like this. This brand didn't have to die"