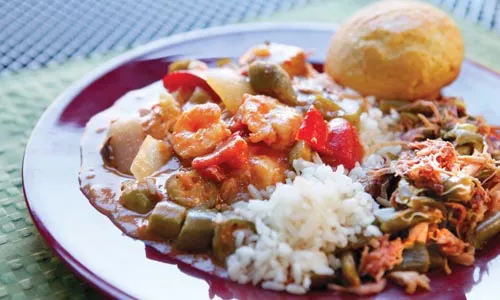 Location: 417 East Ohio St., North Side. 412-231-0218
Hours: Mon.-Fri. 11 a.m.-7 p.m.; Sat. brunch 9 a.m.-noon; Sun. brunch 11 a.m.-2 p.m.
Prices: Entrees $8-18; a la carte sides $3
Fare: Southern comfort food
Atmosphere: Stylish home dining
Liquor: BYOB
Eating out a lot sometimes gives us a Goldilocks complex. This cuisine is too boring, that one too "creative"; this place is too noisy, that one lacks any life; this menu is too long, that one succinct to the point of leaving us guessing.
And then, sometimes we get that kind of whiplash in a single restaurant. Bistro Soul, on East Ohio Street, is an annex of neighboring Bistro To Go, a successful venture that blends home-style cooking with fast food in a stylish, walk-up storefront. Bistro Soul also does a brisk take-out business at its front counter, but adds a large, eat-in dining room in the back. The ambience is that of a comfortable, contemporary home: brightly colored walls, tastefully upholstered chairs, an eclectic mix of old and new décor. There is even a cozy, inviting corner with a couch and a rocking chair, complete with afghan throw over the back. And what home would be complete without a couple of flat-screen TVs?
Service is café-style; we ordered up front, then seated ourselves in the dining room at a pew-style banquette. The offerings were almost exclusively Southern-style comfort food: ribs, gumbo, chicken and dumplings, macaroni in various guises. A half-dozen regular items are supplemented by a rotation of daily specials, but the real variety is in the a la carte sides: nine hot and five cold, unabashedly unreformed dishes from our grandmothers' generation.
Considering the lovingly designed domesticity of everything from the décor to the menu, we were surprised when we were served our food in take-out containers accompanied by plastic flatware. It did make packing up leftovers easy, though.
Restaurants that serve home-style cooking offer the opportunity to try another cook's recipe for something usually eaten around our own kitchen tables. Chicken and dumplings is a good example: Jason loves making and eating this home-cooking classic, but we don't see it on menus very often; maybe the dumplings are too labor-intensive for commercial kitchens. We were pleased to note that Bistro Soul makes the same style of dumpling we do: thick sheets that almost resemble noodles. But here the texture was too gummy, and the chicken in the dish was surprisingly scant. Worse, the overly thickened broth had a one-dimensional flavor that seemed composed mainly of salt, despite ample bits of vegetable and herb in evidence.
Southern-style collard greens with ham were braised well past the point of wilting, until the greens cried "uncle." A few bites, especially those studded with nice shreds of ham skin, offered the complex, rich taste of bitter greens enhanced by salty, savory pork, but most pickled our palates with -- again -- an overdose of salt.
Fried macaroni-and-cheese was unfortunately unavailable on the night we were there, but the traditional mac-and-cheese looked promising, with partly browned cheese clinging to corkscrew pasta. The use of real cheese, not just a cheesy sauce, imparted a substantial texture, but a uniformly mild cheese selection resulted in a flavor that was too timid. In the midst of a Southern-style feast, mac-and-cheese doesn't need to be a modern concoction with bleu cheese and truffles or lobster, but it must offer something -- sharp cheddar, perhaps? -- or risk getting lost altogether.
From dishes that were too salty -- or not salty enough -- we moved on to those that were too sweet. Bistro Soul's ribs literally fell off the bone, to the point where we actually needed a fork to pick up the meat that had given up the ribs before it met our lips. The flavor of the meat itself was good, with a bit of char near the tips of some ribs that added intensity. But the rich, fatty pork was mostly overwhelmed by a candy-sweet barbecue sauce slathered over the whole dish. In small tastes, this could have provided a foil to the ribs' meatiness. But too much was, well, too much.
The cornbread muffin on the side was also cupcake-sweet, a trend we've often observed despite the fact that Southern-style cornbread is traditionally almost sugarless. Against a spicier background, the sweetness might have been welcome, but amongst the salty dishes and sweet barbecue, it offered too little contrast. And of the pecan-sweet potato casserole, liberally dosed with brown sugar and cinnamon, we will say simply this: It would be excellent for dessert.
A couple of dishes were just right. Red beans and rice was loaded with andouille sausage and (we're pretty sure) ham. The beans were firm and flavorful, the meat was generous yet deferential to the beans, and plenty of deep red sauce soaked into the rice. And Bistro Soul's gumbo was packed with coarsely chopped onions, bell peppers and okra; big chunks of white chicken; firm, bite-size shrimp; and rice in a broth well balanced between savory, salty and spicy. Though gumbo is, technically, a soup, Angelique forgot a few times and went at it with her fork, which worked surprisingly well.
A lot of love has clearly gone into the creation of Bistro Soul. Now, some of its other ingredients just need to step up.
JR:
AB: