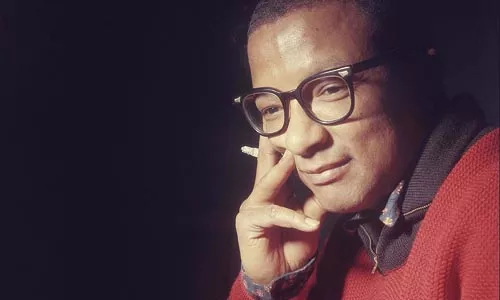 Duke Ellington may be considered one of the greatest composers of the 20th century, but the Ellington canon might have taken a different shape had the bandleader not been talked into a meeting with a young Pittsburgh composer in the late 1930s. After hearing Billy Strayhorn play his original compositions, Ellington convinced the Homewood native to move to New York City, which led to a working relationship lasting until Strayhorn's death in 1967, at age 51.
Throughout his life, Strayhorn wrote numerous pieces for the orchestra that revealed a sophisticated sense of melody and harmony unprecedented in early jazz. While the line between between Ellington's writing and that of his independent partner is often hard to discern, the bandleader certainly received the lion's share of the praise.
Billy Strayhorn: Lush Life is director Robert Levi's new PBS/Independent Lens documentary on the composer, discussing Strayhorn's musical triumphs together with his personal battles, struggle for recognition and homosexuality. The film's 90 minutes cut between footage of the Ellington band and interviews with Strayhorn authorities, including biographer David Hadju, musicians like Quincy Jones, Clark Terry and Luther Henderson, and former lover Aaron Bridgers.
In early segments, actor Dulé Hill plays a young Billy, who talks to the camera about his life in Pittsburgh. The program also includes performances of classics like "Lush Life," "Satin Doll" and "Chelsea Bridge," by modern artists such as vocalist Dianne Reeves, saxophonist Joe Lovano and veteran pianist Hank Jones. (Blue Note Records recently released a companion soundtrack.)
The music gets plenty of time in Lush Life, and reveals why Strayhorn often gets the word genius thrown at him. "He comes from the same perspective as Ellington, but he does things a little different," says local saxophonist Ben Opie. "You've got these really aching, biting ballads that he writes. And they just drip off the record. They have very dissonant, but also very beautiful, harmonies."
The song "Lush Life" has been called a lesson in harmony, with an out-of-tempo introduction that leads into a slow melody full of incidental melodic twists. (Strayhorn passionately despised a version by the great Nat "King" Cole, because he overlooked one of those incidentals.) The lyrics tell the story of a broken-hearted lover, and they have the insight of a veteran writer. Yet, Strayhorn wrote the song in Pittsburgh at the tender age of 16, inspired by stories in The New Yorker.
Some stylistic elements of the documentary are a bit questionable. The dramatized Hill segments don't last beyond the first 30 minutes, making their inclusion a strange choice. While Elvis Costello has the pipes for Strayhorn's music, the fact that he added lyrics for "Bloodcount" -- a wrenching instrumental written from a dying Strayhorn's hospital bed -- seems a bit precocious, if not sacrilegious. And the documentary as a whole seems to center on the debate about whether Ellington manipulated his partner for his own artistic gain.
Nelson Harrison, a Pittsburgh trombonist and composer, believes Ellington revered Strayhorn and gave him credit whenever possible. "He knew what he had. Imagine the genius of Duke to hear this guy, not be intimidated and say, 'This is the guy that can help me be more of what I want to be,'" he says. "And he did whatever was necessary to take care of Strayhorn."
Being a gay man in the era pre-dating both Stonewall and civil rights, Strayhorn had to keep his sexuality under wraps, and Lush Life discusses that as well. On one hand, it could be said that a song like "Something to Live For" expressed his feelings, albeit in more general terms. "He didn't just put notes on a piece of paper and divide them rhythmically and make them jump around. There was purpose in his tunes," says trumpeter Chuck Austin, who has played with Opie in the band Opek.
While this may be true, Harrison worries that for too many people, such surrounding issues as Strayhorn's sexuality might overshadow the composer's true legacy. "Leonard Bernstein was gay too, but they don't focus on that," says Harrison. "They talk about his music. But they want to talk about Strayhorn's lifestyle instead of his music. We could be talking about Strayhorn's music for the next 200 years if you really want to get into it."
Billy Strayhorn: Lush Life airs at 10 p.m., Tue., Feb. 6 on PBS.