At this point, Pittsburgh's had so many accolades we're almost ready to say, "We don't care if you really, really like us." But we can't deny a certain pleasure in seeing that a newcomer from out of town has three locations: Manhattan, Atlantic City and … here.
We guess the location scouts for Bill's Bar & Burger detected a niche in Downtown Pittsburgh, whose dining scene provides ample options for lunch and night-on-the-town dinners, but little in between. Bill's interior, off of the swanky, recently redone Westin Hotel lobby, is well appointed enough — subway tile, original art — to host business meetings and dates, while its menu of upscale comfort foods allows diners to indulge their foodie tendencies, or just chill with nachos and a burger.
Interestingly, each Bill's location has its own menu, influenced by local favorites and customs. It's inevitable, then, that the Pittsburgh Bill's would feature pierogies and kielbasa. And then there's Bill's eponymous burger. There are several burgers on offer, including turkey and veggie versions, but we went with the burger that has made Bill's famous: a just-right six-ounce patty of Bill's secret custom blend, ground fresh and shipped in daily from famous New York City butcher Pat LaFrieda. The patty is then smashed to an irregular shape, rather than carefully hand-formed, and griddled, not grilled, to develop a savory crust to complement the rich, juicy meat. Finally, it is served between the halves of a toasted English muffin, whose faintly sourdoughy notes made this bun much more than a burger mitt.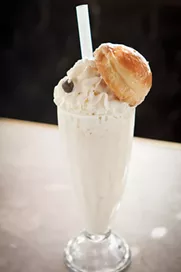 The menu version of Bill's burger is pretty elemental, with just American cheese, lettuce, tomato and pickle, but any burger can be dressed up with a la carte toppings and sauces. We didn't go too crazy, preferring to experience our burger as Bill intended it, but we did sub cheddar for American cheese and add a squirt of mustard aioli, to delectable effect.
Nothing says comfort food like grilled cheese and tomato soup, and Bill's is on it with "tomato pizza soup," served with a mini grilled-cheese sandwich. The soup had a deeper russet color and more intense, roasted flavor than standard tomato soup, evoking the astringent strength of pizza sauce without mimicking it too closely. A dollop of molten parmesan floated in the middle. The genius of this dish was that it did echo the components of pizza when the grilled cheese — two triangles smashed flat and crispy with American cheese oozing out the middle — were dipped in the bowl.
The most expensive item on Bill's menu, which we found generally quite reasonable, is steak frites, so we tried a junior version in the form of that same breed and cut — Wagyu beef skirt steak — atop a salad of mixed greens with a grape-tomato medley and crispy shallots. The whole-grain-dijon vinaigrette was nicely muscular, a good match for the steak, which was tender and packed with flavor, with baby arugula and the shallots keeping pace. This may have been the best dish of the night.
Other Bill's locations include hot-dog options. Here they're limited to the kids' menu, which is too bad, since the kids' dog was an outstanding Silver Star wiener, juicy and boldly flavored.
Bill's answer to poutine is called Hot Mess and features pot-roast gravy and mozzarella curds. With no pot roast on the menu, the gravy's source was unclear, but it had a silky mouthfeel and good, beefy flavor. It was a bit thin, though, and it soaked too quickly into the potatoes, which were decent, mid-sized fries on their own.
The mozzarella curds reappeared on Momma's Classic Meatballs, served in a mini skillet with tomato sauce, the cheese broiled on top. The meatballs were the classic blend of beef, pork and veal but, as is all too often the case, they were too firm. They might have been too salty as well, but the chunky tomato sauce balanced the flavor without veering into actual sweetness. We really loved the accompanying grilled country bread, big slices toasted but still tender and golden with olive oil.
Bill's is far from the only tasty burger joint in town, but it's not too late to join the party. Bill's stands out with its excellent trademark burger and other items so good that there are plenty of reasons to go.