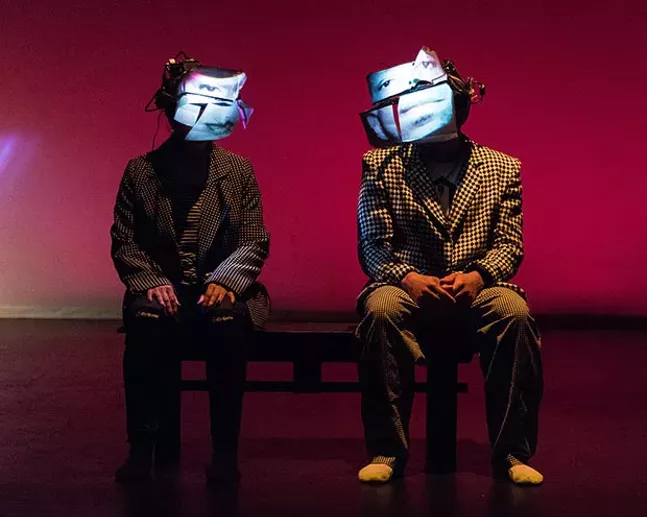 After taking a hiatus from performance programs in 2017, the Kelly-Strayhorn Theater's annual newMoves Contemporary Dance Festival returns in full with two weekends of movement workshops, conversations and dance performances.
Headlining this year's festival on May 11 and 12 will be the world-premiere of KST Creative Artist-in-Residence Bill "Crutchmaster" Shannon's "Touch Update," a 70-minute interdisciplinary work mixing dance, theater performance art, wearable projection technology and cubist-inspired video installation.
A 2018 United States Artists Fellowship awardee, Guggenheim Fellowship recipient and former Cirque du Soleil performer, Shannon is best known for his pioneering dancing using crutches. Living with the effects of a childhood degenerative hip condition (Legg–Calvé–Perthes disease), Shannon developed his own way of moving on crutches that was influenced by urban dance and skateboarding culture.
Eighteen months in the making, "Touch Update," set to an original score by slowdanger, explores contemporary themes including political destabilization, activism and online/social media identities.
"The choreography tries to talk about those themes in a way that is about the texture of those moments and not necessarily a direct delineation of sides," says Shannon.
The work was also inspired by Shannon's own realizations that certain expectations he had for his life would not come to fruition. "The work is a lament of having to let go of ideals I realized are not real," says Shannon.
"Touch Update" will also be the first time Shannon will not be dancing in a work he has choreographed and directed. An all-star cast of Pittsburgh performers including Teena Marie Custer, Ron "Stealth" Chunn Jr. and slowdanger's Anna Thompson and Taylor Knight will perform Shannon's choreography, created using his unique movement style and translated (sans the crutches) for the able-bodied cast.
While Shannon's "Touch Update" (contains nudity) will usher in the first weekend of performances at the 9th annual festival, week two will follow newMoves' familiar multi-artist showcase format. Here is a look at what's on tap.
In Program A, festival veteran Jil Stifel returns with her new 10-minute multimedia work-in-progress "Over and." A duet for herself and dancer Maree ReMalia danced within a video landscape created by David Cherry, "Over and" uses physical exhaustion as a metaphor for the state of hypervigilance many feel fueled by — a fear of "what's next."
Performed to an original sound score by Herman "Soy Sos" Pearl, Sadie Powers, and Bonnie Jones, Staycee Pearl dance project and Soy Sos present a 15-minute excerpt of their new multimedia work "sym." Pearl says the work is inspired by science fiction writer Octavia Butler's novel Fledgling, that tells of vampires who create symbionts.
Dancer/choreographer Nick Daniels will present "Within my heart my secret lies," an excerpt from his new work "Sissy." Set to music by Alva Noto and Ryuichi Sakamoto, the 10-minute solo delves into Daniels' thoughts on gender identification.
Exhalations Dance Theatre makes its festival debut in choreographer Nicole Monville's "Insta.Bond." The work for five dancers, set to music by Chilean-American composer Nicolas Jaar, ponders questions of nature and technology.
Rounding out Program A will be California-based dancer/choreographer Chris Babingui's 2017 work "Iboga Odzanga" (Warrior Rite). The 20-minute work for three dancers including Babingui with music by Erik Truffaz and Murcof and others, was inspired by Congolese folk dances and cultural traditions.
In Program B, Brooklyn-based dancer/choreographer Jamal Jackson makes his newMoves debut in excerpts from his 2017 work "ROB DAY." The work "explores our many connections to firearms," says Jackson.
Fellow New York-based dance artist Shamel Pitts, also making his festival debut, will present a 20-minute excerpt from his new work "BLACK HOLE: Trilogy And Triathlon." Danced to music by Brazilian composer Ed Côrtes, Pitts describes "BLACK HOLE" as a "kaleidoscopic performance-art experience using movement, light, and visual art."
A trio of local dance artists make up the rest of Program B, beginning with Ira Cambric who will present his new multimedia work-in-progress "How Do You Know Me?" The 11-minute piece for nine dancers was inspired by impactful events in Cambric's life including the tragic death of his sister Brittany.
Non-violent protest is the central theme in Moriah Ella Mason's "Soft Block." Dancing to music by Colorado musician Miles Wilder, the work's six performers explore the spontaneous choreography that occurs between protesters and authorities when one group tries to block the other.
Finally, Joan Wagman's multimedia "Ritmos Contrarios" will delve into Sephardic culture and what she describes as "the expressive and subversive qualities of Flamenco."