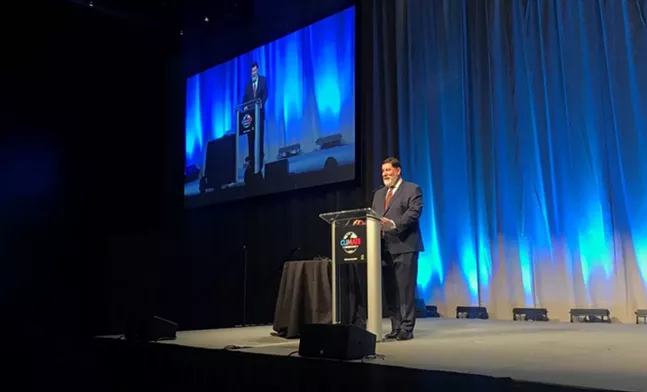 Today at the Climate Action Summit, Mayor Bill Peduto announced his opposition to any additional petrochemical cracker plants that have been rumored for the Western Pennsylvania region.
The region's
first cracker plant
is currently being constructed in Beaver County by oil giant Shell. Cracker plants refine natural-gas into plastic pellets. The Shell cracker will likely be fueled by natural-gas fracked in the Southwestern Pennsylvania region.
Since its construction, other oil and gas companies have been eyeing potential cracker plants in the Ohio River Valley, including ExxonMobil. Business interests have been hinting at the potential of four cracker plants in this region.
Today, the summit at the David Lawrence convention center in Downtown marks the first time Peduto has publicly stated opposition to such plans. He also added in his speech at the summit, that he plans to send a formal letter to Gov. Tom Wolf (D-York) sharing his opposition. Wolf has been a proponent of the Beaver County cracker plant.
"I oppose any additional petrochemical companies coming to Western Pennsylvania," said Peduto to the crowd, according to
Pittsburgh Business Times
reporter Paul Gough. "We don't have to become the petrochemical/plastics center of the United States."
Breaking: @billpeduto tells #ClimateActionPGH: "I oppose any additional petrochemical companies coming to western Pennsylvania." He said he is going to send letter to governor. Addressing region: "We don't have to become the petrochemical/plastics center of the United States." pic.twitter.com/JXW0o8gld9

— Paul J. Gough (@PBT_Paul) October 30, 2019
Last year,
environmental activists pressured Peduto
to issue a statement about the Beaver County cracker plant. Peduto didn't weigh in on that plant, which is already in construction, but activists are taking his statement as a win for their cause.
my freshman yr I asked @billpeduto to speak out against the petro buildout. Since then I've dropped banners (w/ @PittFTP), led marches, & given speeches
Thank you for joining us & standing with us to protect our clean air & water. Together we'll build a regenerative economy in PA pic.twitter.com/QD1drPbBtR

— anaïs (@anais_pgh) October 30, 2019
The Beaver County cracker plant has been permitted to emit 2.2 million tons of
carbon dioxide
, the equivalent of adding more than 480,000 cars to the region. Also, natural-gas production often creates large emissions of methane, a greenhouse gas that warms the planet 86 times as much as carbon dioxide, according to the Intergovernmental Panel on Climate Change.
The
region's long term economic plan
mentions the creation of more cracker plants, as well as a natural-gas storage up to keep all the fracked gas that the plants will likely use. The plan was released earlier this year by the Southwestern Pennsylvania Commission (SPC), which is responsible for funneling federal dollars to infrastructure projects in the great Pittsburgh area.
Rachel Belloma, spokesperson for state Rep. Sara Innamorato (D-Lawrenceville), spoke at the SPC meeting in June on behalf of the representative and alleged the fracking-related parts of the SPC plan were contradicting the climate-change goals of the overall plan.
"You cannot address climate change and court petrochemical investment simultaneously," said Belloma. "These are inherently contradictory goals."
In August,
environmental activists and Beaver County
residents protested the cracker plant the same day that President Donald Trump was visiting the city. Even so, several prominent Pennsylvanian politicians support the plant, including Wolf, Allegheny County Executive Rich Fitzgerald (D-Squirrel Hill), state House Speaker
Mike Turzai
(R-Marshall), and U.S. Rep.
Conor Lamb
(D-Mt. Lebanon) who represents Beaver County.
According to
PublicSource
, Peduto said the Pittsburgh region should be investing in environmental clean-up and green energy jobs instead of fracking and related industries.
"There is this belief that anybody who wants to work to address climate change is bad for business," Peduto said, according to
PublicSource
. "And that culture is very real in Western Pennsylvania. That belief that those who are trying to save the planet are anti-business, resonates far beyond the fossil fuel industry. I can't find a corporate partner to stand with me. None. Zero."
Darrin Kelly is president of the Allegheny-Fayette Central Labor Council, which is the region's largest labor union coalition. The Beaver County cracker plant has supplied thousands of temporary construction jobs, but will only have 600 permanent jobs. Kelly issued a statement today in response to Peduto, criticizing the mayor, and opposing his framing of the issue.
"While I respect the Mayor's opinion, I wholeheartedly disagree with it. Calling to banish an entire industry is an insult to a lot of hard-working men and women in organized labor and their entire way of life," said Kelly in a statement (Peduto only called for no new cracker plants, not the end of the one currently under construction). "I urge these companies to work hand-in-hand with organized labor and our local elected officials so together we can create good middle-class jobs, do this work safely and responsibly, and protect our environment and the communities we all call home."